Monarch of the Spring
This Season, an Outdoor Person's Thoughts Turn to … Turkeys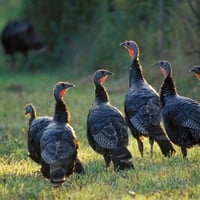 Photo courtesy Henry Zeman/NWTF
This "rafter" of wild hens is comprised of Eastern turkeys, the subspecies most common in our region. Just FYI, other names for a group of turkeys include gang, gobble and flock.
It was predawn in late March, and I was leaning against a large oak tree at the edge of a small ridge that tapered off into a creek bottom filled with large hardwoods. I shivered slightly, trying to shake off the air's early morning chill, as well as the excitement that accompanied me on the clear, crisp spring morning. I listened intently as the woods came to life. Small songbirds began to chirp, then a rooster crowed in the distance. I pulled a bottle of water from one of the large side pockets on my vest, sipped a small amount — just enough to moisten my throat — returned the bottle to its place, cupped my hands to my mouth and hooted to imitate the call of a barred owl. Immediately, I was answered by a barred owl, which initiated calls from other owls. Then, in the not-so-far distance, the call I was listening for came: the sound of a gobbler, a male wild turkey.
I moved quietly off the ridge and eased to a spot alongside a clear sand-bottomed creek, which bisected the lowland between two ridges. I sat down behind a small stand of palmettos and rested my back against a tree that would give me a vantage point, readied myself and gun, then began to yelp softly, reproducing the sound of a hen turkey sitting on her roost. I began hearing the calls of other female turkeys sitting in the trees throughout the bottom. The gobbler was still sounding off from his treetop perch. Within moments, I heard the telltale sound of wings as turkeys began to fly down from their overnight roost. I waited a few minutes then yelped several times with a latex diaphragm mouth call I like to use, doing my best to play the role of a seductive hen. But, as luck would have it, the next time I heard the gobbler, he was in a cattle pasture the next ridge over, just out of reach of my landowner's permission slip. I guess the prospect of 20 girls to one gobbler was more than I could overcome.
That particular spring morning was opening day of Spring Turkey Season, and I was hunting on a Gadsden County farm. It's an example of how many spring mornings in my adult life have unfolded and hopefully will continue. That morning ended favorably for the gobbler, but on other mornings the good luck was mine.
Spring is a magical time of rebirth in the woods. Plants and animals shake off the waning grasp of winter. Many mating rituals unfold in the animal world, including the wild turkeys. Depending on the latitude, wild turkeys generally mate between late February and April. Here in North Florida, the mating begins in early March and continues into mid-April, which is when the annual spring turkey season is open.
Spring turkey hunting, or gobbler season as turkey hunters call it, is an extremely interactive experience that offers challenges no other hunting sport offers. To call up and shoot a gobbler is an accomplishment, to say the least. Wild turkeys have eyesight that is second to none, are extremely intelligent (Benjamin Franklin thought they should have been our national bird), and the hunter has the odds stacked against him by having to defy a natural order. His gobble lets the hens know where he is and, in a brilliant display of color and grace, the gobbler fans his tail feathers, bows out his chest and struts to impress the ladies. To call a gobbler using a hen call is going against nature's design.
The wild turkey is a fascinating bird on many levels and holds a special place in outdoor sportsperson's hearts. This bird is a perfect example of a conservation success story funded by hunters. Native to North America, the wild turkey was almost extinct in the early 1900s, but with the passing of the Pittman-Robertson Act in 1937, dollars generated from the excise tax on arms and ammunition began funding conservation programs. With monies to purchase lands and joint efforts with private not-for-profit conservation groups like the National Wild Turkey Federation, habitat and relocation projects have been an ongoing success in restoring wild turkey. The population of 30,000 birds in the early 1900s has grown in the present day to more than 7 million.
There are five subspecies of wild turkeys in North America: Eastern, Gould's, Merriam's, Rio Grande and Osceola. Here in Florida hunters have the opportunity to hunt two different subspecies: the Eastern and Osceola (Florida). The Osceola is indigenous to and only found in Florida, and only in a specific range, which by latitude is largely in the mid-to-southern reaches of the state, south of the Panhandle. The Panhandle region in north and west Florida is populated by the Eastern subspecies. Combining both subspecies, Florida boasts an abundance of turkeys, well exceeding 100,000 birds.
With Florida's healthy population of turkeys, plenty of hunting opportunities are available on public land for those who do not have access to a private lease. There are also some pay-to-hunt and guided hunt operations throughout the state. Spring gobbler hunting is like no other sport, offering some unique challenges and some very valid safety concerns. If you are interested in learning the ropes or would like to participate in this sport, it is probably best to befriend some one who has been hunting a while to shorten the learning curve. You need to be aware of the pitfalls that can go along with hunting in full camouflage around other hunters, while using a game call that sounds like a real bird.
If you are an outdoors person or would like to learn more about becoming involved in the outdoors, the wild turkey, hunting or wildlife conservation, take a look into the National Wild Turkey Federation (NWTF). Their conservation initiatives and track record regarding the restoration of the wild turkey population in North America is unsurpassed. Not only does this conservation organization's efforts benefit the wild turkey but many other species of wildlife indigenous to North America as well. The NWTF's mission goes beyond the proliferation of wildlife and habitat. It also sponsors a number of outreach programs designed to educate and involve people of all ages in the outdoors and conservation. On a local level you can become involved and participate in conservation and sanctioned events by supporting the "Apalachee Longbeards," Tallahassee's NWTF chapter.
So the next time you are cruising the aisles of your local supermarket and looking for that plump turkey for a holiday dinner, consider that for a certain group of outdoors people, their thoughts turn to turkey in the springtime. These people dream about spring; the thought of it keeps them awake nights. They practice reproducing the calls of wild turkeys with various implements constructed from different materials. They can drive their family, neighbors and pets insane with the noises they make — and they don't care. They can't help themselves. These people are addicted to spring turkey hunting, simply because they have experienced it, and have been enlightened to the fact that the turkey isn't just for Thanksgiving dinner.
Wild about Turkeys
» For more information about Tallahassee's local chapter of the National Wild Turkey Federation, its sponsored events, outreach programs, conservation projects or how to become involved, visit apalacheelongbeards.org.
» If you're interested in the National Wild Turkey Federation, its mission, national conservation and outreach initiatives, visit nwtf.org.
» In zones C and D, which include the immediate areas surrounding Tallahassee, this year's Spring Turkey Hunting Season starts with an early youth-only season March 9–10. The General Spring Turkey Hunting Season, open to hunters of all ages, runs March 16–April 21.
» Find important information regarding Florida's Spring Turkey Hunting Season and other hunting, fishing and boating related outdoor activities online by visiting myfwc.com.
A Must Read
One of the most interesting books I've read about the wild turkey was not written by a biologist, but by author Joe Hutto, who lives here in North Florida and spent a year raising a brood of wild turkeys. The book is called "Illumination in the Flatwoods: A Season with the Wild Turkey."