Mobile Science Laboratory Takes to The Roads in Tallahasssee
MoLab, aka Mobile Science Lab, Takes to the Road for Fun and Education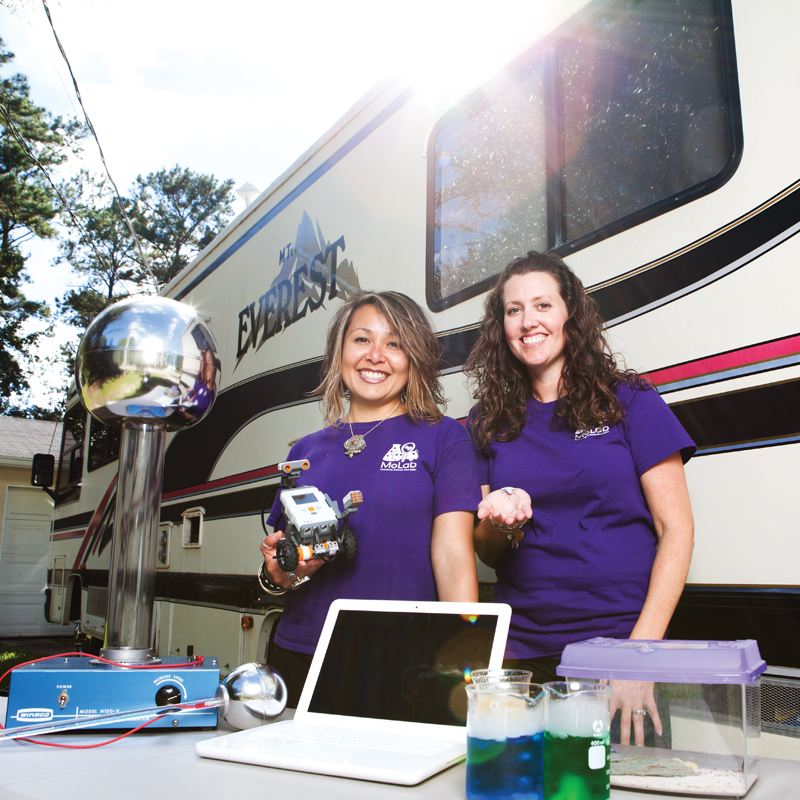 Call it an RV with a mission. MoLab, the undertaking of former Mary Brogan Museum of Art and Science employees Trish Hanson and Aimee Hills, is bringing the world of science to kids all over Tallahassee.
Due to their experience and passion for education and science, Hanson and Hills didn't want exploration to be confined by a museum's walls. It was time to actively reach out and open up kids' imagination and wonder.
MoLab is not the first of its kind, but it's the first roving lab in this town, Hanson said.
"There are mobile laboratories all over the country and other parts of the world," she said. "We are a part of the Mobile Laboratory Coalition, which is a fantastic resource for us as far as curriculum and how to outfit your unit."
MoLab's main purpose is education, and any money earned is used to support its programming. As a nonprofit organization, MoLab also receives grants to provide free programming for students.
Hanson and Hills have more than 27 years' combined experience in informal science education settings. MoLab's mission is to make science education more available to students who need it the most.
"When you look at the community of Tallahassee and the surrounding areas, those are some of the most economically and culturally underserved populations — and we can go anywhere," Hanson said.
The lab's mobility provides a great opportunity to positively affect the lives of more students and helps foster STEAM education — the traditional science, technology, engineering and math disciplines, with art added in. For Hanson and Hills, it's all about creating those "aha!" moments for kids.
"Science is everything. If you don't have science, you won't have a world to move forward with. Being able to provide hands-on, project-based interactive curricula is key. Kids learn by getting hands-on and creating," Hanson said.
Making STEAM more accessible isn't MoLab's only mission. It's also about doing away with the misguided notion that science isn't for everyone.
"You can learn science. We want to provide real-life experiences so kids know that they can actually get a career in this," Hanson said.
MoLab is currently offering education opportunities such as Camp Spark, StarLabs, TechLabs, a "Get Moving: Energize" workshop and other investigative workshops designed to stir the imagination of future scientists.
MoLab will truly come into its own when Hanson and Hills complete upgrades to their conventional recreational vehicle to make it a cutting-edge "MoBus." The environmentally friendly bus will be home to robotic and microscopic stations, televisions and an entomology area.
"We want to launch a crowd fundraising through an Indiegogo campaign to help us with the funds we will need to complete the bus's transformation, and also partner with universities to help us outfit the bus," Hills said. "MoBus can possibly be finished by next fall."
MoLab will work with the city of Tallahassee in the fall to provide an environmental-science afterschool program on the city's south side. It will also offer an afterschool program at Holy Comforter Episcopal School once a week and a Camp Spark program available during school breaks. Meanwhile, Hanson and Hills will continue to retrofit their MoBus and create more partnerships.
When asked what their favorite parts of MoLab are, the pair of innovators agreed that they love every aspect, as well as the challenge MoLab provides to them — from the business side to their interactions with kids.
"I love what we have achieved and created, and all the learning opportunities, as an entrepreneur working in the nonprofit world," Hills said. "As well as the good that MoLab does, why we exist — to educate children."
Hanson said that kids are constantly looking to learn and gain knowledge, but the MoLab gives her the chance to grow as well.
"I am learning new things in the field of science that we can then provide to the students. It's awesome," she said.
Nationwide, there is a shortage of science educators. There is also a need for more kids and women to enter the STEAM fields of study.
"The most valuable aspect of MoLab is the kids, as well as our experiences and workshops with them and our mobility. There are no limits," Hanson said.