Mind Over Money
Counselors Help Clients Achieve Financial Goals in a Tough Economy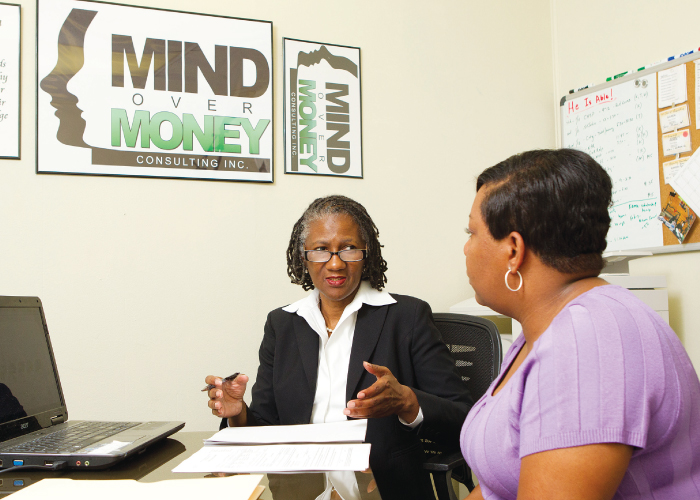 Keeping track of your finances is difficult, but in the current economic state, monetary responsibilities can be crippling. Whether affected by the recession, laid off or in debt, there's hardly a person who doesn't know the struggle of keeping their finances in check.
In a world where free online credit reports aren't always free and credit isn't always as helpful as it seems, it's hard to know the best way to organize one's money. Seeing the need for financial guidance in the community, Karen Gillispie and Mary Williams Jones started an organization designed to help individuals develop and maintain healthy financial habits.
Mind over Money is a certified nonprofit organization that helps to coach people to what they call "Financial Capability." All advisors are certified as credit counselors with years of experience, and their services focus on helping individuals with various goals or financial lulls.
GAME PLAN Mind over Money provides individual financial coaching as well as group presentations. Here, MoM Executive Director Karen Gillispie catches up with Ronnette Ballard, who became her family's first homeowner after creating a financial plan with the organization. Photo Scott Holstein
Williams Jones, the associate director, worked for 20 years in consumer credit counseling before teaming with Gillispie. Her primary function is to coach the clients and help them create a system of saving and spending. "It's a passion of mine after being a counselor for so long. I like that we are enabling people to be fully functioning in their financial lives," she says.
Wallisa Cobb, director of program 
development, sits on the board with United Way as an income tax assistant. "We try to position ourselves to always be involved with organizations that have our same mission," she explains. "The best way to keep ourselves informed is to stay involved in all aspects of financial service."
The organization provides a means of financial stability for those who may not know where to start or how to get out of financial straits. "We saw in the industry that there were individuals wanting to purchase homes, or to keep their homes, who were unable to do so," says Gillispie, a mortgage lender for 30 years before becoming MoM's executive director. "Mary and I wanted to make sure that individuals embarking on this sort of investment would not only be capable of owning a home, but also maintaining it, purchasing a car and living reasonably."
Mind over Money is a resource for educating clients on financial matters by helping them create a budget, set goals for paying off debts and design strategies for saving what they can.
One of the biggest issues people seem to face is credit debt. In an age where virtually anyone can receive a credit card, young people often don't realize the massive amount of interest that can accrue, or consider the possibility they will be unable to pay back what they've borrowed. "Ask yourself, when you're purchasing something with your credit card, 'Would I take out a loan for this?' Because that's exactly what you're doing," Gillispie says. "Only you know how disciplined you can be. If you don't think you can handle the responsibility that comes with credit, then you probably shouldn't use it."
When discussing the types of education a new client might need, both parties will use an initial two-hour consultation to decide what program will be most helpful to their situation. "Our clients agree to come meet with us consistently," explains Gillispie. "They are opting to partner with us and are accountable to report back on the successes, or lack thereof, based on the actions they were assigned. Once they successfully reach their goal, some clients have learned enough to move forward on their own, while others still find value in the feedback of our coaches." If this is the case, client and coach sit down together and create new goals.
"It's an alliance between us and our customers," says Cobb. "For the program to be successful, both our counselors and clients must be committed to achieving the goals decided upon by the client in the preliminary stages." By providing an intimate relationship with well-educated financial advisors, the organization encourages and guides its clients to make the right financial decisions for their situation. "We don't really counsel," says Gillispie. "We coach our clients to resolve their own challenges. We are a resource that helps find other resources, as well as a support system."
The counselors at MoM hold workshops with colleges around the state on how to reduce the amount of student loans taken out and how to use that money wisely. Students are often unaware of the severe conditions their loans entail before they sign off on them and can then become entrapped in debt after graduation. "When in a relationship with our organization, students know they are doing things correctly, because we guide them to move in an organized manner from one step to the next," says Williams Jones. "Instead of mass information, it's a learning process that allows real education to take place." But student workshops aren't the only helpful seminars offered.
The organization recently held a workshop for Capitol Area Community Action employees after the company decided on pay cuts across the board, rather than terminations. "Since many of their employees would be dealing with smaller funds to make ends meet, we taught a money management and credit workshop," says Gillispie. "It was giving people a way to prepare for their decrease in income."
The class was well received by employees, according to HR Director Nina Singleton. "The workshop was very active, not simply a lecture or handing out of facts. Everyone was really encouraged to look at their budgets and rework things on paper, and it caused a lot of questions and real progress to happen on an individual level." The workshop explored ways to budget funds differently and make subtle changes to maintain financial security, which Singleton says, "took a negative experience and made it really beneficial and educational. We certainly plan on having more workshops with MoM in the future."
"People are really finding the benefit of one-on-one coaching," says Jones. "Having accountability to someone and knowing that person is vested in your success is invaluable." This was the case for Ronnette Ballard, Mind over Money's first client. Mary says that Ballard came to them looking for help in purchasing a home. "No one in her family had ever owned a home," Williams Jones says. "She came to us and became the first one in her family to break that generational curse, which was something she never expected to be capable of." Through the coaching sessions and proper budgeting, Ballard owns a home instead of renting.
Mind over Money is certified with Master Money Mentors, a program with the University of Florida IFAS extension office, and also works with Florida's Department of Vocational Rehabilitation. "Our first partner was Leon County Health and Human Service Department Housing Division representative, Lamar Kemp," says Gillispie. "The very first program we hosted was with their foreclosure and financial literacy workshops." The Mind over Money office is partnered with Ingram Accounting in their mortgage advocacy program as well. "There are other organizations that may do similar things to us," says Cobb, "but we are always open to partnering with those organizations for the common good." As their business continues to grow, these connections allow MoM to expand their own services and impact.
The counseling sessions are $40 an hour with a minimum session requirement of two hours. The sessions cover everything from financial changes and literacy to foreclosure prevention to mortgage advocacy. More information about counseling and other services can be found at mindovermoneyinc.org.