Mimi's Table a Welcome Addition to Fine-Dining Scene
The restaurant is impressing locals and visitors alike with its new wine-dinner series.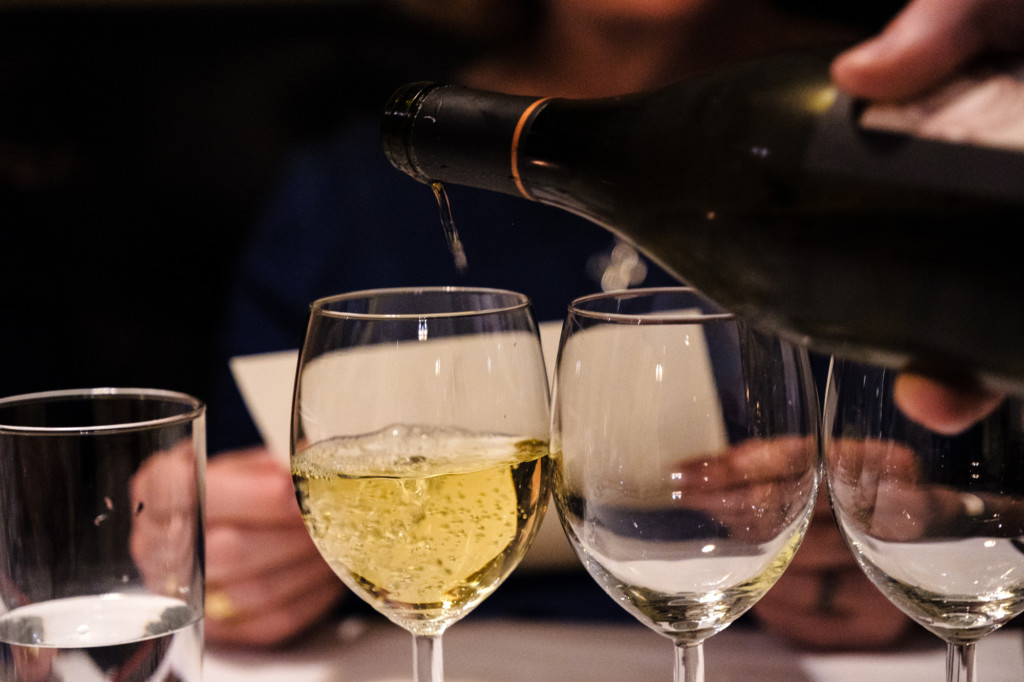 Take a French neighborhood bistro concept, toss in a little Italian cuisine and the flavors of the American South, wrap the whole thing in a warm and welcoming atmosphere, and you get Mimi's Table.
The fine-dining restaurant, which opened in late June on Miccosukee Road in the location formerly occupied by the Miccosukee Root Cellar, opens at 4 p.m. for drinks and appetizers Tuesday through Saturday, with dinner service starting at 5 p.m.
The menu changes slightly every day or two. Owner and executive chef William Lawson said the concept and inspiration for the restaurant are based on his mother-in-law, Rebecca "Mimi" Johnson.
"Family and friends are always welcome at her table," he said. The restaurant's details reflect the life path and values of Lawson and his wife and partner of eight years, Holly Lawson.
For the chef, the path wasn't a straight shot to Mimi's Table. This is his second career, and it has been peppered with experience in an array of cooking settings throughout the Southeast — from restaurants to health care facilities to country clubs.
For his first career, he worked in Florida politics and governmental relations for about 10 years, beginning in the early 1990s. He divided his time between Sarasota and Tallahassee, where his mother, Regena Lawson, has lived for 30 years.
"Eventually, I got burned out with politics," he said. He landed in Memphis, not far from his grandmother's home in Tupelo, Mississippi.
"I like to tell people that I earned a Ph.D. in French cooking in 2 ½ years when I apprenticed with two French chefs in Memphis," he said.
"They were extra hard on me the first six months" — making sure he was serious about becoming a chef before sharing their tips of the trade.
Chefs Jean Christophe Blanc and Gene Bjorklund of Aubergine Restaurant in Memphis schooled Lawson in every aspect of a fine-dining French kitchen.
"I learned what I call European classical cooking," Lawson said.
"I didn't realize it at the time, but we were doing some pretty forward-thinking things such as shopping at farmers markets, cooking sous-vide, trading flour and other pantry staples with Mennonite farmers in Middle Tennessee in exchange for produce and meat," plus doing their own butchering.
The Lawsons moved to Tallahassee four years ago, when Lawson was hired as head chef at Capital Regional Medical Center.
It wasn't a huge leap for him; he had overhauled the food service at two high-end assisted living and memory-care communities near Nashville, Tennessee.
After two years at CRMC, he moved to Capital City Country Club, which he left after 1 ½ years to open Mimi's Table.
The owner/executive chef appears to be making a mark with the restaurant's "Monday night wine-dinner series," in which Mimi's Table pairs wine and food in regional and global themes.
Take the November "Napa Valley Affair," which featured five California-inspired courses and included the owners of a California winery who were in town to meet with the restaurant's distributor.
"It was the best night we've had here at the restaurant," Lawson said in late November.
The wine-dinner series includes a sommelier who describes the wines, discusses the winemakers' location and philosophy and explains why the wine pairs well with the food. Lawson tells guests about the food, including flavor profiles and ingredients.
The restaurant's February event will focus on an Italian theme, Lawson said. Reservations are required.
"It's just nice from a standpoint of a chef and business owner that there's a market for what we're doing and that the wine series is highly popular and selling out in advance," he said.