Michele Madison is a Fighter for the Future
How one young woman aims to change the world, one aquaponics system at a time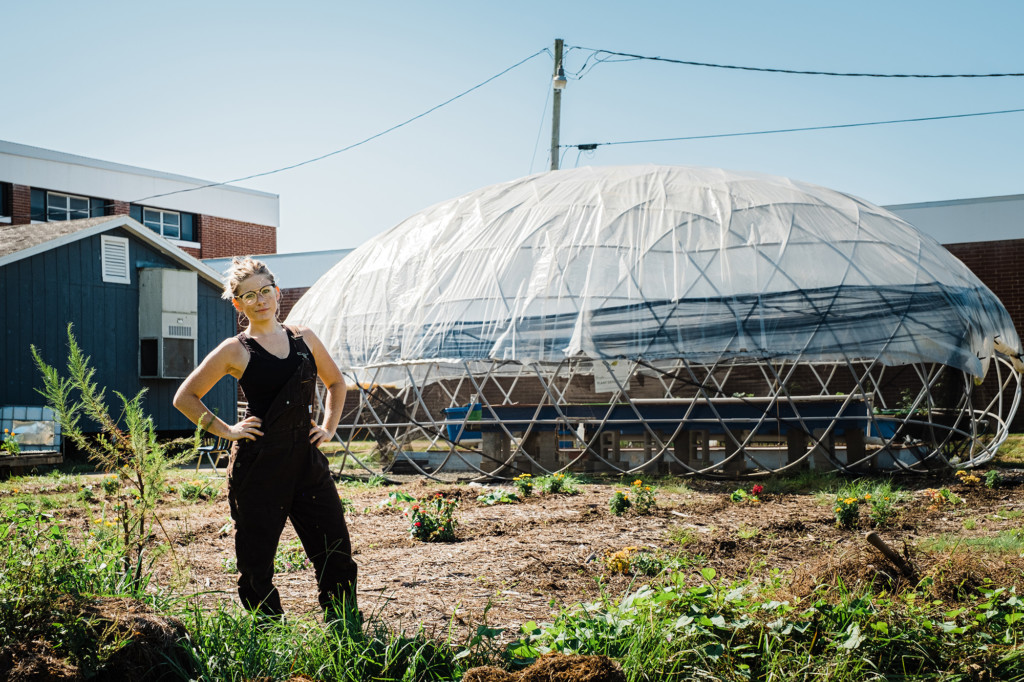 She's the 25-year-old founder of a socially minded business that aims to establish, promote and spread sustainable farming practices to places as distant as you can imagine. She also sports Carhartt overalls and happens to stand a shade below 5 feet tall.
"I built this. I did this," Tallahassee resident Michele Madison said in reference to one of her aquaponics systems. She added as if to emphasize the height of her accomplishment: "I am 4-foot-11. It's cool. It's amazing."
She's aiming higher. Much higher.
"One day I will be in space," Madison said. "I don't know if I'll make it to Mars because I am already 25. I will settle for orbit."
On second thought, no she won't.
"Somebody has to farm out Mars," she said. "And I am going to be that person."
Madison, a student at Tallahassee Community College, runs Farming the Future, an aquaponics systems builder and designer that combines STEM education with sustainable farming practices. Her business, which she launched as a nonprofit, implements systems in schools and detention centers and designs private and commercial systems.
She's also involved in projects or proposals at TCC and the FAMU-FSU College of Engineering. Those who know her say she creates partnerships through passion and drive.
"She finds you rather than you finding her," said Anthony Jones, TCC's dean of science and mathematics.
Through her work, Madison says she wants to change the world, indeed even the solar system. She shares her knowledge with children, particularly from underprivileged families, with the hope of feeding more people and changing the way we think about food production.
Her work led her to become a recipient of a 2019 Muhammad Ali Humanitarian Award.
"If you are not going out of your way to help other people through the chaos, then you are just as lost as they are," she said.
Twice a week during the school year, Madison brings her passion and instruction to fifth-graders and eighth-graders at Shanks Middle School in Quincy.
"I really believe one day I am going to bring one of my fifth-graders in here and they'll say, 'Ms. Madison, why don't we just do it like this,' and they are going to change the entire industry," Madison said. "I really believe that. Kids are exceptional."
So are some 25-year-olds.
Madison said she grew up in "not-awesome circumstances," with a sister and a single mother. They often struggled to find places to stay and at one point during her time in elementary school lived in her mother's minivan, she said.
One day, her mom would tell her, " 'Michele, you have to go to school, you have to get an education so that way you never have to live like this.' So that's what I focused on. I didn't want to be poor anymore."
When she was in the eighth grade in Palm Beach County, she said, her mother was diagnosed with stage 4 breast cancer and had an emergency mastectomy. At 14, Madison became her primary caretaker, which included changing tubes and dressings.
Florida law permits limited employment for 14-year-olds. That meant Madison could work part time to help pay bills, and that meant getting on one bus in the morning to go to middle school and another bus in the afternoon to get to her job at Publix, she said.
In high school, Madison was diagnosed with Crohn's disease and was unable to attend classes for long periods, she said. She also was unable to take the SAT or ACT college-entrance exam, which she said ended her chance of going away to a university.
Madison said she began waiting tables and started attending TCC as a biology major with an interest in alternative fuels and biofuels. Her dream was to own a gas station that offered a variety of eco-friendly fuel sources that also doubled as a marketplace for fresh produce.
Then she discovered aquaponics.
She met a Florida Agricultural and Mechanical University graduate student with a system in his backyard. She said she left her job as a server, changed her major to engineering and began picking apart the system to better understand its functions.
And she started sitting in on classes at the FAMU-FSU College of Engineering, she said.
"I was like, 'I get this. I can see what we can do with this. I see that we can feed people,'" she said. "I fell in love."
In terms of recognition, she's getting the love, including from the Muhammad Ali Humanitarian Awards, which each year honors six young adults age 30 and under who are working to transform communities and create positive global change.
The Muhammad Ali Center said in a news release that Madison "exemplifies Muhammad Ali's core principle of giving by creating a business that cultivates opportunities for youth and hands them the keys to their own future."
"It is still really unreal," Madison said of the award. "I am really looking forward to see what comes of it and being able to use that to reach more people."
Aquaponics couples aquaculture, the breeding and maintaining of aquatic animals, with hydroponics, the farming of plants in water without soil. An aquaponics system is housed in a greenhouse and uses fish ammonia to fertilize plants via bacteria and the nitrogen cycle.
The water cycle, nitrogen cycle, animal adaptation and other science standards are all accessible through Madison's systems. Strawberries, bell peppers, mint, eggplant, lettuce and cucumbers are among crops she works with regularly.
She instructs students on agriculture and aquaculture science and engineering through hands-on activities. Madison pairs her aquaponics systems with terrestrial gardening outside her greenhouses to increase food production.
All food goes into the cafeteria or home with the students. She said she donates leftover produce to women's shelters, homeless shelters and other community programs.
Madison said she developed her teaching program at Second Chance At Ghazvini Learning Center. She said her aquaponics system "is built for production, but it's focused on education."
She has a facility in the Leon Regional Juvenile Detention Center and is implementing systems in Bay and Duval county juvenile facilities.
"It's really hard, especially to work with youth who are at-risk, but when you see it make that difference, even if it's just that one kid, then that's great," Madison said. "I get to teach kids who come from situations just like I did. There is way more to life than they know now."
As she built Farming the Future, she continued her educational journey at TCC. She ended up stepping away from school to handle the workflow.
But she also wanted to prove that she deserved a scholarship. She got one.
"She's very driven; I find that trait to be unique in someone her age," said Jones, the TCC dean. "She is also very confident."
"I'll have 50 Ph.D.s by the time I'm dead," Madison said.
At TCC's Wakulla Environmental Institute, Madison is helping to establish a small-plot farming program, which according to TCC's website will feature training in design, sustainable practices, hydroponics and aquaponics.
She also is placing a greenhouse in Apalachicola Bay from which she says she aims to create a nutrient chew for astronauts during long periods of space travel.
"That's something I am doing," she said. "How surreal is that?"
After she graduates from TCC with an associate's degree in engineering, she said, she'll consider going to Florida State to seek a degree in engineering or education.
In the meantime, she's part of a proposal to build an aquaponics system at the FAMU-FSU College of Engineering.
Miranda Manning, the engineering college's director of student life and outreach, said she had discussed doing a hydroponics installation when a colleague said, "I'm assuming you're doing this with Michele."
"He connected us and it turned into a perfect fit," Manning said.
Anything to do what she loves, Madison said.
"I don't want to spend my life working 40 hours a week to live my life on the weekends," she said. "I want to live my life throughout the duration of my life. I want other people to realize that's what you can do."