Michael's Soundtrack
For the director of Opening Nights, music supplies wisdom and comfort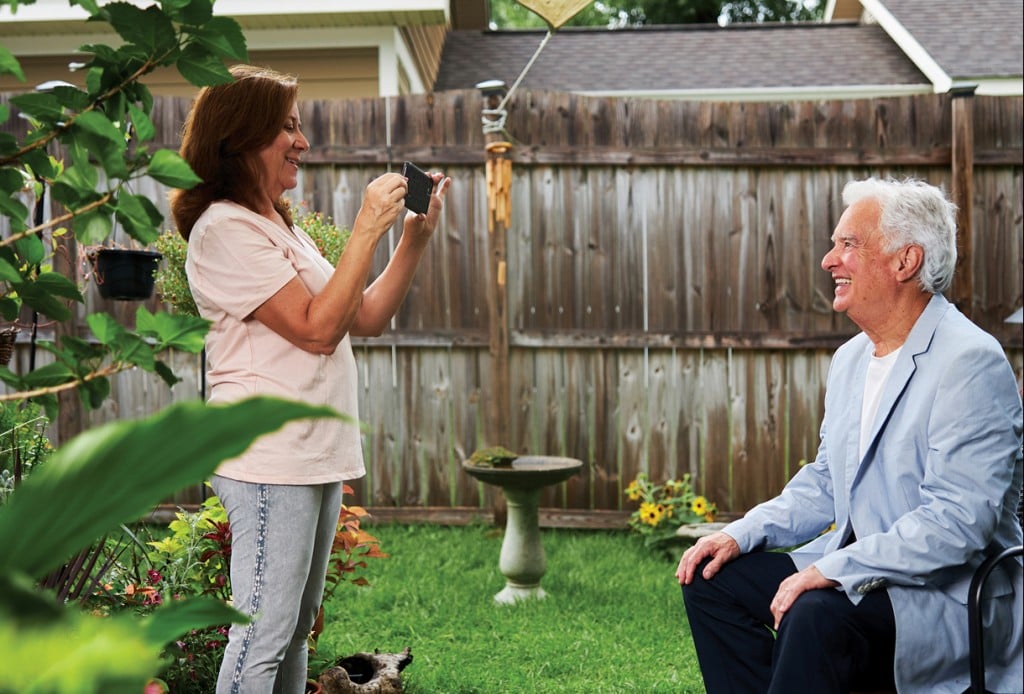 When feeling somber or when confronted by events that may be hard to process or interpret, Michael Blachly reverts to what he calls his comfort music: songs that were meaningful to him when he was evolving into the person he would become.
On Memorial Day, Blachly was grilling and exchanged messages with a best friend from high school. The friend was grilling, too, and listening to contemporary R&B. But Blachly was playing songs that were important to him when he was a young man trying to understand the war in Vietnam, racial bigotry and assassinations; they are singles in the soundtrack of his life.
"Music is a gateway to sometimes political, sometimes apolitical ways of looking at the world," said Blachly, the executive director of the Opening Nights performance series at Florida State University. "Whether it is Stevie Wonder or The Beatles or Bob Dylan, their perspective and their take on things and their lyrics have value."
On the last Monday in May, Blachly found to be soothing songs including Sunday Will Never Be the Same by Spanky and Our Gang; You Were On My Mind by We Five; Turn! Turn! Turn! by The Byrds and For What It's Worth by Buffalo Springfield.
"There's something happening here. But what it is ain't exactly clear," Blachly recited the opening lyrics from For What It's Worth. "That phrase could pretty well sum up what is happening today."
Blachly likes clarity, perhaps in the extreme. He adores redundancy and contingency plans. He deals with what could go wrong before it can happen. Because microphones fail, he has back-ups in place. But there was no getting ahead of the pandemic.
When, on March 11, FSU announced policies precluding gatherings, Opening Nights had four performances remaining on its 2019-20 calendar: trumpeter Chris Botti, The Second City improvisational troupe, the musical group Dala, and George Hinchliffe's Ukulele Orchestra of Great Britain. In addition, planned activities featuring the Chain of Parks Art Festival's presenting artist, Michael Rosato, were canceled.
More than performances and gate receipts were lost. The group of five was scheduled to participate in more than a dozen community-based activities.
"We use the artist's Opening Nights performance as a sort of maypole and wrap around it different colored strands that we can take to a senior center or a facility for people with autism or a middle school classroom," Blachly
said. "We maximize the artist's time with us, putting a root system into the community."
For Blachly, who has been curating and managing performances for more than 50 years, the pandemic has served as a reminder of the essential nature of art.
"Performing arts, the arts in general, are not something that we can take lightly," he said. "They are the mortar that holds together the bricks that form our global community. They are not about politics or wealth. They are really about understanding one another."
And, they are capable of linking generations.
"I have three sons, and at dinner one night, one of them (then in middle school) asked, 'Dad, why is it that you work so many hours, but don't make much money?'" Blachly recalled.
He paused before answering and seeking to impress upon him the non-economic value of the arts.
"I told him there are three ways that I could pass his great-grandparents' and grandparents' heritage along to him," Blachly remembers. "I could do it through religion, which is very ordinated and is based on strong traditions and history, but I am not a terribly religious person. I could do it through the military, which is a regimen of history, and of how countries have developed and evolved. It's how political infrastructures are supported. But while I believe strongly in our freedom, I am not militaristic. The other way is through the arts.
"We teach each other through our music, our dance, our culture."
Blachly told his son that he would lend him the perspective of history by sharing with him arts and performance, dating to the boy's ancestors in Scotland and Wales.
"My son said, 'Dad, good answer.'"
When the music stopped in March, at least in terms of live gigs and concerts, Blachly began delivering "Michael's Monday Messages" via email to members of the Opening Nights community. Dispatched from his patio, they featured music by the Soweto Gospel Choir, the Boston Pops Orchestra, and Mike Love of the Beach Boys and others who have figured in Opening Nights lineups.
They are moments for reflection, Blachly said, that provide a window on what artists are doing to be helpful to their publics.
"I have been getting very diverse and good feedback from a number of different sources about the Monday Messages," he said in late May. "The comments have let me know that it's not just my belief that the performing arts are critical."
Blachly anticipated announcing the Opening Nights 2020-21 calendar of performances on Aug. 4.
As of this writing, two performances that had tentatively been planned for the season ahead had been lost due to logistical problems and concerns, and Blachly feared there might be more.
The Dance Theater of Harlem, a major ballet company, bowed out.
"There is a lot of uncertainty, a lot of moving parts," Blachly said. "There is no way that ballet can exist with social distancing parameters. We don't have the dressing room capacity. How were we going to get them from the airport to a bus to a hotel? We are talking about a significant number of people, and it just wasn't feasible."
The Ukulele Orchestra could not find a way to make it into the United States for the 2020-21 season, so their appearance has been moved to 2021-22.
Agents with whom Blachly has worked for years were hit hard by the pandemic.
"One told me how frustrating it was sitting and watching money just fly out the door," he said. "Agents get paid on commission after engagements take place. Stop the engagements and that stops the flow of money to them. I have a colleague who deals primarily in high-end international artists and one very significant American dance company. He said that for all intents and purposes, he has no work. Edinburgh, Spoleto, Ann Arbor were all canceled. The Hollywood Bowl canceled its season for the first time in 98 years."
Blachly feels fortunate.
"For Opening Nights, it was serendipitous," he said. "We were down in March to our last five performers. Had this happened in January, it would have been much more impactful both in terms of our audience relationship and our financial picture."
In May, as soon as he became aware of it, Blachly began turning others on to a pandemic-inspired song — 2020 Vision by Danny Schmidt — that he found especially poignant. Sharing music is the kind of thing that Blachly does.
The song's lyrics in part:
Oh, 2020, you're fading away, your weeks into months and your months into days.
As they all blur together like tears on a page. As if angels were writing it down.
And, if that doesn't move you, cue the Dylan music or something by Joni Mitchell. Maybe Leon Russell's Tight Rope: one side's hate and one is hope.
Michael Blachly will be right there with you.
For Lori Elliott, Opening Nights Excites and Unites
As a cultural exchange, it may have been a wee lopsided.
The Chinese-born classical button accordionist Hanzhi Wang, a graduate of the China Central Conservatory of Music in Beijing and the Royal Danish Academy of Music in Copenhagen, visited Tallahassee as an Opening Nights performer and demonstrated to an audience that included Lori Elliott that the squeeze-box can produce oh so much more than polka music.
From Elliott, who wondered what new experience she might provide the performer, Wang received her first-ever boiled peanuts. A photo of Wang consuming slimy legumes almost immediately made her Instagram account.
Elliott is development director, that is, chief fundraiser, for the Opening Nights performance series at Florida State University. It is a role that Elliott was well prepared for, having worked for 10 years in a marketing/public relations role for the St. Joe Company and as a lobbyist for the Florida Bankers Association and the Florida Retail Federation.
The common denominator among those jobs: building relationships and communicating messages.
Elliott views Opening Nights performances, she said, as a "wonderful way to bring the community together. It is a joy to see a mix of people united under one roof in a shared experience. When people arrive, they have a smile on their face and they are excited about what they are about to see and hear."
She advises people to "take a chance" on Opening Nights performers with whom they are unfamiliar "because the quality and the caliber is going to be there."
Recalling Wang's visit, she said, "I had no idea what the classical accordion can sound like. It was so beautiful. It was like a full organ up there when she was playing."
The lesson learned …
"Don't be judgmental just because someone is playing the accordion." — Steve Bornhoft