Michael Blachly Inherits Tallahassee's Opening Nights Series
A new director has taken the stage.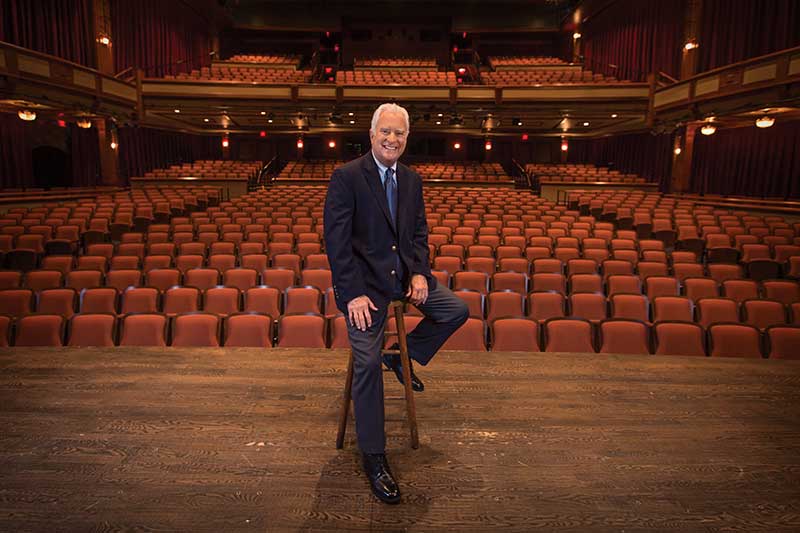 Last spring, lovers of the performing arts in Tallahassee were distressed to learn that Chris Heacox, popular director of Opening Nights at Florida State University, had been poached away by Auburn University.
Those dastardly cross-the-border rivals had poached the guy — our guy! — responsible for bringing talent such as Yo-Yo Ma, Wayne Shorter, Anne Sophie Mutter and Tony Bennett to town. Calamity! Ruin.
Well, Opening Nights devotees, be happy again. After an extensive national search, the legacy built by Heacox and by Steve MacQueen before him is in the capable hands of Michael Blachly (pronounced BLATCH-lee), a performing arts veteran.
He got his start booking the likes of John Denver into his northern Colorado college gym. He moved on to lead programming efforts at University of Tennessee, Colorado State, University of Hawaii/Manoa, the Knoxville World's Fair, UCLA, and, until now, the University of Florida.
Blachly is at home curating all aspects of the performing arts. He loves to get involved in artistic development, from bringing The Grand Kabucki of Japan to America for their first appearances, to helping a fledgling dance troupe called STOMP establish its first touring production, to facilitating collaborations among diverse artists and across genres.
For the past several years, Blachly served as consultant to several arts organizations around the country, but he jumped at the opportunity to take the reins at ON.
Consulting "just didn't have the same return on investment for me that working with artists and audiences does. It was that whole way that "the arts" make the community a richer resource for people to live here."
"You're drawn to something because you have a passion for it. You have a purpose. I wanted something more than just to do a job. I wanted to be doing something where the time I'm spending is something I want to do. And I [had been] doing much more of the basics of getting it done administratively."
Blachly acknowledges the strong legacy of Opening Nights, but he was also open about some of the unique challenges in store.
1. Venue Scarcity
"I want to see what other spaces in Tallahassee and the surrounding communities will lend themselves to programming."
Tallahassee's inventory of prime performance venues is, to be blunt, inadequate. On top of that, ON has to get in line behind the Music Department and some general academic classes for the available FSU venues.
He recalls when the Northridge earthquake shut down UCLA's primary stage and forced him to find alternative spaces, a move that led to a more vibrant and geographically diverse arts environment than they enjoyed in their flagship venue.
2. The February Tsunami
Noting that even though the past two directors broke the series out of its traditional February confinement, 17 of this season's 39 events still fall in the shortest month.
"This creates audience fatigue — financial, discretionary time, and everything else that goes on in a community. It's just a lot in a short period of time. I would like to honor the legacy of the original 'Seven Days' by having a capstone event each month from October to April, to have seven days of marquee events, along with other smaller events throughout the year."
"I'd like to consider expanding into summer, too. Despite what everyone thinks, there are people here in the summer. We can do things."
3. New Audiences
"One of the things I want to do is take our programs out into the community, start going to places that have spaces."
Like any good promoter, Blachly is keen to expand the scope and reach of the program, and that means reaching out and finding the audiences who have not been exposed to performing arts in general.
"Since we've largely taken art out of the schools, young people are not only not learning how to play an instrument, they are not learning how to be an audience member. They're not getting a chance to hear their school orchestra because there isn't one. Or they're not getting the chance to make school field trips to concerts and museums because it's not part of the curriculum. We've lost probably two generations of audience members."
There's no quick fix for this, but a good start lies in taking Opening Nights artists to underserved groups to let them see what is available. Blachly asks visiting artists to conduct residency/outreach education activity along with their public performance.
"And with almost 100% of the (people) we talk to, the response is 'absolutely'. Everybody understands it has to be more than just drive-by art. We need them here in the community, we need them to get a feel for who and what we are, so that they start to think about us as part of the tapestry of their working world, that this is a place to come back to. So now we have to figure out how to craft those educational pieces and make sure we have the audience."
But none of this means turning away from the people who supported Opening Nights for the past 20 years.
"Chris and Steve (previous directors) built this program up and took some smart risks that paid off. So I have to be cautious that the risks I take are within the lines of what people are going to accept."
"You have to build a sense of trust that what you're doing is of value. I don't want to dumb down just to fill seats. I want people to be willing to take a risk with us. But it's so fragile."
But the payoff — creating something in the community that it never knew it could not live without — is what makes it worth the effort.
"It's that global reach that becomes bigger than Tallahassee, bigger than Soweto, it's bigger than who we are. It's so much greater than the sum of our parts. That's what it's all about."
Opening Nights Box Office:
 FSU Fine Arts Building | 540 West Call Street | (850) 644-6500 |
openingnights
.fsu.
edu
Hours (Box Office):
 Tuesday-Saturday, 11 a.m–4 p.m.