Michael Bakan Gives Voice to Those On The Autism Spectrum
The professor and musician is connecting with others through the beat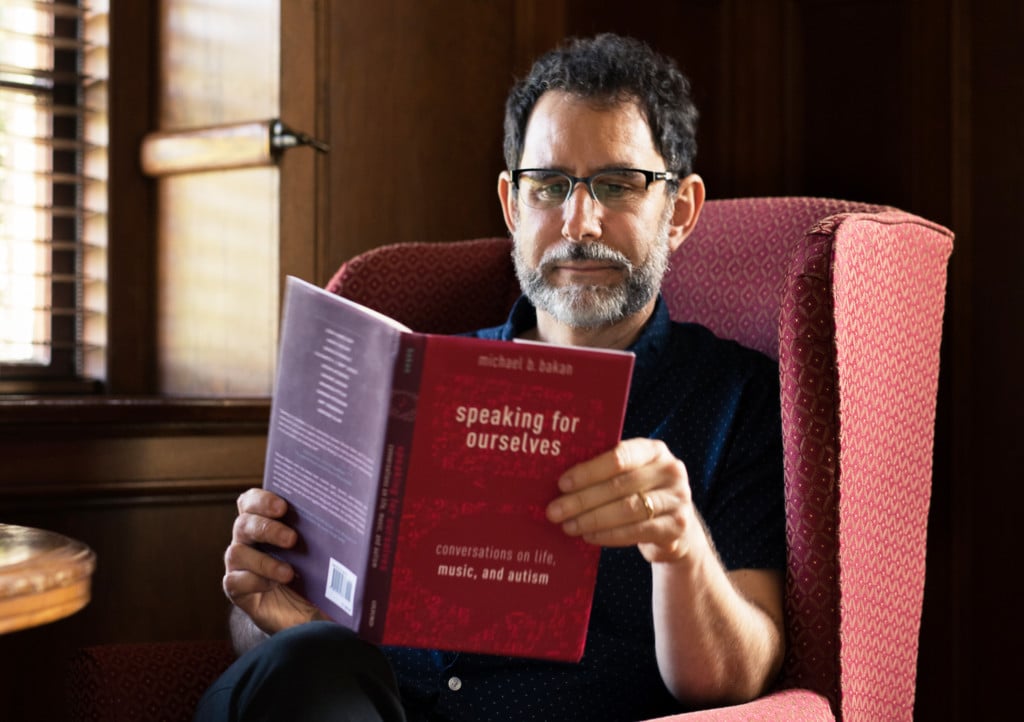 Michael Bakan is late. It's raining, and the jazz group is already warming up. But Longineu Parsons, Darryl Steele and Brian Hall are patiently waiting for the beat, the pulse, the rhythmic tattoos that will support whatever magic will happen tonight.
And it doesn't take long.
Within minutes of arriving, his head thrown back, his body dancing, his hands like armed anemones beating patterns against drum heads and congas, Michael Bakan seems to have left us.
Behind his closed eyes, one can guess at panoramas, starbursts, an empty universe filled with joy. Or so it seems when the music begins and Bakan surrenders.
The next day, the respected Florida State University professor of ethnomusicology, back from that ethereal place the music takes him, is eager to tell about how he happened to become a jazz drummer and a leading expert on Balinese gamelan music and about another of his passions, the relationship of music to the autistic spectrum.
He also discussed his newest book on the subject, Speaking for Ourselves: Conversations on Life, Music, and Autism, in which diagnosed individuals speak candidly about their own relationship to music.
In his book, Bakan draws his autism-spectrum interviewees into discussions about their musical experiences — of being human while being unique, "getting their voices out to a world that rarely hears their internal music."
Bakan, 55, was born into an academic family where music often filled the house.
"I played a little drum kit at 3," he said. By age 9, he'd picked up Beatles' rhythms from records, and he added violin when he found an unused instrument lying around the house.
By age 13, he said, he was playing in jazz clubs around Vancouver, where his family lived.
He credits a teacher who was a "brilliant percussionist and mathematician" for introducing him to the West African rhythms that he would come to love.
By 1988, with a Master's degree in ethnomusicology in his pocket, Bakan planned for a performing career — already playing in reggae bands and Indonesian ensembles and fascinated by the polyvocality of ethnic musical styles — when a disabling fibromyalgia seemed to bring his performance dreams to a halt.
He shifted his focus to academia, and following a semi-mystical period of Siddhartha-like reinvention in Bali, Bakan returned with a plan for a Ph.D. in ethnomusicology with an emphasis on Balinese gamelan music, which is played on metallic instruments and drums.
With a new direction, his academic career quickly grew with professorships at Bowling Green State University and, beginning in 1994, at Florida State.
He would go on to create FSU's World Music Ensembles program, the Omnimusica intercultural ensemble and a professional gamelan group in Tallahassee, all while producing books and dozens of articles on ethnomusicology.
He also would perform and collaborate with artists and organizations including George Clinton and the Toronto Symphony Orchestra.
About 15 years ago, Bakan says he was with a relative's child who was diagnosed on the autism spectrum with Asperger's syndrome.
The child was unable to be near others in social settings and happier alone in his room. He spoke only in his own made-up language and avoided eye contact and interpersonal interactions.
Yet on one revelatory night, as Bakan and the child's father played drums together in the house, the child emerged from his room, picked up a drum and began to rhythmically play it.
Then he began to sing. Even after the musical moment, the child continued to speak in a thoroughly communicative and animated way, using English instead of his bespoke tongue.
Thus began Bakan's journey to research and understand the way that music affects those neuro-diverse individuals on the autism spectrum.
And his percussive instruments would be the beginning mechanism toward that understanding, using simple tools and hands and shifting musical rhythms.
His federally funded Artism Music Project features autistic children and world-class practitioners playing music together, and his most recent book presents 10 diagnosed autism-spectrum individuals who discuss what experiencing music is like for someone who, as he says, is "wired differently."
It has been noted that many autistic people identify strongly with music, Bakan says.
Many have exceptional musical abilities, pitch recognition and rote memory.
Bakan is interested in understanding how such individuals employ music to confront life's challenges and to allow for creative expression.