Miccosukee Co-op is Home to Regular, Everyday Citizens Too
Miccosukee Mindset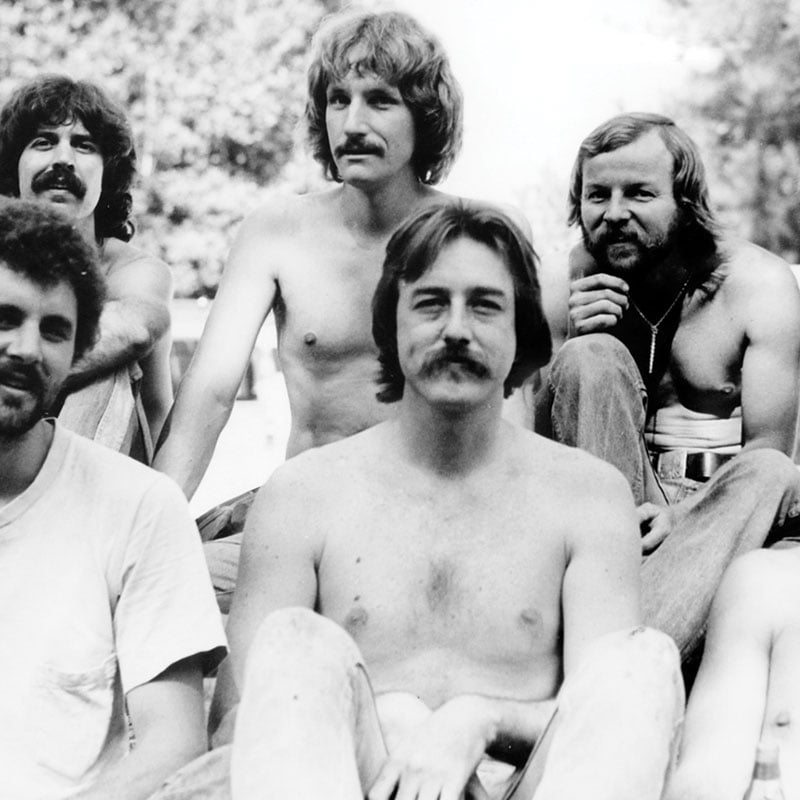 After 35 Years, the Miccosukee Land Co-op Is Passing the Torch to Its Next Generation — and to the Wider Tallahassee Community. Here's How a Bunch of Hippie College Kids Turned Their Utopian Vision into State and Local Health, Education, Environmental and Business Policy.
Yes, they still have potlucks. They still wear tie-dye, as recently as last October's anniversary bash, when T-shirts with a black-and-white design were colorized on tables outside the Miccosukee Land Co-op's Community Center. And it's been only four years since a Leon County commissioner called them … well, "pot-smoking hippie scum" is the sanitized version.
"There's a legend of the co-op in town," said Anthony Rose, a 28-year-old landscape architect who married Eirin Lombardo, daughter of an old Miccosukee Land Co-op family. "Everybody thinks they know something about the co-op, about the naked mud wrestling and the fire dancing that goes on. I would hear that kind of stuff, and then to meet Eirin and find out that she grew up out here." Part of a new wave of young people putting down roots at the co-op, the couple lived in a cottage on her parents' land before buying their own home.
After 35 years, the "intentional" community is no longer fringe. Its residents have taught tens of thousands of students, cared for people of every age and ailment, donated hundreds of thousands of dollars and as many hours of work, earned millions, and influenced the
outcomes of political and policy decisions affecting everyone in Leon County and much of Florida today.
The Miccosukee Land Co-op is "one of the elder statesmen" of intentional communities, said Laird Schaub, executive secretary of the Fellowship for Intentional Community, which maintains a directory of 1,000.
"Most of them don't make it to their second birthday," he said.
Located on 319 acres 15 miles northeast of the Capitol on Miccosukee Road, the co-op has about 200 residents. Some are well-known and well-connected, like Leon County Commissioner Cliff Thaell and entrepreneur Chuck Mitchell. Others are as far off the grid as possible, living by gardening and rarely venturing to town. The majority are middle-class professionals you wouldn't look at twice.
All is not peace and love all the time, however. Most intentional communities succumb to internal conflict, and the Miccosukee Land Co-op has had its share. While the co-op has maintained a waiting list since it began in 1973, fewer than 15 percent of those who first put money down remain.
But ultimately, said Laurie Dozier, an original settler whose business, Mad Dog Design and Construction, grew from co-op work parties, the place found the right neighborly mix.
"It was the people," Dozier said. "No matter how you slice it and dice it, it was this special combination of people, their vision of community and their determination to bring it to life and live it."
Dozier moved back to town in 1988 and now lives within walking distance of his office and his father's home.
"But the (co-op) community has still embraced me as one of theirs," he said. "And I can still find my way through that place in the middle of the night."
'It's Not a Commune'
The fliers appeared around the Florida State University campus in 1973. "Back to the land," they read. "For a long time, we've wanted to have a community of friends in the country. Finally we've found the land and worked out the details. … This is it."
It was a message in a bottle, sent by a group that had formed, purely by chance, at the Sun Restaurant across Jefferson Street from FSU. Chuck Mitchell had won a scholarship to study utopian communities at Yale that fall and was lunching with Bob Dillingham, who was off to medical school at the University of Florida. They had worked together as carpenters and were discussing their dream of returning to Tallahassee one day, doctor and teacher, to be next-door neighbors and help build each other's homes.
Meanwhile, at a nearby table, Jeff and Anna Van Pelt were discussing the Small Change Foundation with Chris and Carol Headley. This was the vehicle the four had established for their dream: creating a community. Katie and Michael Hunter were at a third table.
"One thing led to another," Mitchell said, "and we all realized we were having permutations of the same conversation: the notion of owning some land together and building each other's homes. So we pulled our tables together."
They posted fliers and held weekly meetings. Word went out via the Florida Flambeau, an independent newspaper that covered campus, and FSU's Center for Participant Education, which offered the meetings as a class. In 1973, FSU was ablaze with student activism, the self-styled "Berkeley of the South," and utopianism was in the air. Tallahassee fostered two food co-ops; an art co-op; a book and record co-op; Grassroots, a free school based on A.S. Neill's Summerhill (a non-traditional school in England offering choice and equality to students); and the School for Applied Individualized Learning (SAIL), an alternative high school.
Although a utopian, Jeff Van Pelt knew finance and real estate, which is partly why the Miccosukee Land Co-op got past the talking stage.
"Had it not been for Jeff's financial acumen, we would have been just a bunch of idealists talking about something that we couldn't pull off," Mitchell said.
"Most groups lacked those skills and had to turn to outsiders," Van Pelt said. He was also deeply opposed to the enforced conformity of many intentional communities.
"It's not a commune," he'd say at the meetings. "Community must be voluntary. There are lots of communes and cult farms and ashrams where everyone has to get up and meditate at a certain time, attend certain functions, live a certain way, do certain work. Compulsory sharing is a contradiction in terms. There's no community in a prison."
Of the Miccosukee Land Co-op's 240 acres, two-thirds would be private property, in 1- to 10-acre lots, and one-third would be common land. If you sold, Small Change had the right of first refusal, followed by your immediate neighbors. Nor could you charge more than your original payment plus the change in the Consumer Price Index.
It sounded good to Rose Kelley — then Rose Van Oss — an FSU library student who had grown up in a suburban, blue-collar New Jersey town.
"Nobody really knew anybody, even though we were right next door to each other," she said of her hometown. "It was just a really cold way to live. The idea that you could actually know the people you were living with was something I thought would be so great, so different from the way I grew up."
"Perfect" was Tom Kelley's verdict. A devotee of Mother Earth News who had visited communes in Oregon and California, he plunked down his $200, a considerable sum for young people at the time. So did Dozier, who came to a meeting and signed up on the spot.
That didn't mean the investment wasn't daunting. Rose and Randy Van Oss, then married with a toddler, took turns bucking each other up in the hall.
"We could only afford an acre. We wanted to buy more," said Randy Van Oss. "Even that, it was full of angst. Two hundred dollars — that was a month of making really, really good money." He was working at FSU's construction supply store while Rose went to graduate school.
The core group had looked at land in Leon and surrounding counties before choosing the Miccosukee Road parcel, which Small Change purchased for $1,333 an acre. Members bought in at $2,666 an acre, the difference paying for roads and a community center; they put down $200 and made $25 monthly payments. The parcel was smaller and more expensive than their other options, but closer to Tallahassee, allowing co-op residents to keep ties to FSU and the cultural offerings of the city.
Then, too, said Dozier, "People thought that Leon County was … politically a place where we would have possibly more influence than some of the other counties."
Eighty of the 240 acres were in the swamp.
"I remember being way up on the hill and hearing the alligators roar," said Van Pelt, who now coordinates the Initiative in Religion, Science and Technology program at Yale Divinity School. "What really shocked me was that the wet land became even more popular than the dry."
As soon as Small Change put money down, it rained for 11 days — so much that Van Pelt calls the deluge a 500-year flood.
"I thought, 'Oh my God. I'm trying to sell people swampland in Florida,'" he said.
'Cool, Let's Build a Geodesic Dome'
In early 1974, the first co-op residents moved out to the land, most in tents or shacks without electricity or running water. The Van Pelts moved an old house onto their property. Tom Kelley bought a surplus army tent — a gamble, he says, but his turned out to be in decent shape. He built an inner room of mosquito netting.
"We couldn't afford to live in town," said Randy Van Oss, "because we didn't have enough money to do that and maintain $25 a month going to a 'mortgage,' if you will, with the land co-op."
"It was a dilemma from day one: to focus on shelter or focus on income," said Marlene Brudenell, who with her husband, Gerry, an early-childhood education professor at FSU, moved out with their five young kids and eight other people. The household included Hermann, Claudia and Derek Frese, whom they had met at church.
Marlene Brudenell
Scott Holstein
"We'd been talking about moving back to the land as Christian families helping each other," Marlene Brudenell said.
They divided the tasks: Hermann Frese built a dome, Gerry Brudenell earned a paycheck, Marlene Brudenell cooked for 15 on a camp stove.
Randy Van Oss built a 10-foot-by-12-foot wooden structure for himself, Rose and 3-year-old Meghan. Rose was pregnant. For plumbing, they had an outhouse and a 250-foot hose. After six months in the shed, Bree Van Oss was born.
(Bree recently became a father himself, with wife Halle Lyons — thus far the only marriage of two people who grew up at the co-op. Holding their new son, Luca, and discussing the deprivations of their parents' first years on the land, Lyons asked her husband, "Can you imagine doing that now that we have a baby?")
The first co-op residents chose their land, and Laurie Dozier knew his on sight.
"It had an incredible oak tree," he said. "We built the house with hand tools, with mosquitoes so thick you could hardly see."
Each day he brought home water to flush the toilet. Norine, then Dozier's wife, worked as a waitress and brought home ice. From January through September 2004, they lived without electricity and managed hot water only on Oct. 20, the day their first child, Kristin, came home from the hospital.
"Every grandchild who got married, my grandfather gave them a silver tea service," Dozier said. "I asked him for a septic tank."
A slightly later dwelling was inspired by the Brudenell-Frese household.
"We said, 'Cool, let's build a geodesic dome,'" said Karen Wilde, then Karen Barr. She and husband Tom had bought an acre with another couple, Larry Schueren and Jan Falciglia. "In the infinite wisdom of our early 20s," said Wilde, "we recognized that we needed more than just one dwelling for group living to be successful." So Wilde, who taught emotionally disturbed children, and Falciglia, the co-op's office manager, left for work while the men built the dome.
"No one had ever built anything before," Wilde said. She claims a "love/hate relationship" with the dome, which wasn't finished for 33 years, by which time she was the sole remaining member of the foursome and remarried for 25 years.
Cliff Thaell and Georjean Machulis stumbled onto the co-op in 1976, turning onto a dirt road by accident. They already knew they wanted to live in the country.
"We were looking for a better community to raise children in," said Machulis, then pregnant with Jessica. As they drove by the Brudenell-Frese place, kids ran out. The couple was invited inside; as grace, they sang the Johnny Appleseed song ("The Lord is good to me, and so I thank the Lord … "). "We sing it at our meals still," Machulis said.
The young homesteaders scrounged for building materials. They tore down old tobacco barns and salvaged the lumber. Dozier, whose grandmother gave him her Georgia house, "filled this truck so full of wood that the tires blew out on I-75." Machulis found gems at an FSU auction: For $100, she bought the floor of Bloxham House, the first Florida Governor's Mansion.
"The one rule we followed is, 'Whatever we do, we don't spend any money to build a house,'" said Karen Wilde.
They built together, in work parties that saw 30 people swinging hammers and a dozen cooking and washing up. Afterward, they played volleyball. In 1974, Mitchell and Dozier started Mad Dog Design and Construction, which Mitchell estimates employed 25 co-op residents over the years.
"The (co-op) inspired me to start Mad Dog as an employee-owned company," he said. "We did over 100 work parties for schools, nonprofits and needy individuals while I was there. The inspiration came from our years building roads, each other's houses and a community center together. … I still run into many of these folks at the Habitat (for Humanity) builds each year."
Mad Dog's first office was on 25 acres across Miccosukee Road from the co-op. The land was developed as a solar community, now called Sunrise, which was selected as the 2002 Leon County Neighborhood of the Year. In 1982, Mad Dog loaned Dozier to the co-op to oversee construction of a 7,500-square-foot community center, which cost $25,000 and was completed in 1983. Then they built a pool.
"We didn't know how to build a pool, but we figured it out by building it," said Rob Lombardo, executive director of the Big Bend Rural Health Network. Although the work was communal, they were owners; Tom Kelley doesn't think the co-op would have survived otherwise.
"It's a good feeling to know you're not trapped in your hard work," Kelley said.
Dozier likes to reflect on such early accomplishments by such young adults.
"I'm a 23-year-old living in my own house that I built by my own hands, in a community that I helped start from scratch, Think about that." — Laurie Dozier
'I Complained About Being Too Far from the Malls'
To say the least, growing up at the Miccosukee Land Co-op was a mixed blessing. Life among woods, lakes and creeks was all an adventurous child could want, but such accoutrements of mainstream life as fast food and TV, which the kids didn't know much about until they started school, were largely verboten.
Georjean Machulis & Cliff Thaell stand in the memorial place she built after their daughter died in an auto accident in '93.
Scott Holstein
"It was fun sometimes," said James Brudenell, Marlene's youngest son and, now, at 42, her next-door neighbor. "It was like camping — forever. But I remember hating it quite a bit, mainly because I was embarrassed to bring kids home from school." As a member of one of the first co-op families, James had only his siblings and Derek Frese for playmates until 1976, when Machulis and Thaell arrived with Chad and T.J. Two years later, Burt Davy and Agnes McMurray brought daughters Jennifer and Kristin. "Then I had kids to play with," James said.
"They all hated it when they were growing up," said Beth Butler, an early settler, now a quality-assurance specialist on disability issues. "We were too far away, too far from town."
"I complained about being too far away from the malls," Halle Lyons said.
"I complained about not having sidewalks so I could skateboard," her husband, Bree Van Oss, added.
The upside for co-op parents was peace of mind; their kids were safe.
"I'd leave after breakfast with no shoes, just shorts, no shirt, and be gone all day," said James Brudenell. "It was very easy and free, and everyone was very trusting."
When Kristin Dozier was 2, she took a call from her best friend, Orenda Lyons, three months her junior, and informed her mother that she was leaving for Orenda's house, a quarter-mile down Long and Winding Road.
"Well, of course, Mom followed me in the bushes. I didn't know this until later," Dozier said. "But I made it to Orenda's on my own. For me, that sums up the beginning of independence."
Joy Van Oss, married to Bree's younger brother, Oakley, said their 10-year-old son Orion has also grown more independent since they moved here in 2007.
"We can trust our neighbors to watch out for him," she said.
Youngsters who grew up on the co-op were unusually close: in and out of each other's homes, with every parent responsible for their care and discipline.
"We had an immense amount of support — all the different parents we had, some with kids and some without," Kristin Dozier said. She cites Chuck and Patty Mitchell as extended parents; Paul and Joanne Chamberlain were likewise close to Bree and Oakley Van Oss.
"The co-op was even closer than the way we relate to siblings in Japan," said Junko Brudenell, who moved from her native land in 1996 to marry James Brudenell.
As for their friends' biological parents, Bree said that when he became Judith Lyons' son-in-law, "I already felt like she was my friend." Daniel Lombardo, a pre-med student and musician, learned about computer programming from Jim Lyons. Retired nurse Marlene Brudenell, who regularly visits nursing home patients in Tallahassee and travels to Haiti to volunteer at medical clinics, took Daniel on his first trip there.
The offspring of early co-op residents have done quite well in school.
"It's stunning," said Beth Butler. "I mean, count up the Ph.D.s. There's a dozen out of the first generation." There are an equal number of masters' degrees, she said, "and some of the brighter kids didn't go to college."
Butler has a theory: The Miccosukee Land Co-op began with the premise that many of its residents would work at home and homeschool their kids. When that didn't pan out, she said, "The question was, 'Do we educate our children ourselves and do a really good job of it, or do we put our energy — our bright, capable, powerful community energy — into the bigger (public) school, so that the children who live down the street from us have the same benefit that our children would have?' And we as parents said, 'We're going to send our kids to the school, and we're all going to go over there and do something.' And we did."
Many co-op residents ended up in education, as teachers and administrators. Others became passionate school volunteers, donating money and work, yet ready to challenge a policy or teacher they considered unfair.
"In some ways, we helped empower other parents," Butler said.
Debo Powers, principal of the School for Arts and Sciences and a longtime co-op resident, taught much of the second generation at SAIL. Asked if they were different: "Oh, yeah," she said. "They could relate to adults not like kids, but like they were peers, almost."
Lucia Maxwell, whose home business, Abbey Road Farms, employed 130 young people during its 13 years, said the co-op treats its young with respect. "People honored what kids said, so they grew up thinking what they said was important," she said. Maxwell and her husband, Rob Lombardo, host an annual young people's party.
"We raised very few hippie children out here," Beth Butler said.
'They Say the Loss and the Blessing are the Same'
People who live at the co-op say it has changed their lives.
"Because we built this house without a mortgage," said Thaell, "we've had the freedom to pursue our dreams. It really allowed us the freedom to become what we believed we could become."
That's not to say the prevailing ethic is laid-back. Environmental journalist Julie Hauserman came to town as a reporter for the Tallahassee Democrat, where she earned her first Pulitzer Prize nomination before moving to the St. Petersburg Times capital bureau, where she earned a second. She had always assumed she would end up in a major city or a foreign bureau until environmental activist Ed Deaton invited her to the Miccosukee Land Co-op for Thanksgiving in 1988.
"Many of my neighbors were not tied to big mortgages and a lot of debt, and so they were more free to make choices in their lives, such as working at home, developing alternative-type careers, making their own entrepreneurial decisions," Hauserman said.
Although she never imagined any way to be a journalist "but a big noisy newsroom," she now works from home.
"Over the years, seeing my neighbors reach their dreams … it gave me the courage to jump off the treadmill and create a life for myself that has so much more balance," Hauserman said.
Entrepreneurship is in the community's DNA.
"There's a ton of small businesspeople out here that are successful," said Maxwell, whose Abbey Road Farms was honored by the Tallahassee-Leon Chamber of Commerce as a Small Business of the Year. "When you think about it, it's amazing. It fits right with the whole self-reliance ethic."
The co-op also has an environmental ethic that has affected not just the city but the nation — if only because Bill Hinkley lived there until his death in 2005. In his 30-year career at the Florida Department of Environmental Protection, Hinkley designed Florida's recycling and solid waste management plan and drafted legislation to create the Center for Solid and Hazardous Waste Management. He also made public the presence of arsenic in pressure-treated wood, which is now — directly due to his efforts — banned in the United States. Hauserman broke the story.
"Because of Bill's decisions, thousands of people will be spared illness and death from pollution," she said.
Co-op residents can be formidable in the political arena. More than 200 turned out for a Leon County Commission meeting in 1985 when the panel was planning to widen Miccosukee Road; the trees were spared. Thaell credits the co-op with electing him four times. During the 2008 presidential race, the community supported Barack Obama with money, massive amounts of time, and hospitality for volunteers from other states.
The co-op is outstanding at fundraising, if only because it has exceptional musicians and cooks. Sustained, creative efforts benefit neighbors who fall ill or whose houses burn. The community holds music festivals and donates the money — to rebuild New Orleans, for instance. "Pie Goddesses" baked and sold 50 pies at a Thaell campaign event.
Over 35 years, the co-op has developed its own folkways of celebration and grief.
Holidays are huge. And while some are observed just as they are anywhere else — fireworks on the Fourth of July, dancing on New Year's Eve — others are more original. The co-op marks Easter with Garden Walk, a progressive breakfast from house to house at which the hosts show off their gardens. Halloween has Pumpkin Walk; the night before, there is a carving party at the Community Center, and then a trick-or-treat route is mapped out with luminarias and lit pumpkins. The first Friday in December is the Holiday Art Affair, when the co-op's many artists and artisans sell their wares.
The co-op has its rituals around death and illness, which have visited often. On the night of a death, there is a bonfire on the common land, even in August. As the news spreads, people gather to sing and cry and tell stories about the departed.
"The hands of this community just held us," said Georjean Machulis of the death of her and Thaell's daughter, Jessie, in a car crash in 1993. For weeks, neighbors brought meals.
Machulis had long been understood to be the spiritual leader of the co-op. An accomplished artist, she built a monument with stones from the Aucilla River, which James Brudenell helped her collect. "Jessie's Grotto" was dedicated the following year. Machulis leads an annual All Soul's ceremony and has presided over some 100 weddings and funerals.
"During an illness, the community acts very much like a family," said Linda Deaton, a curator at the Tallahassee Museum who is successfully fighting cancer. "There's all this love and support for healing. … I've been in a lot of prayer circles."
'This Place Has Exploded with Young People'
When Katie Hunter died in 2007, she left her two properties to the Miccosukee Land Co-op — on one condition. The community could sell the properties only to young families.
"She mentored the younger generation and encouraged us to be part of the process," said Eirin Lombardo. "She not only thought about who she wanted her property to go to, she also thought about the finances of the co-op. I think other families are considering that as well."
"She plowed her life back into the soil of the community," said Halle Lyons.
Hunter's bequest helped spark a critical mass of next-generation co-op residents. Until then, Anthony Rose had been wondering where the whole enterprise was going.
"It didn't seem like there was much happening out here," he said. "It was aging and stagnant. There wasn't a lot of energy toward doing anything new."
"Our vision was always of a multi-generational community," said Agnes McMurray. "As our children moved away we lost that diversity, and I believe for a time we became a less vibrant community."
But now, said Rose Kelley, "this place has exploded with young people."
Now there are half a dozen young couples. Last July, for instance, Wendy Chan and JaSun Burdick bought one of Hunter's properties, two acres on Sun King Lake. They'd been searching for an intentional community and had a bad experience with one smaller than the Miccosukee Land Co-op and controlled by one person. Chan now works at FSU's Beaches and Shores Research Center. Burdick teaches math, geometry and science at SAIL. Their plans include a baby and a trip to China.
Other young adults say the couple has been an inspiration. They participate in everything, especially sports events such as Frisbee and juggling. Burdick is a representative to Town Council, and Chan won third place at a recent Sunday-night potluck with her spaghetti-and-Thai-peanut-sauce concoction. Burdick also is the force behind an exercise group that bikes and works out three times a week.
The young adults are also taking charge of special events and ongoing co-op business. Anne Hempel put together the New Year's Eve party. Bree took over the duties of land transfer coordinator from McMurray. Joy chaired the committee that developed the process to market and sell Hunter's property, working in conjunction with the Financial Planning Committee.
"We wouldn't have had the objectivity and foresight that was brought to the group by its younger participants, including Joy, Bree and Todd," said Mary Hinkley. "Us older participants brought different qualities to the task — experience and historical perspective. A wonderful mix."
Naturally, as the next generation takes on the work of the co-op, they are impatient with the historical tendency to gum an issue to death.
"There's clearly a generation gap in the way that we see the use of technology with running the co-op — just simple things like that," said Joy Van Oss. "Like implementing a Web site to post the Alternate Current (community newsletter), meetings and event calendars. We could go to an all-paperless billing system for assessments and e-mail notices, use ACH direct. This is the new generation of banking."
Oakley Van Oss — "not a committee person" — is grateful to Joy for making their family's contribution.
"She'd come home and say, 'We talked and talked and talked and talked and talked about the same issue until everybody was blue in the face, and we left not any farther than when we got there.'"
Joy wants to be more efficient. She's trying to find a balance between her drive and the lengthy co-op process of inclusion.
"It's going to fall on our shoulders at some point," said Oakley, "to where we're going to be the people handling the books and the billing and making decisions and doing the tractor and running the co-op. So it needs to happen, but also it's important to try to glean as much as you can about how it has been done and the way that it worked, because it has."
Billy Wilde ticks off the co-op's most contentious issues: dogs, the community center, mosquito control and how to spend MLC's money. "In spite of all that, we actually seem to have been successful in building community. And I take as a huge barometer of that success the fact that we have so many young people coming back."