Memories in Bronze
Sandy Proctor makes lasting impressions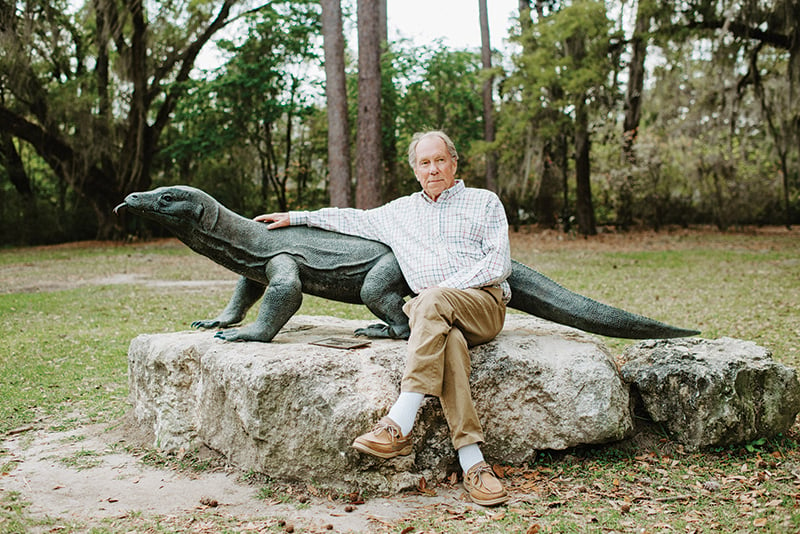 In November of 2022, Florida State University President Emeritus John Thrasher stood staring at himself on the lawn of Westcott Plaza. He was pleased with what he saw: "Humbled," he says. With his sculpted bronze hand extended toward imagined new graduates, the larger-than-life likeness is a tribute to the outgoing president from his successor. Now John Thrasher will stand along with three other emeritus heads of FSU. "And he even gave me a little more hair, too," Thrasher jokes.
The "he" is Tallahassee sculptor, W. Stanley "Sandy" Proctor, among whose many works are in the British Museum, the Smithsonian and the White House. Proctor, a specialist in turning what is transitory into matter, attempts to choose one moment in time and preserve it for the ages. At 70, the prolific sculptor continues his work. Academics, fallen soldiers, beloved animals, midair football players and soaring ballet dancers have all become solid metal that emulate life.
Today, relaxing in the living room of what appears to be a veranda-encircled farmhouse, Proctor waves an arm toward walls and tables where every surface holds his output of busts, painted birds, delicately water-colored tobacco barns, and careful portraits of friends and strangers. And in a soft North Florida drawl, he muses on how he came to be an artist — a final result that was anything but certain.
"I was born in Tallahassee, son of a fuel oil supplier, who later became mayor," Proctor smiles. "My mother was a pianist who taught at FSU, and me … well, I was drawing as soon as I could hold a pencil." But Proctor says he couldn't see how he could make a living "doing art." Besides, he wasn't an "artiste." He liked fishing and hunting — and football. After college and a degree in history, Proctor went on to join his family's fuel business and tucked art away as a "hobby." And yet in the year he turned 40, now a married man with two children, Sandy Proctor and his wife, Melinda, would decide on an existential U-turn.
"Though I had never had an art lesson in my life, we gathered up my paintings of birds and headed to New York City." Door to door they carried the art and in the long-shot of all long-shots, the galleries began to buy them — all of them — and wanted more. Sandy Proctor had rather miraculously launched himself as a working "artist," to earn his living the way he wanted.
Over the next years, with his artistic muse now in charge, Proctor experimented in every medium, from graphite to oils. He learned to carve in alabaster and marble, and ultimately to do what he really wanted — to make sculptures in bronze, a multistep process that combines art with engineering, metallurgy and physics.
In an art form that requires many stages and lots of time, Proctor's corpus today includes countless commissions of the likenesses of pets, family members, famous people as well as hundreds of public works: Heisman winners at the University of Florida, a six-figure memorial to fallen officers for the Florida Sheriff's Association, and the monumental, three-figure, integration statue on the FSU campus. "I have probably upwards of a dozen sculpted pieces at FSU alone," he says.
"It was an interesting process as Sandy prepared to do the sculpture," notes John Thrasher. First, meeting in the president's office to take measurements and photos, Proctor then worked out of the Master Craftsman Studio in Tallahassee where he carved an armature from Styrofoam, applied clay to sculpt the likeness, and later, along with studio director John Raulerson, oversaw the complex process of applying rubber, plaster and hemp to the form. Later, wax would be poured into the negative space, followed by ceramic, and finally — finally, the bronze. The end result shows a warmly serious Thrasher garbed in academic robes with an outstretched hand.
Sandy Proctor, always with a little smile playing around his lips, admits that there have been some projects that have remained with him through the years. "There was the coyote I sculpted that a woman believed was her deceased husband who appeared just at the moment he had passed." And Proctor remembers fondly the hours spent chatting with Bobby Bowden as he sculpted his likeness and took the coach's suggestion to "take 10 pounds off my middle."
And what is next for the sculptor? "Remains to be seen," smiles Proctor. "I work every day at painting, or carving or teaching. Life is out there, always available to be turned into art."
---
McCord Park Sculpture Garden
Located on Armistead Road in the Betton Hills neighborhood, Guyte McCord Park features seven bronze works by Tallahassee's own Sandy Proctor. The sculptures are placed along a walking path that encircles a pond filled with birds (and maybe alligators). It's a peaceful spot to take in Tallahassee's flora and fauna.
---
Proctor's Commissions
Proctor's public works include sculptures that pay tribute to athletic achievement, public service and the diversity of peoples in Florida and the United States.
---