Melinda Copper's Pet Portraits Are a Sight to Be Seen
From "American Gothic" to "Birth of Venus" this artist portrays her favorite pets in formal paintings.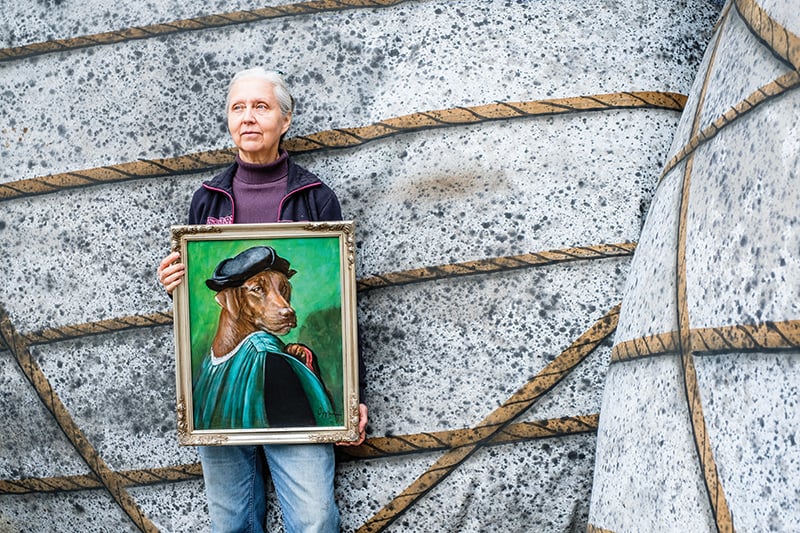 Melinda Copper's copies of Old Master portraits have all the hallmarks of the originals — formal poses, lush velvets, exquisite jewels, rich colors, fine details, pointy ears, whiskers
…
Wait, what?
For, while faithful to the works of Titian, Van Dyck, Rubens and Raphael, in her paintings, the Monticello artist substitutes animals for the human subjects.
It all started about 30 years ago, when Copper, a working artist, developed an allergy to the solvents used in oil painting.
Her previous work with acrylic paints was limited to airbrushing — "I didn't like them very much …. They were very annoying to paint with," she says.
But their quick drying time would allow her to explore a technique of underpainting topped with layers of color used by Old Master painters.
"If you're painting with oils, this is a long, long, long process because it can take six months to dry a single layer," she explains.
To experiment, she would find a classic portrait in an art book — no Google images back then — and try out the technique while copying the style of the artist. But there was one problem.
"I didn't want strange people on my walls, just their pretty clothes and jewels," Copper says in her online biography. "But I did have these old cats and dogs and I always wanted paintings of them.
I thought, 'Oh, I can kill two birds with one stone. I can have these paintings that I really like, and I can have my cat in that painting."
Since then she's created more than 100 of these pet portraits.
Some are easily recognizable: cat versions of Holbein's portraits of Henry VIII and Anne of Cleves, Widget the cat as Carravaggio's Bacchus, a cat and dog rendition of Grant Wood's "American Gothic," Raphael's cherubs, even a kitty rendering of Botticelli's "Birth of Venus."
Others are less well-known artists, including one of her favorites to copy, Jean-Auguste Dominique Ingres.
"He did really, really tight, 19th century portraits. Very smooth and classical and he left nothing to the imagination," Copper says. "Every little detail is absolutely perfect, and it is so easy to copy."
She's also partial to Degas and has rendered his ballerinas as frogs and gerbils. But don't ask her to reproduce Leonardo DaVinci. After two attempts at the Mona Lisa, she cried uncle on trying to copy his technique.
"Like practically everyone, I look at the Mona Lisa and go 'Oh yeah, it's nice. Big deal. So what.' And then I tried to copy it. The man is an alien," she says with a laugh. (Copper laughs a lot.)
"He actually paints atmosphere. There's so many layers on that painting and it's so impossible to copy and it just kind of grows out of nothing; you can't pin it down."
While most of her portraits are cats and dogs, she's also immortalized goats, sheep and bunnies. No horses though.
"You can't really put clothes on a horse," she says. "They really look wrong." Rabbits and other small animals are her best subjects. "You can make a hamster look good in clothes."
Her technique is not to just plonk an animal head on a human body, something artists doing similar work do using Photoshop.
Animals, she contends, have much slimmer shoulders than people do. So she narrows them down "trying to get the sweet spot" that might convince viewers why, yes, that is a dog posed in a wide-necked blue dress.
Paintings from her personal collection were recently featured at Sage restaurant, but the 65-year-old artist doesn't show her pet portraits much since they're not for sale.
Her work now is commissioned, and a 16-by-20 painting starts at $1,200 and can rise to $2,500 depending on the amount of detail work.
Copper and her husband, Bob, are an artistic team who have been tackling projects in a wide variety of media in their Copper Moon Studio since 1982.
They've created bronze busts of Nobel laureates and statues of presidents at Florida State University — her alma mater — and painted murals for museum exhibits.
Bob, she says, is "fearless" and willing to take on any commission, including a 9-foot-tall cow head sculpture that had to be turned around in a week.
The pet portraits don't take up much of her time these days, but Copper has many activities to keep her "busy hands" moving.
She tends a garden and raises milk goats on their "mini-farm." Artistically, she's been sketching horses in charcoal and chalk and dabbled — literally — in finger painting.
Many pet portraits she has done for others are of pets who have crossed the rainbow bridge.
"They're usually pretty happy. A lot of people cry. I love that," she says. Copper's own paintings are all of her own animals.
"Those paintings are like my pet morgue, because most of those animals have passed," she says. "It's been very comforting, weirdly, because I get to keep 'em."
You can view a selection of Melinda Copper's Old Master Pet Portraits at her website, melindacopper.net. The site highlighting the couple's business, Copper Moon Studio, is coppermoonstudio.weebly.com.