Mehndi Thy Ways
The Traditional Middle Eastern Body Art Celebrates Life, Love and the Pursuit of Hairlessness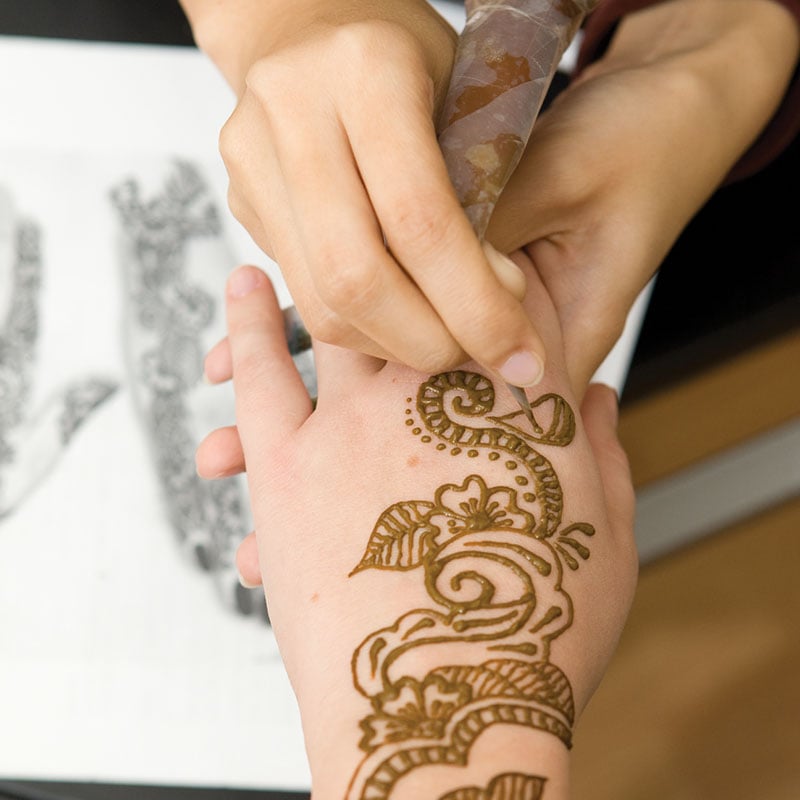 Unlike ink tattoos, the art of mehndi applies henna paste, a plant-based pigment that rests on the skin instead of underneath it.
Scott Holstein
I wasn't thrilled at the prospect of getting a henna tattoo. Even knowing it would last for only a few weeks, I found myself idly wondering if I would be the one girl in the world whose skin would soak up the dye and never let it go.
The image of me scrubbing at the swirling design with a turpentine-soaked loofah flooded my every thought. I appreciate fine art and love well-woven words but can think of no image or mantra I would want forever emblazoned on my body.
So when I arrived at Ruby Beauty Center and offered my freckled arm to Munira, I was surprised with each new stroke how beautiful (and painless) the process turned out to be. I watched in awe as this gifted woman drew an intricate, curvy pattern from my wrist to my fingertips, never pausing to contemplate her next flourish or dot.
Fifteen minutes later, my adornment was complete.
It was striking, really … watching the muddy, fragrant dye harden on my skin, rising thick like Braille above the surface.
I allowed the henna to crust while I chatted with the owners of the salon, Amir and Munira Alwani. They taught me that "mehndi" is the proper name for the application of henna paste, which is traditionally reserved for joyous occasions such as weddings, when brides adorn their arms, hands, shins and feet.
Most common in southern Asia, the Middle East and northern Africa, the custom now is used worldwide to celebrate any occasion, from the birth of a baby to the privilege of a new day.
Munira told me to let the dye flake off naturally over the course of the next four hours. In the morning it would look bright orange, gradually deepening to a golden or reddish brown, depending on the moisture and temperature of the decorated skin. My mehndi would slowly fade in eight or 10 days.
Next, the unthinkable happened.
This woman – who I had come to regard as a gentle, talented artist – asked me if she could "thread" my eyebrows to remove the stray hairs.
Again my mind began to wander, this time flashing pictures of needles and the tiny holes they would leave in my face. Why endure this kind of torture when I have a perfectly capable thumb and forefinger and a set of tweezers at home?
Munira informed me no needles would be involved. In an instant, I found myself reclining under her steady hand while she performed the motion required to strip my face of superfluous fuzz. She held a strand of white thread taut and rolled her wrists to the rhythm of pulsing Indian melodies.
When I sat up, my eyebrows were flawless arches, and the mustache-I-never-knew-I-had was a thing of the past. But of all her skills, Munira's improvised mehndi design was most impressive.
I left the salon feeling exotic and beautiful – not as a result of the hair removal, but because my mehndi gave me a sense of empowerment and mystery.
The following week, I was the proud recipient of a diverse array of comments. Among my favorites:
"You have something on your hand." – Tactless drive-through employee
"Let's see what the fuss is all about!" – Bold woman at bowling alley
"For a minute I thought you had some kind of disease." – Wide-eyed co-worker
"Love your henna. Where can I get one?" – Giddy barista
For such an eye-catching service, it is very affordable. Henna designs start at $7, and eyebrow and upper lip threading are $6 and $3. A full bridal mehndi goes for $125 and up.
It's a small price to pay to feel exotic and beautiful.