Meeting Plants' Nutritional Needs
Exercise care when making fertilizer applications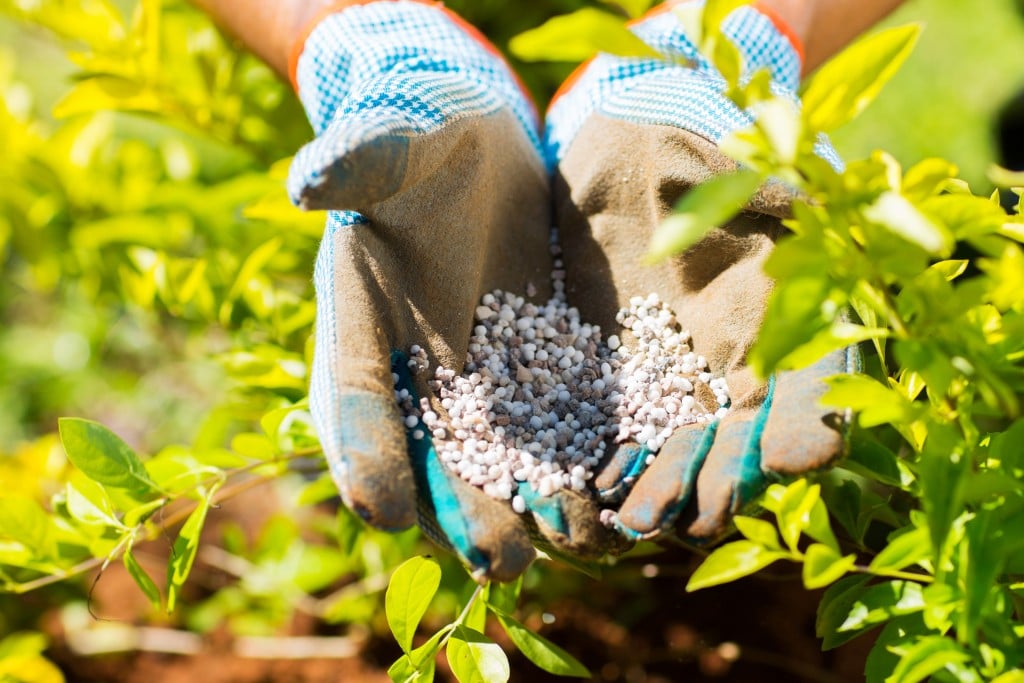 Just like people rising after a slumber, many landscape shrubs and trees need nutritional supplements after the winter's repose. Proper selection and application of fertilizer is important to securing the best possible plant performance.
The first application should occur after the danger of frost has ended. If tender green growth is stimulated too early and a frost occurs, then the plant can be stunted.
The fertilizer should be distributed evenly in the plant's root zone. Depending on the composition of the fertilizer, multiple applications may be necessary.
Plants will perform better if nutrients are applied several times during the growing season when conventional fertilizer is applied. These multiple applications also help ensure there is little chance for excess fertilizer to wash into ponds and rivers.
One way to minimize the need for multiple applications is to use a slow-release fertilizer. This type of fertilizer releases nutrients over multiple weeks, which permits the plant to feed longer.
Confirm the nutritional needs of the plant before applying fertilizer. Reference books will help identify the needs, but so will a soil test. Materials for a do-it-yourself soil test are available at the nearest UF/IFAS Extension Office.
Many plants and trees need one or more micronutrients to perform at their best. Check the tag on the fertilizer's packaging to make sure desired nutrients are present.
Lastly, irrigation is needed to assure the nutrients reach the plant's roots. If the rain fails to appear, a sprinkler system is the only option.
Spring veggies
Warm-season vegetable planting is a priority activity. Depending on how the season's temperatures and rains go, transplants may offer the simplest chance for success.
This is especially true for tomatoes, which take approximately 90 days to harvest. Almost all locally available cultivars will not set fruit during the heat of summer, so the planting window is limited.
Other warm-season vegetables, such as sweet corn, okra and cow peas, can be planted now from seed as they are much more tolerant of the higher summer temperatures. Unfortunately, later plantings are more likely to be afflicted with excessive insect pressure.
Something different
For the gardener who wants to think outside the box, the use of some commonly available herbs and vegetables can be effectively used as ornamentals.
Rosemary, the utilitarian evergreen kitchen herb, produces deep green dense foliage with dagger-shaped leaves, which may exceed an inch in length. Planted in rows, it will form a hedge over several years and will readily take pruning and shaping.
Blooms occur in the spring and summer. The color of the bloom depends on the particular species of rosemary and may be blue, white, pink or purple.
Another possibility is turmeric, the flavoring staple of many Indian dishes. Related to ginger, it is established by planting its plump rhizomes.
The long, gracefully bending leaves are a pale to medium green, depending on the amount of sun exposure. As summer begins, each plant will produce a uniquely showy bloom.
It is best to start early with this plant as it takes about seven months to reach harvest maturity.
Dealing with Dewberries
One of the many weeds that return in the spring are dewberries. Closely related to blackberries, this low-growing native plant produces tasty berries and thorns. If left uncontrolled, this
weed may reach two feet in height. Blackberry canes, by comparison, can grow to six feet
and produce an intimidating thicket. Dewberries may appear in the landscape unexpectedly as the result of a bird leaving an undigested seed the previous year. Once established, it is a tenacious competitor
for nutrients and water. Removal will require thorough removal of the roots or herbicide treatments.