Jeb Buchner of Community Christian School
A problem solver at heart, Buchner is ready to get a crash-course on life.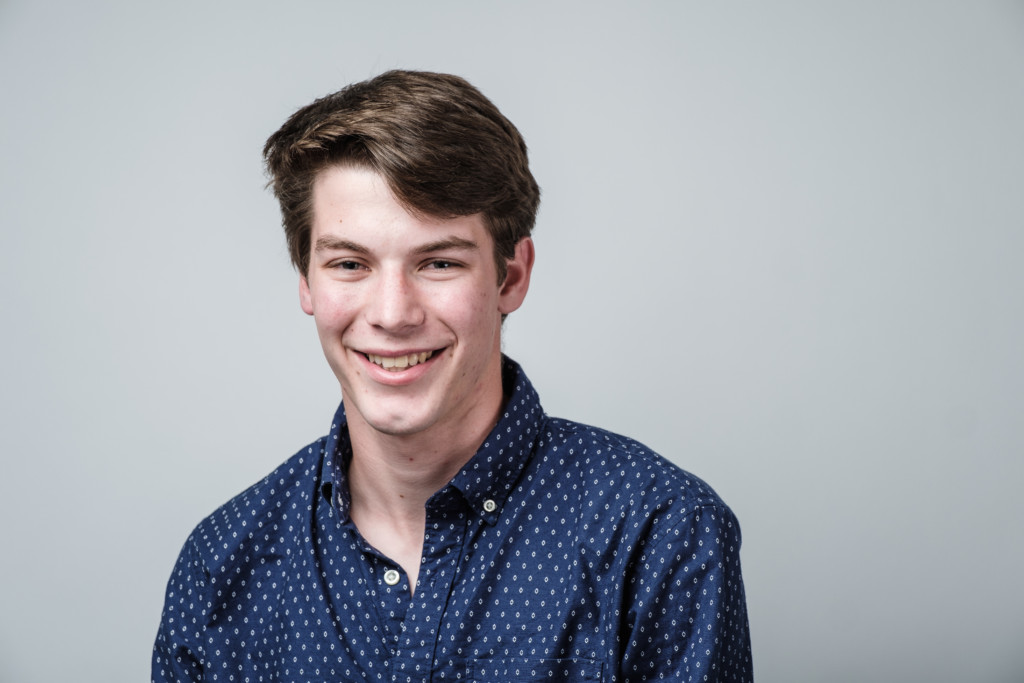 What are your post-graduation plans?
After graduation, I hope to pursue an engineering undergraduate degree and possibly move on to a master's degree. Where I am going to college I am still undecided, as is my specific major. All engineering interests me, and I hope to pursue various disciplines before settling on one path that interests me the most. The summer immediately following graduation, I hope to get some work experience in engineering and to serve at a Camp Crosspoint–a summer camp in Pelham, Georgia–for a few weeks.
What is your dream job?
My dream job would involve testing materials or new ideas in a lab or similar setting. I really love experimental hands-on work. I have been fortunate enough to help out with a couple of crash-tests of cars, and I absolutely loved doing that, and I could definitely do that every day.
What is your favorite memory from high school?
My favorite memory from high school (this is subject to change; I have many vying for the top spot) happened in tenth grade, during our school's Winter Expedition. The high school was on a trek, I had been recently instated as team leader, and my team had reached the summit of the mountain. We had an extraordinary view for a few minutes, but after enjoying each other and the view, a snowstorm started to blow in towards us. We got to see it as it approached, which was awesome, but in the time we had spent on top of the mountain watching and waiting a couple of other teams had made their way to the summit. For many of us, it was our first time seeing snow. It hit the mountain and we wisely decided to start our descent, which we did as a very large group, when we spontaneously broke out into Christmas songs and old hymns, singing our way down the mountain for quite some time before we made it back to our camp.
Where do you see yourself in 10 years?
I see myself a few years into my career field, possibly married, and finding new problems to solve or new ways to solve old problems. Honestly, I do not have a particular goal for the future, I think college will shape me in such a way that I will not be doing what plan to do, whatever that may be, so my goal is to learn and experience all that I can.
Share one problem you'd like to solve in your community, the United States, or the world. Please elaborate on why.
Technological addiction is one large problem that everyone seems to have some consciousness about, but I think few people actually understand the extent of the addiction or good ways to solve. I know I do not have answers, but I would like to find a way to resolve the issue.
Lightning round:
If you could have dinner with one person – dead or alive – who would it be? Avicii
What's the last show you binge-watched?
I do not think I can say I actually binge-watched a TV show before. I have only ever seen two shows in their entirety (or nearly) and they are Parks and Rec and the Office, as those two are almost must-sees for any high schooler. However, I definitely binge-read, and the last series I read was the Stormlight Archive, by Brandon Sanderson. There are only three books in the series currently, but each takes probably at least eight hours average reading time.
Best advice you've ever received? I am not sure I can answer this one to my satisfaction, so I'll hit you with a favorite quote instead. "It is better to remain silent and give the impression of being stupid than to open your mouth and remove all doubt." Anonymous
There's no school for a day. What do you do? I do one of three things: read too much, work on schoolwork so I can relax in the future, or I spend time doing yard or farm work.
Who's your favorite person to follow on social media? What platform? I do not have any social media.
Tell us about your phone. Are you addicted? Do you spend too much time on it? Not enough?
First, I do think I am addicted. However, I am less addicted than the average person. Currently, I write from Panama, where I have no service (I am using someone's computer on wifi) and I have not touched it for a couple of days and I love it. I used to be on my phone a lot more, but recently my primary use for it is for playing music, which I love, and for communicating of course. I have no games on my phone, which helps me resist overusing it, as well as no social media, and I also only have pre-paid three-hundred megabytes of data, which helps me limit myself. Additionally, I received a phone a few months after I had turned sixteen, and I actually had my own car before my own phone. Even with all these limits, I still feel like I spend too much time on it.
Favorite place to eat in Tallahassee? My house. My mom is the best cook. Barring that, I think Coosh's might take the top spot. I love their menu, brunch or dinner.

What song do you have on repeat? Trouble by Avicii. With just the right mix of a folk-inspired guitar strum, an energetic beat, and thoughtful vocals, it's remained my favorite song longer than any other.
Do you see the world as a glass half full or glass half empty? Tell us why
This is a question I have always found interesting because it focuses on a seemingly non-existent issue that people argue about. Personally, I think we need diverse viewpoints, as all groups of viewpoint bring necessary ideas to the table. I do not seek to convince others about my particular perspective on whether it is half-empty or half-full. Of course, as engineers are supposed to say, "the glass is just twice as big as it needs to be." Of course, that is overthinking it, which I probably have done with this question.