Abigail Hansen of SAIL High School
After finding her place, Hansen is ready for a new adventure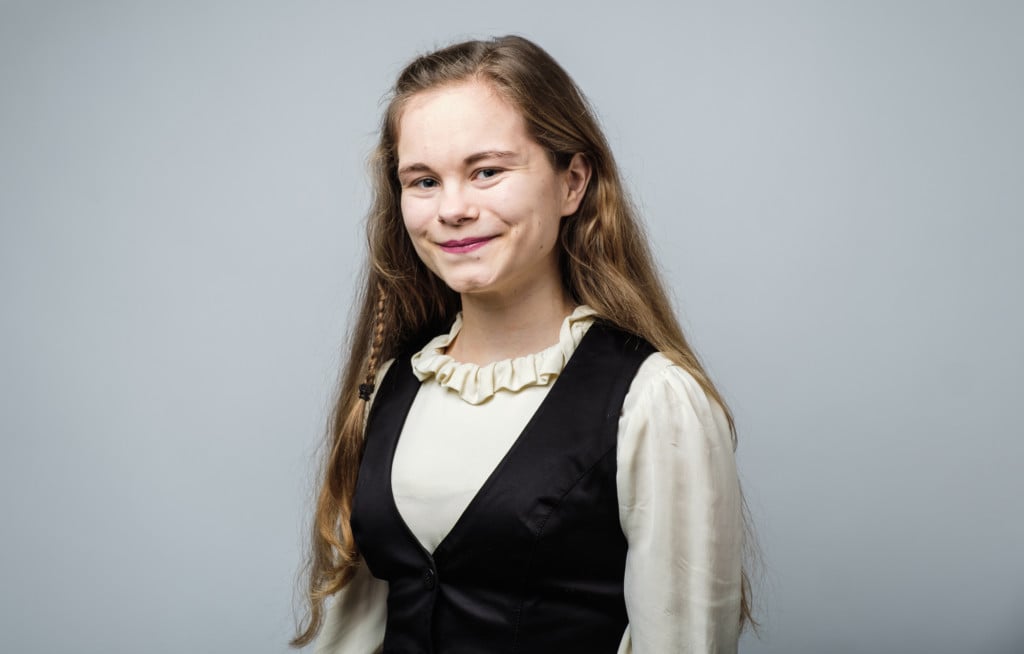 What are your post-graduation plans?
I plan to begin college as an undecided or "exploratory" major, allowing me to explore various courses and garner an array of information to best inform my decision as to what major would best serve my interests after I have gleaned a greater understanding as to the direction I would like my career to take.
What is your dream job?
To be frank, I haven't quite determined that as yet. I have an interest in the realms of physical therapy and speech pathology, personal training, communications, and human relations. I aspire to continue with all the pastimes I adore, from writing to weight lifting, and from them, hope to derive my way of making a living while bettering others' lives, attaining not only economic stability but personal fulfillment.
What is your favorite memory from high school?
It has taken me many years to find my people, the gang, the group, those people I hope never to lose touch with. When finally I had found my academic home in SAIL, I began to build connections I had thought myself unable to forge. As I came into myself, I found my place. My fondest memories of high school will be lunch with authentic friends, demanding training sessions with an adroit mentor, and validating conversations with superiors.
Where do you see yourself in 10 years?
I haven't any idea what position I may hold but aspire to have a career that allows me to be both physically active and active in my community, leading a fulfilling life, whatever that may entail. Beyond the workplace, I'll undoubtedly be in the south, as I'm not one for the cold, living in a simple apartment or townhome, likely in a college town. Aligning with what I most value, community, I will have established several such groups with which I feel a kinship. A gym home, an office home, and an activism home are each key to my love for a city.
Share one problem you'd like to solve in your community, the United States, or the world. Please elaborate on why.
Ignorance is the singular identifiable flaw that results in more harm to humanity than any other. Expanding the sociocultural awareness of all world citizens could lead to the obliteration of classism, religious conflict, racism, environmental destruction, homophobia, preventable medical conditions, and numerous other primary issues we as a global community face. We must be exposed to the hardships others endure if ever we can lessen their suffering. We must understand one another's school of thought if ever we may end wars of religion and culture. We must be aware of true science if ever we may protect our planet and our own bodies and minds.
Lightning round:
If you could have dinner with one person – dead or alive – who would it be?
There is an individual who passed away before I was born and meant the world to my mother. She has told me often how she wishes he had been able to meet me. She has often referred to him as "the best and wisest man I ever knew." To hear his stories and learn the reason behind her adoration, to speak with someone my mother new at such a different time in her life, would mean a great deal.
What's the last show you binge-watched?
As rather a fidget, I prefer to watch no more than a film length of television in a single sitting, but will, on some Friday nights, enjoy re-runs of an episode of Law and Order and when in need of a renewing of faith in our nation and general humanity, will turn to episodes of West Wing. The only show I've watched weekly upon airing is Dwayne Johnson's the Titan Games, an inspiring demonstration of human will power and devotion.
Best advice you've ever received?
"Just do the next right thing." My mother has often said this to me in times of heightened anxiety or in moments I become overwhelmed when all I say is "I just don't know what to do." Though it's difficult advice to follow at times, it never fails to hold true.
There's no school for a day. What do you do?
I sleep in an hour or two, but not wanting to waste a morning, am up no later than eight to fix a healthy breakfast as usual and prepare for the day. I perhaps do any household chores that need completing or finish off an assignment prior to going down to Railroad Square with friends and hitting the gym for a couple of hours in the afternoon. Also, I must note my mother insisted you'll believe none of this, but… well, it's the truth.
Who's your favorite person to follow on social media? What platform?
I utilize Facebook and Snapchat for the most part and recently added Instagram to the mix. Largely, I follow only legitimate friends and associates. Howsoever, I also follow several politicians and activists, as well as formidable fitness queens and kings, including numerous CrossFit athletes and competitors in the Titan Games.
Tell us about your phone. Are you addicted? Do you spend too much time on it? Not enough?
I freely admit that my relationship with my phone is twofold. I maintain a schedule busy enough to evade falling into the time stealing pit too very often but admittedly will turn to it for entertainment in downtime when perhaps a better use of my time exists. Howsoever, I do not think the use of it is inherently toxic in times of relaxation.
Favorite place to eat in Tallahassee?
I prefer to cook for myself, but on the occasion, I do go out, love the pescatarian options at Midtown Caboose, wherein pleasant weather, I adore sitting out on the pet-friendly deck.
What song do you have on repeat?
I attempt not to overplay an individual song, but regularly listen to a variety of music, from the rap stations we max out to in the gym and the country rock or pop fitness stations I blast during chores. Each week, my mother and I also listen to the BBC podcast, Elaine Paige on Sunday, for two hours of fantastic music from Broadway, the West End, and Hollywood.
Do you see the world as a glass half full or glass half empty? Tell us why.
I prefer to be optimistic and see no shame in that, though others might argue. I recognize developments are made by those who strive for them, not merely believe good will come. We can neither dwell in defeat nor sit idly by, watching others' triumph. The comparison of the world to a glass is as stagnant as the water within, unfitting for our dynamic world.
Answers have been edited for clarity and length. All Top Seniors are nominated by their respective high schools and are not chosen by Tallahassee Magazine.