Meet The Two Men Who Make C.A.R.S. Purr
How a marketer and a mechanic became the best kind of business partners.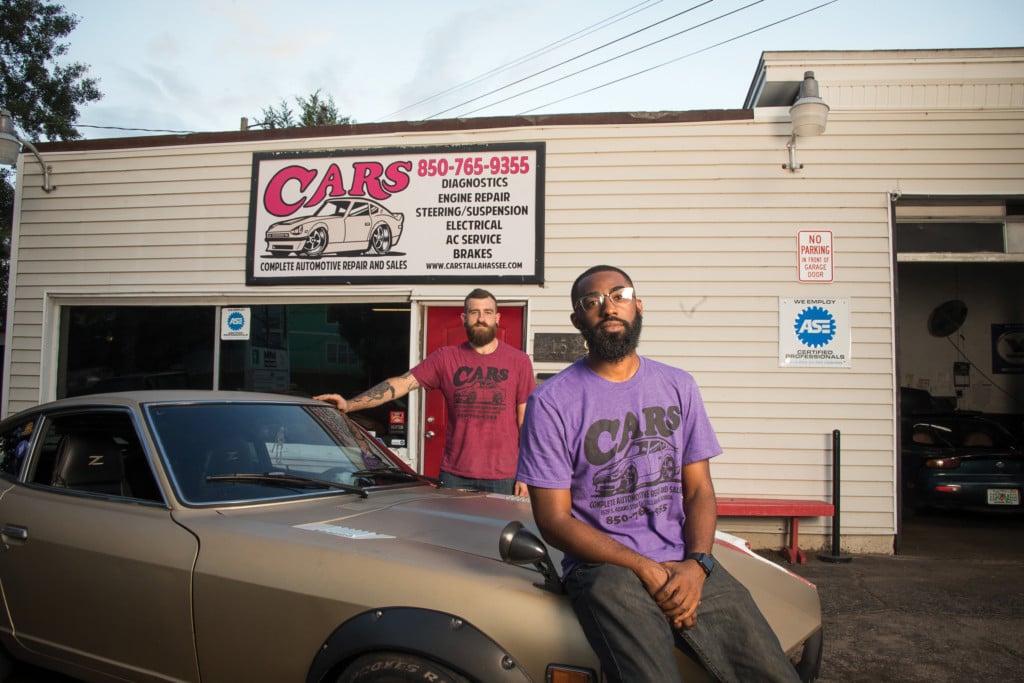 Rodney Funderburk Jr.'s eyes lit up like a dashboard after dark. "Our origin story!" he said.
A student at Florida State University's business and marketing program, Funderburk was working an internship at a local automotive shop in 2012 when he met master mechanic, Josh Iman.
The two got along well and decided to start a repair business in town. At the end of 2014, Funderburk said, they started getting their plans and ideas in order and then found a building to lease on South Adams Street.
"We pretty much put everything we had into it," he said. Funderburk did the business plan, Iman said, and Iman got a group of friends together and built the shop at their new building.
With a marketing background, Funderburk came up with the name, Complete Automotive Repair & Sales, or C.A.R.S. "It's so simple — 'Take it to C.A.R.S,'" he said.
The shop's website proclaims each repair as "an opportunity to help another person."
We're in business to help people and make their lives better." C.A.R.S. opened in January 2015.
About four years later, the business employs six people full time and is open every day except Sunday.
Funderburk is more likely found in the front of the shop, Iman in the bay.
Funderburk said his interest in cars "goes back to Hot Wheels, basically." Iman credited his father, who was an engineer for Honda, with sparking his interest in working on cars.
"When he was 19, he bought a 1930 Model A Ford," he said. "That's been in the family the entire time, so I helped him do a lot of work on it."
A visitor to C.A.R.S. will notice distinctive T-shirts on employees.
Matt Manning, who works at Monument Tattoos, created the design, an homage to a car model that Funderburk and Iman both own: the Datsun 280Z, a classic sport coupe produced in middle to late 1970s.
Even though they're in the repair business, Funderburk said the two have done significant modifications on those two cars.
Funderburk owns six cars, all modified. Iman owns two cars, a truck and 14 motorcycles, and he holds a particular appreciation for earlier models.
"I've been working on older vehicles longer, and I prefer them for myself," he said.
"There's an aesthetic I really like. You open up on the engine on a '70s vehicle, and it's a pretty, well-built engine sitting in the center of the engine bay."
About a year ago, the business began hosting monthly "car meets" for enthusiasts to get together and discuss their current projects.
The meets take place on the third Sunday of each month, if weather allows. The C.A.R.S. meets are free and low-key. "We do this as our hobby," Iman said.
"We take pride in it." C.A.R.S. also sees the meetings as marketing tools: Enthusiasts who have attended a meeting might remember the shop when thinking about where to bring their vehicle for repair.
Funderburk posts the photos from meets on the company's Facebook and Instagram accounts. Customers often drop by the shop to show Iman their automotive projects.
He says he gives advice free of charge. "I enjoy teaching," he said, "so I'll point out what to do if they hit a roadblock."