Meet the Persimmon
A Mystery to Many, This Versatile Fruit Grows Well in North Florida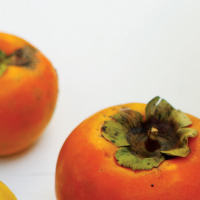 Photo by Scott Holstein
Chef Osterbye's Steamed Persimmon Pudding Cake.
Bright orange persimmons are referred to as the Apple of the Orient, because in shape and size they resemble the fruit, and they grow on trees. Its genus name, derived from Greek, literally translates to "celestial food."
The tree's wood was used in the 20th century for golf club drivers. Although originating in China, it has been more extensively cultivated in Japan, where it was the most important fruit tree prior to the 20th century. The fruit is quite popular in the Midwest and demand is increasing as people from other countries migrate here.
Many folks in this area are unfamiliar with the fruit, which is too bad, because persimmons are one of the easiest fruit trees to grow from central to north Florida. The fruit starts to come into season in September, and some varieties are not ready until January. The tree is beautiful as the large glossy leaves start to turn brilliant colors and fall, leaving behind the fruit for easy harvest.
There are two types of persimmons: astringent and non-astringent. Astringent varieties cannot be eaten until they are bright orange and very soft. The more popular non-astringent varieties can be eaten like an apple when crunchy.
The fruit's texture resembles ripe mango or banana. And it tastes like — well, like persimmon! My best description is that it's similar to mango with a hint of cooked pumpkin. No matter which variety you get, very ripe fruit can be used to make a puree for baking breads, puddings, cakes, pies, cookies and ice cream. To make persimmon puree, pull the leafy stem (it's called the calyx) off, and squeeze the pulp into a bowl, removing any seeds. Add pulp and skins to a blender or food processor, and puree until smooth. Adding the juice of one lemon for every quart will preserve flavor and color. You can now add this puree to your recipe or freeze for later use.
To dry the fruit, take and quarter or slice the ripe fruit and place it on a baking sheet in the oven, and dry out at 150 degrees, leaving the oven door slightly ajar. It takes up to 24 hours for quarters and 12 hours for slices.
One medium persimmon fruit has half the vitamin A needed daily; it also has 1/5th of the vitamin C needed and is a fair source of iron. It has about 100 calories — twice as much as the same-size peach, and about the same as a medium banana. It also contains a good amount of fiber.
Chef Butch Osterbye grew up in Tallahassee, learning traditional Southern-style cooking from his mother and grandmother. He graduated from Keiser University in 2003 with a culinary degree and moved to Vail, Colo., working at The Game Creek Club with chefs from around the world and perfecting his cooking technique. He has since moved back to Tallahassee, working as a personal chef and giving cooking lessons in people's homes. Contact him at (850) 294-7595 or chefbutchcooks@gmail.com.
STEAMED PERSIMMON PUDDING CAKE
½ cup unsalted butter
1 cup cane sugar
1 cup all purpose flour
1 cup persimmon puree
2 large eggs slightly beaten
2 tablespoons baking soda mixed with 2 teaspoons warm water
½ teaspoon vanilla extract
½ teaspoon ground cinnamon
1 teaspoon ground ginger
1 teaspoon ground cloves
½ cup chopped pecans
1 cup golden raisins soaked in 1 ounce brandy until absorbed
In a large bowl, cream together the butter and sugar with an electric mixer on medium speed. Add the flour ½ cup at a time, alternating with the persimmon puree, eggs and baking soda slurry. Stir in the rest of the ingredients, mixing on low speed until batter is smooth and consistent. Heavily butter a 2-quart pudding mold with lid. Pour mixture into mold and place lid on securely. Place mold in a water bath and bake at 300 degrees for 1 hour. Add more water to bath if necessary, it should not get low or dry out. Insert a toothpick into center of cake. It should come out clean. If not, bake until clean. Remove lid and let cake cool in the mold for 45 minutes and then flip it out. The cake is best served warm with some fresh whipped cream or ice cream. Refrigerate cake, and eat within two weeks.