Meet The Army Special Operations Forces Living Among Us
Forget rank, missions or operational theaters, this group is about people and they talk like brothers.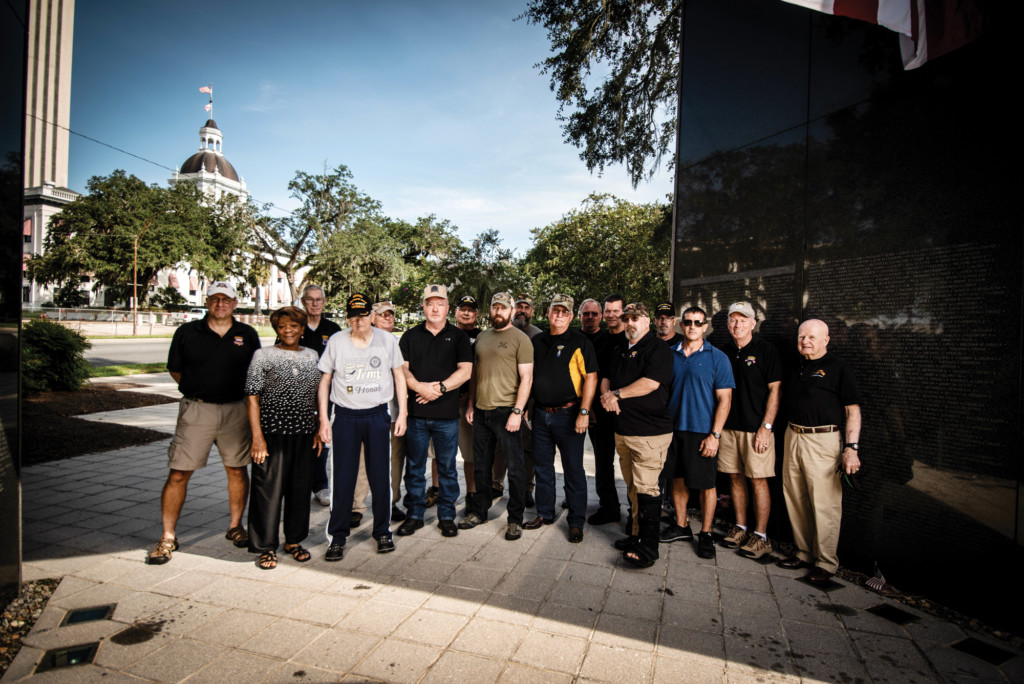 They say things such as, "Let's pop smoke" and, "Let's pull pitch." It's a language understood only by those who speak it.
They parachute into enemy territory, and they might find themselves desperately trying, to no avail, to save the life of a soldier shot right next to them. It's a tragedy understood only by those who experience it.
They're U.S. Army Special Operations Forces, and Tallahassee resident and retired Army Ranger Frank Gorski understands.
"Ranger James Markwell was my platoon medic during action in Panama," said Gorski, sergeant first class, referring to the U.S. invasion of Panama in 1989. "He was right next to me when he was hit. I tried to keep him alive by stuffing his wounds with first aid field dressings and then by doing CPR when he went into cardiac arrest before he died."
Special Operations forces throughout the U.S. military are known as "the Quiet Professionals" because they're stealth fighters who operate in the shadows. In the Army's special operations, they're the Delta Force, Green Berets and Rangers, among others.
They also tend to keep their military experiences to themselves. To civilians, what they endure is unfathomable, from their highly specialized training to their grueling missions and trauma. Only a member of their brotherhood can relate.
Groups have formed around the country, including in Tallahassee, so that these like-minded veterans can come together and talk. Tallahassee's group, under the leadership of First Sgt. Roger Beck, a 59-year-old retired Ranger, and Captain and former Dive Detachment Commander Alan Willett, began in 2014 as a way to get retired Army Special Ops members and their wives together in a relaxed, informal setting.
"In many ways, I spent over 30 years trying to forget some things," specialist Hank Trull, 52, who has been coming to the breakfasts for more than a year, wrote in an email to Tallahassee Magazine. "Being a part of this group has allowed me to spend time with those that have had the same training, much of the same point of view, and I am not judged by my (unusual) sense of humor, or my unique view on many things. We are thick-skinned old vets and enjoy each other's company."
Army Special Operations Forces haven't received the recent publicity of Navy SEALs, who carried out the 2011 special mission that killed Osama bin Laden in Pakistan. But as this group will tell you, they have also been in a lot of especially dangerous situations, and they maintain a good-natured rivalry with their Navy brothers.
Tallahassee's Ranger/Special Forces Breakfast takes place once a month at Golden Corral, which says it plans to reopen in December after renovations. The group includes former enlisted men and officers. It includes veterans who served at entirely different times and places, from Vietnam in the 1960s to Iraq and Afghanistan in recent years. Yet when they get together, they don't focus on rank, missions or operational theaters. This group is about people, and they talk like brothers.
A recent Saturday breakfast included about 20 veterans and their spouses. They shared not war stories but fish stories. They discussed fishing trips and, yes, the one that got away. They also discussed motorcycles and winter ski trips, among other things.
"I attend because I love associating with men that have done important things for our country and with whom I share a love for the Army," said Jim Croushorn, 79, a former Army captain.
To understand how these veterans got here, it is important to understand their specialized military journeys.
The motto of the U.S. Army Rangers is "Rangers lead the way," and that is what specialist Trull said he and fellow Rangers did at 0530 hours on Oct. 25, 1983, during Operation Urgent Fury in unstable Grenada, where a pro-Marxist military government had taken charge.
U.S. forces invaded and quickly ousted the regime.
"Rangers are expected to travel farther, move faster, and fight harder than their counterparts," Trull said. "I still have the motto on my wall. It has always served as a reminder that I can do what most cannot. Through fortitude, anything is possible."
Their mission is to protect Americans and U.S. interests around the globe. Their names rarely make the news, but news reports herald their missions. They include Operation Just Cause in Panama, Operation Urgent Fury in Grenada and Operation Eagle Claw in Iran — the ill-fated attempt in 1980 to rescue the American hostages held in the Iranian Embassy.
Some operations never make the news; they're top secret.
Of course, they're always dangerous.
Capt. Croushorn told of waiting all night in ambush in the Korean Demilitarized Zone. Col. Luther Vaughn, 87, said he was part of a clandestine group of Army Special Operations soldiers serving in Vietnam in 1964. As a platoon leader in Laos, he said, he decided that his 12 men team pinned down in an open rice field was going to overrun the enemy before nightfall. The strategy won him the prestigious military Silver Star medal.
About 20 years later, Trull was in Grenada, jumping into a combat zone at 500 feet, he said. That's a daring and skillful maneuver that leaves no room for error.
"I have never been as scared as I was that day," Trull said.
Special operations forces must be ready to face extreme danger in sensitive and complex situations anywhere at any time.
Take the 75th Ranger Regiment. The Army's Special Operations Command webpage calls the regiment "the Army's premier raid force." It says Rangers are "always combat ready, mentally and physically tough and prepared to fight the War on Terrorism."
That means preparation that most people could never endure.
"The physical and mental demands of Ranger School exceed those commonly observed among humans; it leaves an indelible mark," said Lt. Col. Allen DeGraw, 84.
"You learn that your body can take one more step and that your mind can still function after days without sleep or food."
Rangers must pass a grueling physical assessment test that features a series of running, climbing, dragging and sprinting drills. In fiscal year 2016, Ranger School saw a failure rate of 63 percent, largely because of the physical assessment test, the Army said in an April 2017 memorandum.
Master Sgt. Roy Prine, 68, said testing includes a 12-mile "ruck march" that candidates must complete within three hours while loaded down with gear.
"I have found that you can prepare yourself for the physical hardships," Prine said, "but if you aren't mentally prepared to face the mental and stress issues, your chances of making the cut are very slim."
In 22 years of military service, which ended with his 1990 retirement, Prine said he repeatedly performed so-called HALO jumps, free-falling from planes at 20,000 feet. "It is just not natural to jump out of a perfectly good plane," he said.
His underwater training enabled him to exit submarines or leap off duck boats for clandestine arrivals, he said.
These are examples of what makes Army Rangers exceptional.
"Ranger is the equivalent of major leagues," Lt. Col. DeGraw said. "Those of us who made it are both proud and humbled having endured and succeeded and are unabashedly the best we can be."
For many, the pain of service lingers. Some in the Tallahassee group shared with Tallahassee Magazine anecdotes of fallen brothers in arms.
"I have been on numerous burial details which were tough," said Col. Jim Davis, who retired in 1996, "but 'notification of next of kin' is especially rough."
Lt. Col. Rodney Sanchez, 53, said he remembers having to write a letter to the mother of SPC Robert Allen Wise, of Tallahassee, who was killed at age 21 when a bomb exploded while he was on patrol in Baghdad in 2003. Sanchez called it "the hardest thing I ever did."
News reports noted that Wise needed the signature of his reluctant mother, Tammy, to join the Florida National Guard at age 17.
"We lost him on Nov 12, 2003," Sanchez said. "It took me several days to write the letter. It was the worst time ever."
Gorski, meanwhile, said he can't shake the memory of that day decades ago in Panama when Markwell, the Ranger medic, lay dying next to him.
"It was so dark on that runway, I couldn't even tell who he was; all I knew is that he was a Ranger," Gorski wrote in an email. "I remember yelling 'MEDIC!!!!' … I had no idea that he was right there in front of me dying for his country and his Brothers."
President George H.W. Bush mentioned Markwell in his 1990 State of the Union address.
"Private Markwell was among the first to see battle in Panama, and one of the first to fall," Bush said, according to the University of California at Santa Barbara's American Presidency Project. "But he knew what he believed in. He carried the idea we call America in his heart."
Gorski said he met Markwell's mother, Sandee Rouse, and that he and his wife write her every Christmas and still visit her.
"To this day, I am haunted with the thought that maybe I could have done more or something different," Gorski said about that day in Panama.
Tallahassee group members continue to support their own. The group's email list of about 25 people includes a Gold Star mother and the widow of a Special Forces officer who served in Vietnam. Members provide support to those who need it, including Capt. Walt Yost, a Purple Heart recipient who passed away last year.
Special operations forces members often refer to bonds that they say will never be broken.
"It's a brotherhood," Willett said. "These men don't sit on the sidelines. They always have each other's back."
If you haven't been pinned down or haven't overrun a hill or lay in ambush or been dropped into a pitch-black sky while being shot at, you don't know the terror and the camaraderie that these veterans know, and you don't understand the dependence on the guy next to you.
These soldiers understand. They prefer to remember … and sometimes to forget … quietly.
Pam Forrester is founder of a media company, Three Star Productions, whose name recalls her late father, Lt. Gen. Eugene Forrester. She proudly refers to herself as an "Army brat born at West Point."
See more photos of their experiences and the Army Special Ops members below