Meet Tallahassee's Own Emmy-Winning Actor and All-Around Nice Guy, Tony Hale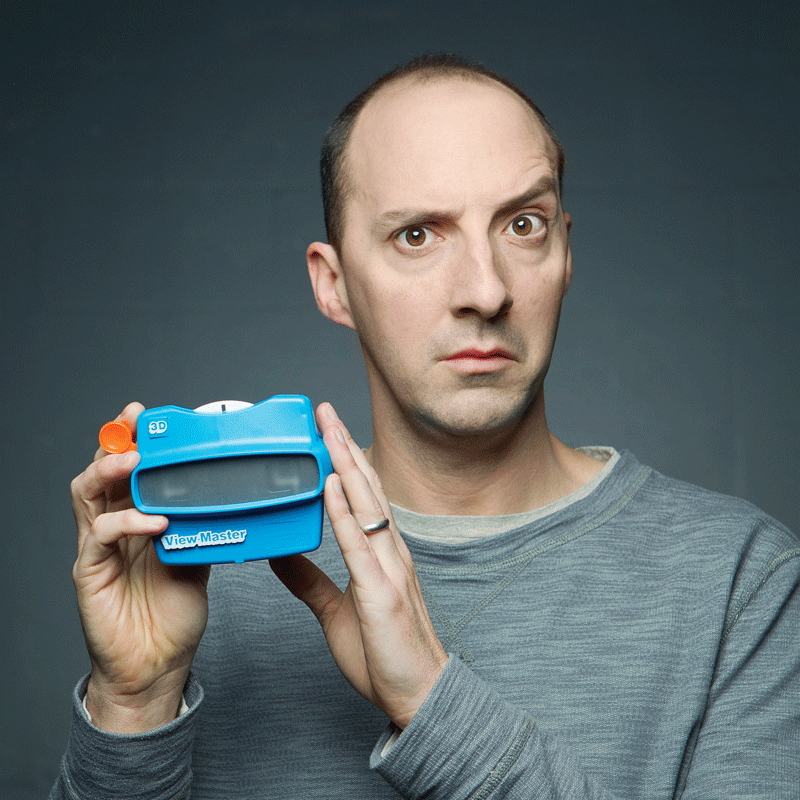 All eyes were on Tony Hale last September as he took the stage to be presented with an Emmy award for his supporting role as an obsequious body man in the HBO series "Veep."
Breaking a three-year win streak by actors from the popular sitcom "Modern Family," Hale kicked off his acceptance speech praising his fellow nominees, calling his win "mind-blowing" and then reading off thanks to people whose names he had written on a piece of paper — his wife and daughter, parents and siblings, fellow cast members and producers, and his manager.
And then he did something a little amazing. Setting the script aside and lifting his statuette in the air, Hale said this:
"I'm from Tallahassee, Fla., and there's a little theater called Young Actors Theatre that made a huge difference in my life. Tina Williams and Allison Grimes, thank you for your commitment."
One might wonder why an actor at the pinnacle of his long and successful career would feel the need to name-check, in front of 17.6 million viewers, the acting coaches who had taught him more than 25 years earlier?
"Once I heard the music start going — because they wanted to wrap it up — I said 'I've got to get this in there.' That was by far the most important," Hale said during an interview at the YAT earlier this year. "It was on my bucket list to be able to do that; to recognize the organization and Tina and Allison nationally if I ever had that opportunity, because it made such a difference in my life."
During a break in a photo shoot with Williams at the YAT, he continued:
"Young Actors was everything to me in Tallahassee. It was also a huge cornerstone of my growing up, because obviously middle school and high school are not the easiest of years," he said. "Tina can attest, I was not the easiest of kids. I was pretty obnoxious."
"You were just a teenager," Williams interjected.
"I was just a teenager, but this is a space where you could kind of find yourself … this environment allowed me to discover who I was (and) discover what I liked to do," Hale continued.
Hale traveled to Tallahassee from his home in Los Angeles in late February for a whirlwind weekend that included being presented with the Florida Ambassador of the Arts award by the Florida Department of State in front of dignitaries, family and friends, as well as hosting a screening and Q&A session at Ruby Diamond Concert Hall.
But in a phone interview after he had returned to L.A., he said some of the most enjoyable times during his quick visit came while grabbing a Great American Cookie Double Doozie at the Governor's Square Mall and visiting Leon High School with his older brother, Mike, who is now an attorney in Atlanta. "I absolutely love coming back to Tallahassee," he said. "It was incredibly nostalgic as my brother and I walked through the halls of Leon; it's such an All-American high school."
Of those high school years, he recalled, "My brother was the cool soccer player, and I was the asthmatic hyper child." Hale moved to Tallahassee with his family — which includes parents Mike and Rita, who now live in Macon, Ga., and older sister Kim, who teaches social work in Raleigh, N.C., — when he was in seventh grade.
Ben Chandler became Hale's pal and classmate at Holy Comforter and Leon High when Hale moved to the neighborhood. Chandler, now a transportation and urban planner in Tallahassee, says for all his self-deprecating talk, Hale was popular, being elected prom king during their senior year in 1988, while Chandler was the runner-up prom prince. "He was very magnetic … everybody, everybody was drawn to him," Chandler said. "He had more friends than he realized."
Hale was a few years behind Tallahassee's other YAT-trained Hollywood star, Cheryl Hines. "Cheryl was the star, and I was probably playing a tree in the background," is how he describes their time together. Since then, they did work together on the movie "RV" (he played one of Robin Williams' coworkers), and they talk Tallahassee and YAT whenever their paths cross in their new hometown — most recently while watching the FSU championship game in Pasadena.
Like Hines, Hale had that "something" that told his acting teacher he had the makings of a star, even though his roles were most often as the sidekick rather than the leading man.
Williams remembers one of his earliest roles in the production of "Babes in Arms." It's a show within a show, and Hale played the "Director," who at one point is alone on stage with his back to the audience and then slowly turns around and notices the spectators with an "Oh, hello" type of reaction. "I can still can think of how his face looked when he turned around. Definitely his comic timing has been there for a long time," she recalled.
"Comedy relies, very importantly, on saying the right thing at the right time or the right expression at the right time," Williams said. "With him he was always dead-on right at the right moment, and that's what he continued to do."
While acting was his first career choice after high school, "I didn't know if I could make a living at it," so Hale majored in mass communications and journalism when he attended Samford University in Birmingham, Ala.
Soon after graduation, Hale moved to New York City to pursue his dreams, ultimately landing enough gigs in television commercials to allow him to forego cater-waitering and other odd jobs, and make a living as an actor. One of his early and most memorable successes was a commercial where he's gesturing wildly and making faces inside a Volkswagen. When another person opens the car door, the song "Mr. Roboto" blasts on the car stereo.
"I never will forget seeing him in that ad," said Chandler. "I could just picture him really doing that. It fit him perfectly."
Williams concurs. "A lot of this stuff that you see him do on television are things we've seen for years," she said. "He always had very dramatic facial expressions. That really showed the actor in him."
At the time, Hale would land occasional bit parts on television shows like "Sex and the City" and "The Sopranos," but said he felt pigeonholed as an actor in commercials. "It took seven years to have somebody send me out for TV and film," he said.
His big break would come in 2003 with the premier of the Fox network show "Arrested Development." The quirky sitcom revolved around the Bluths, a dysfunctional wealthy family fallen on hard times. Hale played one of the main characters, Buster Bluth, a socially inept mama's boy prone to panic attacks.
The show was cancelled after three seasons, but had garnered a cult following of viewers and, seven years later, a fourth season was filmed and aired on Netflix in 2012, with Hale reprising his role. Rumors of a movie version and a fifth season continue to swirl. Hale stayed busy during the years in between, with guest roles on series —"Chuck," "Numb3rs" and "ER," to name a few — voicing cartoons and movie roles, including one in the 2013 Sandra Bullock/Melissa McCarthy cop buddy comedy "The Heat."
"Veep" premiered in 2012 and has just wrapped up its third season on HBO, earning critical praise as well as nominations and wins in several prestigious competitions, including Primetime Emmys for Hale and the show's star, Julia Louis-Dreyfus.
In the fast-paced, foulmouthed comedy, Louis-Dreyfus plays Selina Meyer, a self-absorbed U.S. vice president surrounded by an entourage of underlings scheming to one-up each other while riding the skirt hems of their doyenne to … the presidency, perhaps? Hale plays Selina's servile assistant, Gary Walsh, who anticipates her every whim with a tote bag full of hand sanitizer and other essentials, whispers the names of VIPs in her ear and once took a germ-laden sneeze for her.
The star is known as No. 1 on the show's call sheet (the schedule for the day) and, said Hale, that person sets the tone for the production. Louis-Dreyfus made the filming of "Veep" a good time for all, he said. "She's such a normal person … (and) could not be more of a team player. She's kind. Her family is her No. 1 priority."
The show, said Hale, is different from his usual television work. For starters, a 10-show season is shot in Baltimore, so the cast is away from home for several months at a time during filming. "It's hard; you miss your family," he said. "To be with people like Julia and the cast, you become family. We go out, we play cards."
Unlike other productions, the cast will rehearse for two or three weeks before shooting begins, but once the cameras are rolling "the environment is very chaotic … controlled chaos," is how he described it. "You never know where the camera is going to be and have to respond to whatever comes at you … It's this very interesting process. Freedom, fun, collaborative —you can't ask for anything better."
While he's best known for playing shrinking violets, in person Hale he is tall, slender, gregarious, genial and generous with his time and talent.
Both Williams and Chandler said Hale's friendly persona isn't an act, and it's rooted in a faith that has sustained him throughout a 20-year career in a business fraught with superficiality and uncertainty.
"He really practices his faith," said his school friend. "It's been amazing to see him maintain who he is in a tough environment when the temptations are in every direction. I would say he's even a better man than an actor."
Hale married Martel Thompson when they lived in New York. (An aside: Hale is not the first person in his family to be presented with an Emmy. Martel, a makeup artist, earned a Daytime Emmy for her work on the soap opera "All My Children" in 2003.) During their time in the Big Apple, they started a support group of sorts for people seeking success in the entertainment business while maintaining a relationship with God.
"Our faith is very important to my wife and I," he said. "We met a lot of actors and artists not as supported by their town back home. We'd go see each other's work and get together once a week and hang out or do service work. It grew into a large group of friends.
"With the business being as uncertain as it is, my faith in God is incredibly important. It's good to know he's got our back," he continued. "It's a freelance lifestyle. It can feel very unstable, and knowing there's a greater plan makes it easier."
Williams says Hale is "not caught up" in being a star and, even as his fame grew, has returned to Young Actors over the years, emceeing special events such as the troupe's 35th anniversary celebration, participating in a "Grease" reunion and directing a production of "Godspell."
"He's just a lovely person and cares a lot. He's been very supportive and has been back for every major occasion," she said.
So, what's the next big thing on the horizon for Hale?
Funny you should ask, because it's something he's thought a lot about — but not in the way you might think.
Too many times, he said, people get caught up in "what's next" and forget to enjoy what's happening right now. He addressed it during his talk at FSU, to an audience populated mostly by college students. No "next thing," be it a possession or an achievement, will bring you happiness if you aren't happy in your current state, Hale told them. Personal contentment is key. He advised the young adults not to worry so much about trying to figure everything out, because no one, not even successful adults, have it figured out. "We're just better at pretending than you are," he said.
Hale and his wife have an 8-year-old daughter, Loy, who just finished up second grade. "She's very, very funny and quirky and makes us laugh every day," he said. He's hoping to spread his contentment message to her generation with a children's book that he's co-written with Tony Biaggne called "Archibald's Next Great Thing." Available for purchase in August, it's the story of a semi-bald chicken on a quest for his "next thing," before ultimately realizing "you've just got to be," he said.
His friend Chandler recalled one role Hale didn't get — and he considers it a loss for the art of thespianism.
"He was auditioning for the scarecrow in 'The Wizard of Oz' at Young Actors," he said. "My mom helped him put together a costume. He put his heart into it, and he didn't get the role. He would have been the best scarecrow ever."
Check out a behind-the-scenes video from the photo shoot:
---
Mikaela McShane and Linda Kleindienst contributed to this story.
---
Now an Emmy-winning actor living and working in Los Angeles, Tony Hale credits Tina Williams and Allison Grimes (not shown) with providing support and encouragement during the years he spent at Young Actor's Theatre.