Meet Our 2012 Top Singles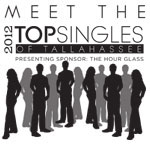 For a third year, 18 brave souls have agreed to auction themselves off for a lunch date during Tallahassee Magazine's Top Singles event, planned for July 21 at Hotel Duval. A love connection isn't guaranteed, but a financial boost for local charities is assured — all the money bid that night for dates goes to the singles' charity of choice. Last year, the total topped $21,000.
For this introduction to the Top Singles Class of 2012, we decided to preserve an air of mystery by asking our singles to share a few basic facts about themselves, and then try to fit their personality into the 17 syllables of a three-line haiku. When it came time to photograph them, the setting was an easy choice — Goodwood Museum and Gardens, one of Tallahassee's most naturally beautiful backdrops for a photo shoot. And maybe even a wedding!

Personal Haiku
Funky sassy fro
Reporting is my passion
I LOVE living LIFE
---

Personal Haiku
Grew up at the track
Brought the competition back
To Tallahassee
---
Personal Haiku
Diehard Seminole
I used to live in Tampa
Always on the go
---
Personal Haiku
Works hard to excel
Selling KIAs every day
Customers come first
---
Personal Haiku
I am a machine
Powered by my daily dreams
Working to succeed
---
Personal Haiku
Exploring the world,
Living life to the fullest,
Teaching the future
---
Personal Haiku
Beach: white sand and sun
Perfect day for a long run
Sun-kissed with tan lines
---
Personal Haiku
An extravagance …
Whether travel, food or wine
Is luxury when shared
---
Personal Haiku
Fun, friendly, fearless …
From L.A. to Florida
I'm living my dream
---
Personal Haiku
Leslie has big teeth
You can see her smile in France
Rooms are made brighter
---
Personal Haiku
I'm tall with freckles,
Each day is a marathon,
Life to the fullest
---
Personal Haiku
I have long blonde hair
I enjoy triathlons
I love the outdoors
---
Personal Haiku
Dance parties, sandbars
A good girl, loves her mama
Loves Jesus, shoes too
---
Personal Haiku
It's never too late
To be who you want to be
Superman Batman
---
Personal Haiku
I'm truly awake
Separated from stillness
A wealth of knowledge
---
Personal Haiku
Most handsome man to
Visit the great sunshine state
How about that date?
---
Personal Haiku
Business and friendship,
Give to the community,
Tallahassee life
---
Personal Haiku
Illegally blonde
High heels, motorcycle wheels
Faith, family and friends
---