Me Spaces
Create a place that's just for you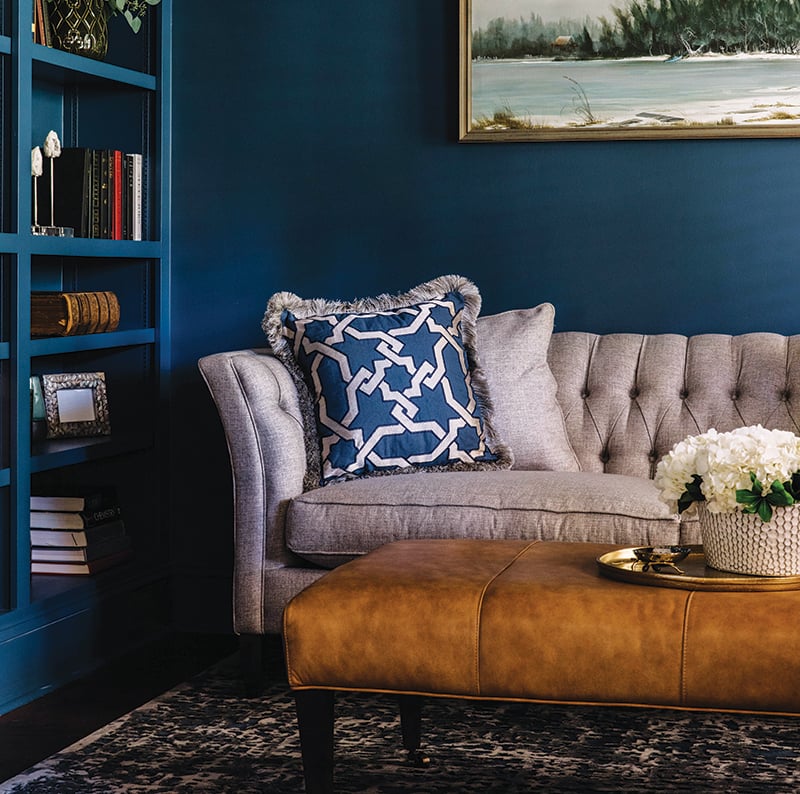 If COVID-19 lockdowns taught us anything, it's the importance of a little privacy. We all need a dedicated space where we can go to score some solo time.
Surveys confirm this, with "me time" among Pinterest's latest trend predictions and with an incredible 84.5 billion views on TikTok. The reading corner is a mega trend worldwide.
Not all online trends translate well into real life, but this one certainly does, says Jennifer Taylor, an award-winning Tallahassee interior designer.
"Our clients are definitely looking for peaceful corners in their homes," she says. "This is especially important since so many of us live with open floor plans; we crave a place away from the bustle of the house to enjoy a book, write a letter or just wind down with a cup of tea."
Taylor tells about the conversion of a client's formal living room to a space that fits the new reality of working at home with a place to unwind at the end of the day. Formal furniture is replaced by a beautiful desk, a pair of comfortable chairs and a wide credenza.
"During the day, they get work done efficiently," she says, "yet, they have a great space to relax with a glass of wine when the workday is over. For another client, we also converted a formal space by adding a bookcase and comfortable sofa and then painting the space dark blue. It's now a cozy place to escape with a book, take a nap or chat with a friend."
Of course, it isn't necessary to devote an entire room to "me space."
Taylor says she often merely adds a cozy reading chair, a good light and a small table to a bedroom. Your private space can be any quiet corner of the house.
Easily convert a cozily padded window seat or any corner by a window where you can fit a chair and small table, the space under the staircase or a closet, and a day bed or rocker on the porch to a space that is meant just for you.
Carving out 'me space'
The shift toward working from home has led many people to create a home office, notes interior designer Anna Osborne of Designs By Studio A in Tallahassee, and that has taken away much potential me space.
A home office can also provide a kind of me space, she contends. After all, we need a functional, private place to work. If limited on space, you can carve out room in shared common places.
"Think of converting a closet into a private workspace," Osborne suggests. "Remove the doors or install bifold doors. Most closets are deep enough to fit a desk and already have shelving to store supplies. You can even paint or wallpaper the closet in something bold or neutral, so it sets your desired vibe."
Whether you want a place to work, dabble in watercolors, scrapbook, have tea and scones with your BFF, read or just relax, Osborne recommends that you start with a list of items, such as furniture and equipment, that you'll need to make this dedicated area work for you.
"Next, think about where you'll feel most productive, inspired or relaxed," she adds. "You're looking for a place that sets the tone. You'll possibly need to re-home existing items or declutter to make space, which could be difficult. Remember, change is good, and clutter isn't helping your overall well-being."
Osborne prefers a guest room for that extra me space.
"It can easily double up as an office, reading nook, crafting area or meditation space," she explains. "Invest in flexible pieces of furniture, like a Murphy bed, daybed with a trundle, or a task chair that serves as a side chair during guest visits."
You may start to look at your home a bit differently, no matter the floor plan. Consider rooms as multipurpose zones.
Flexibility is key, and Osborne suggests investing in movable furniture, adjustable lighting and creative storage.
And then there's the bathroom, which Osborne calls an inherent me space because there's a door — and hopefully a lock — and a sense of privacy. That's absolutely the place to make a personal retreat. Design your bathroom as a luxurious spa surrounded by candles, some music and a glass of wine handily within reach.
---
"Me Space" Ideas
» Transform your hobby room to an arts and crafts paradise
» Turn your garage into the perfect yoga studio
» Add a closet system near windows for a cozy book nook
» Convert a closet into a private workspace
---