Me, a Triathlete?
Tips for Training For and Finishing Your First Triathlon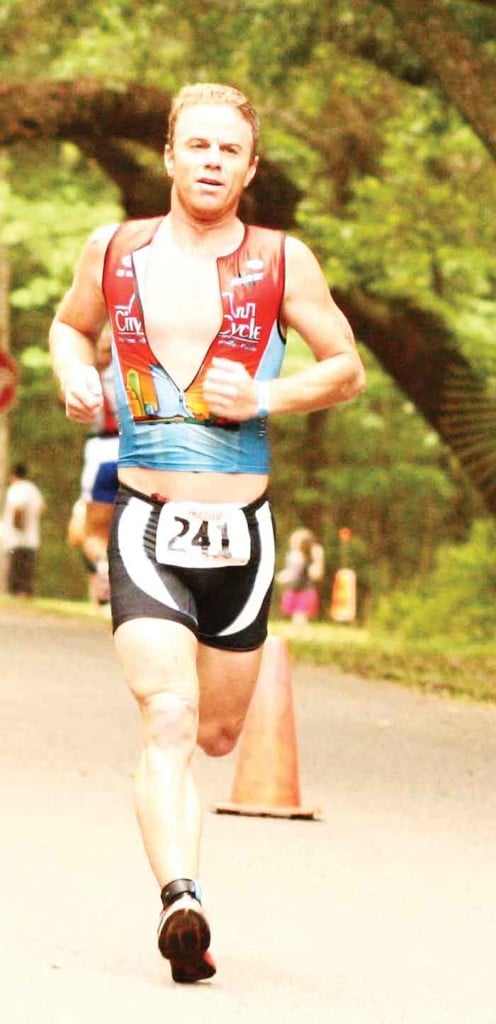 Many people hear the word triathlon and think of ripped Ironman athletes, crossing the finish line after 10 straight hours of exercise — exhausted, red-faced and dripping in sweat.
Good news. The Ironman is the most grueling of all triathlons, an event so intense and time-consuming most triathletes never do it. Just like running races, there are much smaller triathlons where just about anyone — yes, even you — can participate.
"With a little focus and consistent training, anyone can participate in a triathlon, and gain that huge sense of accomplishment when they cross the finish line," said Jeff Bowman, a triathlete and co-owner of the Tallahassee triathlon coaching company Revolutions.
Luckily, Florida is one of the most popular places in the country to train and compete in triathlons because of its sunny weather and access to open water.
Triathlons have also experienced a boom in recent years. Nowhere is that more evident than Tallahassee, where the Gulf Winds Triathletes Club has seen its membership grow from 40 to more than 250 just in the last three years.
First, the basics.
A triathlon is a race in which competitors swim, bike and run consecutively (and always in that order) at prescribed distances. The shortest triathlon is called a "sprint" distance, which is a 750-meter swim (less than half a mile), a 20K bike ride (12.4 miles) and a 5K run (3.1 miles).
Fitness experts say it's entirely possible to transition from couch potato to triathlete in less than six weeks. Here are some tips for training for a first triathlon:
» Don't buy a $2,000 bike. There is no need to buy a fancy bike or special outfit for your very first triathlon. "I would not recommend buying an expensive bike until you've decided that you want to continue to be a triathlete," said Stephanie Liles, a Tallahassee-based triathlete who competed last year in the World Championship Ironman in Hawaii. "Wetsuits are very helpful if you are not a strong swimmer. Most of the races in Florida are not wetsuit legal, but if you get a chance to race in (one), then do it," Liles said. The only essentials are a good pair of running shoes and swimming goggles, experts say.
» Find a training plan. Whether it's online or through a group or coach, find a training plan that suits your goals and stick with it. Bob Macdonald, head of the Gulf Winds Triathletes Club, suggests going to the library or bookstore and buying a book on triathlon training first. He also recommends getting a check-up from your doctor before embarking on a training plan. The Web is also a great resource for training plans, some of which cost money, but involve personalized coaching. Liles suggests finding groups around Tallahassee to train with and learn from the more experienced athletes in that group.
» Start slowly. "Set realistic goals, be consistent, take baby steps and remember fitness is built over time," Bowman said. A reasonably fit person, he said, could train and compete in a sprint triathlon with four to six weeks of training. A typical week's training might include three swims, three bike rides and three runs. He also suggests breaking up training into more manageable chunks. If the goal is to run 10 miles a week, run for two miles five days a week, Bowman suggests. For someone who isn't exercising regularly, allow eight to 16 weeks of training. "Take baby steps," Bowman said.
» Strength train to avoid injury. Sometimes triathletes are so focused on getting in their swims, runs and bike rides they neglect any strength training, which can lead to injury. "Typical injuries related to triathlons include strained muscles, tendons or ligaments related to overuse," Bowman said. Stretching is key, as are efforts to strengthen your core. "Learn the proper swim technique, get fit properly on the bike and purchase the proper running shoes for training and racing," he said. By incorporating a strength-training routine at your home or gym two days a week you can prevent injury.
» Practice biking and running together. It takes several weeks for your legs to get used to following up a bike ride with a run. Even if it's a short run, train your body to what that feels like so on race day your legs don't feel as if they are made of lead. These back-to-back training sessions are called "bricks," and are typically done on a weekend. Experts say they are mandatory for a good race day performance.
» And practice transitions. That means how long it takes you to transition from swimming to biking and from biking to running. Practice changing out of your swim clothes to biking clothes and check out the transition area for the race ahead of time.