May/June 2014 Agenda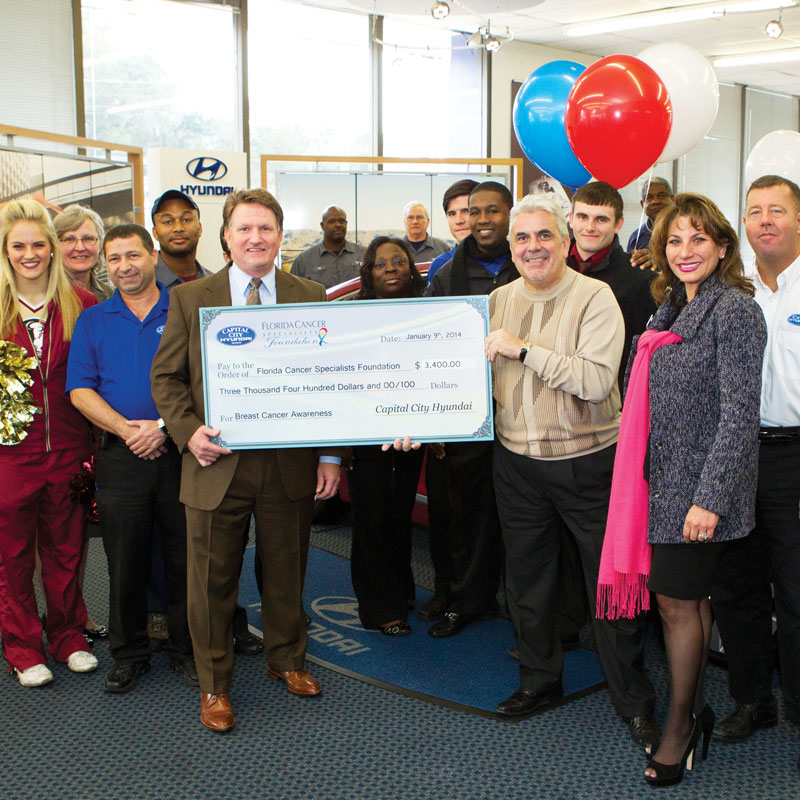 AWARDS AND RECOGNITIONS
▪ Longtime Tallahassee videographer Charlie Belvin of Impact Visual Media was presented with the American Advertising Federation's highest honor — the 2013 Silver Medal — for his work in advertising and his dedication to the community at the annual American Advertising Awards in February at Hotel Duval.
▪ Lauren Reynolds, a third-year student at Florida State University's College of Law, has been awarded the first-ever 2013 Gunster Environmental Law Scholarship and Clerkship.
▪ Andrew D. Manko of The Mills Firm was nominated and approved by the Young Lawyers Division Board of Governors to fill the remainder of a two-year term previously held by another Tallahassee young lawyer.
▪ Tallahassee lawyer and lobbyist Reggie Garcia was elected to the Economic Club of Florida Board of Directors and appointed chairman of its Membership Committee.
▪ MEGAS LLC, a Tallahassee-based software firm, has achieved full accreditation with the Healthcare Network Accreditation Program for Electronic Health Networks, from the Electronic Healthcare Network Accreditation Commission. Accreditation recognizes excellence in health data processing and transactions, and ensures compliance with industry-established standards and HIPAA regulations.
▪ Sean Pittman, founder and chairman of the Big Bend Minority Chamber of Commerce, was honored during the First Year Anniversary reception with the Chairman's Award. In its first year, BBMC's accomplishments include securing membership from several corporate sponsors, launching the Hispanic, Young Entrepreneurs, Women's Business and two other business-driven councils, and sponsoring several signature events, including the Legislative Welcome Back Reception, Tally Fiesta and the monthly community-engaging mixer, The President's Coffee.
▪ Debbie Crow, chief financial officer of the Florida Retail Federation, was honored with the nonprofit trade association's 2013 Chairman's Award. The award is presented annually to a person or company who has gone "above and beyond the call of duty" for the FRF and the retail community. The group has received an unbroken string of clean audits since 1990.
▪ Carlton Dean, CCIM, of Sperry Van Ness Commercial Real Estate Advisors, has been awarded the prestigious SIOR designation from the Society of Industrial and Office REALTORS. SIOR is a global professional association that recognizes commercial real estate professionals with the highest level of achievement, knowledge, accountability and ethical standards in today's real estate industry.
Courtesy Capital City Hyundai
Capital City Hyundai check presentation to the Florida Cancer Specialists Foundation
▪ Capital City Hyundai of Tallahassee in January presented a check for $3,400 to the Florida Cancer Specialists Foundation. The money was raised during Breast Cancer Awareness Month last October, when the car dealership donated $50 for every vehicle sold during the month as a way of building awareness and providing support for breast cancer survivors in the Tallahassee community.
▪ Daniel Parisi, director of new business development at Rowland Publishing, was presented with three awards during the company's annual sales meeting. He was named the companywide Top Producer for advertising sales as well as Top Producer for 850 and Tallahassee magazines.
▪ Ivette Faulkner has been promoted to group director, public relations at The Zimmerman Agency, the largest public relations firm in Florida.
▪ Gov. Rick Scott and the Florida Cabinet have named Bruce Meeks as inspector general of Citizens Property Insurance. At the time of his appointment Meeks, of Tallahassee, was a partner at the law firm of Robert and Meeks. He previously served as inspector general for the State Board of Administration (2002–2010) and was the deputy executive Attorney General from 1998–2002.
▪ Fred E. Karlinsky, shareholder with the law and governmental consulting firm Colodny, Fass, Talenfeld, Karlinsky, Abate & Webb P.A., was named to the advisory council of the Florida State University Florida Catastrophic Storm Risk Management Center. Established by the Florida Legislature in 2007, the Center supports the state's ability to prepare for, respond to and recover from catastrophic storms.
▪ Health care and policy expert Chris Chaney has joined the Advocacy Group at Cardenas Partners, a nationally recognized lobbying firm. Chaney was previously the legislative affairs director for the Agency for Health Care Administration where he gained a deep understanding of the new health care marketplace at the highest level of state government.
▪ Sachs Media Group has been named the top Environmental & Public Affairs PR firm in Florida and 12th in the nation by O'Dwyer's, the respected national public relations industry journal. The firm is one of only two in Florida to earn a ranked spot on the list in the February 2014 "Environment" issue of O'Dwyer's magazine. The rankings are based on 2012 net fees.
NEW ADDITIONS
▪ Blaine Cherry is now a member of the management team of Cherry Communications. Blaine will serve as director of research for the Florida-based firm and is the second generation of the Cherry family to work for the firm. Under the leadership of Linda and Jim Cherry, Cherry Communications has developed a large nationwide clientele and provides polling and voter contact services to political candidates, committees, Republican Party organizations, trade and advocacy groups, businesses and nonprofit organizations.
▪ Kevin Keating has joined the Four Points by Sheraton Tallahassee Downtown team as executive chef. Formerly dean of culinary arts at Keiser University, Chef Keating will be in charge of the hotel's newly relaunched Juicy Blue restaurant and AQUA poolside bar as well as the facility's banquet services.
▪ Bo Schmitz, general manager of the Four Points, has been appointed to the Leon County Tourist Development Council. The hotel is also expanding its top-notch team by adding Cheryl Horne as senior sales manager, Laurin Fuller as sales manager and Maria Matilszki as catering manager.
▪ Robert G. "Bob" Nave has joined the Florida TaxWatch Research Team as director of the TaxWatch Center for Educational Performance & Accountability. As the director of the center, Nave will serve as a senior education policy analyst and lead efforts by Florida TaxWatch to ensure Floridians receive the best value from their nearly $20 billion annual investment in education.
▪ Dan McCarthy is the new executive director of the TaxWatch Center for Smart Justice, where he will lead efforts to improve the Florida criminal and juvenile justice systems.
▪ Jim Cummings recently joined J. Kokolakis Contracting, Inc. as director of preconstruction, and further expands Kokolakis' expertise in the Tallahassee region. Cummings has nearly 20 years of construction management expertise, almost half of it gained in the Tallahassee region. He has been a key member of many construction management and design/build teams that produced very successful projects for clients such as Florida State University, Tallahassee Community College, Florida Departments of Health, Management Services, Juvenile Justice and Corrections; as well as several local churches, county governments and school boards.
▪ Ken Armstrong is the new president and CEO of the Florida Trucking Association, a major industry trade group in Tallahassee. Armstrong succeeds Mary Lou Rajchel, who left the position after seven years as the chief advocate for the state's trucking industry. Armstrong will bring extensive nonprofit experience to the FTA, including over a decade at the United Way of the Big Bend.
▪ Tallahassee native Kristin (Cornwell) L'Esperance, ASLA, has been welcomed as a full-time staff member at Wood+Partners Inc. as a project planner at the regional planning and landscape architecture firm. She is a recent graduate of the University of Florida and received a bachelor's degree in landscape architecture and a minor in environmental horticulture.
▪ David Orozco has been named the new MBA program director at Florida State University's College of Business.
▪ Thomas Howell Ferguson P.A. recently announced a series of promotions and staff additions. The firm promoted Julian Dozier to senior manager of assurance services, Stacey Kolka to senior manager of tax services and Brian Walgamott to manager of tax services. Kavisha McCranie has been promoted to senior, tax services department. Meagan Camp has been promoted to senior, assurance services department. The firm also congratulates second-year tax staff member Ashley Sharpe on passing the CPA exam. Jen Schmidt is now a tax services senior and Lane Williams is now an assurance services department senior.
▪ Ballard Partners, a Tallahassee-based government affairs firm, has added Christopher Hansen to its Tallahassee team as a new partner. Hansen previously served as a governmental consultant for Gray Robinson P.A., where he was a member of the lobbying team, and before that held a similar position at Huey, Guilday, Tucker, Schwartz & Williams P.A.
▪ Nick Grosso has joined Genesis, a Florida engineering, planning and design firm, as a project manager in Tallahassee in the company's Florida transportation engineering practice. Grosso was formerly project manager in the Northwest Florida transportation group at Atkins in Tallahassee where he managed a variety of transportation and roadway projects for the Florida Department of Transportation, the City of Tallahassee, Leon County and other clients.
▪ The Dean Mead law firm has opened a new office in Tallahassee, located at 215 S. Monroe St. With offices already in Orlando, Fort Pierce, Viera and Gainesville, the Tallahassee location expands the firm's footprint to five offices and more than 50 attorneys positioned throughout Florida. The Tallahassee office is home to four attorneys, including Peter Dunbar, Martha Edenfield, John Wharton and Ashley DiNunzio-Gault. Dunbar, Wharton and Edenfield will each serve as Of Counsel, and DiNunzio-Gault will join the firm as associate.
▪ Timothy A. Lee is the new director of the Consolidated Dispatch Agency. The CDA is a joint agency steered by the City of Tallahassee, Leon County and the Leon County Sheriff's Office. Lee brings more than 19 years of public safety experience to Tallahassee and Leon County. He most recently served as the executive director for the Fort Wayne and Allen County Consolidated Communication Partnership, which serves 20 life-saving agencies in northeast Indiana.
▪ Adams and Reese has added longtime Florida labor and employment attorney Scott Callen as a partner in the firm's Tallahassee and Tampa offices and as a member of the Special Business Services Practice Group. Callen most recently practiced for Foley & Lardner LLP.
▪ Jennifer Sullivan Davis is now a shareholder of Guilday, Schwartz, Simpson, West, Hatch & Lowe P.A. in Tallahassee. She focuses on general civil litigation and defending claims against many types of professionals and employers, catastrophic injury claims in trucking/transportation accidents and construction defect claims against contractors.
▪ Pennington P.A. has added Jim DeBeaugrine to its state government affairs practice. A longtime veteran of the legislative and executive branches of Florida, DeBeaugrine specializes in appropriations, disability and aging issues, health and long-term care, Medicaid and criminal and civil justice. He served on the Florida House of Representatives' staff for 19 years, including 10 as staff director of the House Justice Appropriations Committee.
▪ Erin Ennis is now a member of Centennial Bank's Northeast Florida Board of Directors. Ennis is vice president of finance and administration at Residential Elevators and a graduate of both Leadership Florida and Leadership Tallahassee.
▪ James Moore, Certified Public Accountants and Consultants, is pleased to welcome Stephen Andrews, Angela Greak, Alyssa Lindsley, Matthew Norris, Angela Roberts and Jeremy Smith to the firm. Andrews, a certified public accountant, has been hired as a senior accountant. Greak has been hired as a seasonal tax preparer. Lindsley, Norris, Roberts and Smith are now staff accountants. Founded in 1964, James Moore is a regional firm with offices in Daytona Beach, Gainesville and Tallahassee. The firm specializes in providing tax, accounting, wealth management and consulting services.
▪ The law firm Messer Caparello has added five new attorneys over the past year. Rob McNeely practices in the areas of intellectual property, entertainment law and family law. Paula Sparkman joined the firm's real estate practice group late last year. Sparkman practices real estate law, local government law, probate, estate planning and civil litigation. Gigi Rollini joined the firm in January 2014. Rollini joins the firm's appellate practice group and also practices administrative law and civil litigation. Most recently, Tim Warfel joined the firm to lead the Estate Planning team. Warfel has been practicing for more than 30 years in Florida and Georgia. The firm also added Ellery Sedgwick as a new associate. Messer Caparello is a full-service firm with 21 attorneys providing legal services to individuals, businesses and governmental entities throughout Florida and Georgia.
▪ A new Aspen Dental office is opening in Tallahassee at 1415 Governors Square Blvd. and will provide dental services that range from dentures and preventive care to general dentistry and restoration. Dr. Shaily Gupta will be lead dentist at the Tallahassee office.