May/June 2013 Agenda
Kudos, Changes, and Other Business News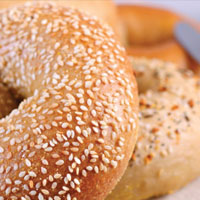 FOOD NOTES
▪ Bruegger's Bagels, a "fast casual" chain known for its fresh-baked New York-style bagels, has opened its fourth Tallahassee location, which features a new store design concept for the 30-year-old restaurant. The colors are shades of yellow with tabletops and décor made from Vermont maple, hearkening back to the company's roots and the source of all of its cream cheeses. In the future, Bruegger's is planning to double its number of locations throughout the region.
▪ Chicken Salad Chick recently opened its first Florida franchise in Tallahassee. The restaurant is located at 1410 Market Street, Suite D-3, in the Pavilions shopping center. "This is a wonderful opportunity to get in on the ground floor and be part of what will undoubtedly be tremendous growth of the Chicken Salad Chick concept," said franchisee Bob Gosselin. "Carolyn and I believe in the product and the concept and look forward to sharing it with Tallahassee."
▪ Burger lovers, rejoice. Whataburger recently revamped six Tallahassee-area restaurants as part of a makeover program across all 10 states where Whataburger operates. Restaurant exteriors, building and signs have all been updated to emphasize the company's famous orange and white color scheme.
AWARDS AND ACCOLADES
▪ TREW Media, Inc., a video production and photography company located in Tallahassee, received three Gold ADDY Awards at a recent awards ceremony held by the local chapter of the American Advertising Federation. TREW Media took gold in both of the coveted visual elements of advertising categories, photography and cinematography, and for best public service announcement. "We try to put the love into everything we do, which is why our clients trust us to deliver the best product possible," said Tim Wheeler, founder and president of the company. Among those clients are Andrew's 228 Restaurant, whose food photography won the award for Best Photography Campaign. The cinematography honor was the result of a web-based documentary for Whole Foods Markets featuring the shrimp business in the Gulf of Mexico. The third gold was for a television announcement produced for United Way of the Big Bend to help launch their Reading Pals program. TREW Media's work will now advance to the regional stage at the Ad Fed's Fourth District ADDY Awards.
▪ Attorneys William J. Dunaway, Scott A. Remington and Richard N. Sherrill have received an AV Preeminent rating from Martindale-Hubbell. It's the highest possible Martindale-Hubbell peer review rating designation. CPHLAW has been an AV-rated law firm by Martindale-Hubbell for more than 30 years, and the firm now has 18 AV Preeminent-rated attorneys.
▪ Centennial Bank's Khanty Xayabouth was recently promoted to Retail Banking Leader. Xayabouth is now responsible for the management of Centennial Bank's retail banking activities and branch banks in the Tallahassee market. Previously, she served as senior branch manager for Premier Bank. Xayabouth is a graduate of Leadership Tallahassee and is active in the Big Bend Homeless Coalition, Habitat for Humanity and United Way of the Big Bend. "Khanty has distinguished herself as a servant leader and is admired by our customers and staff," said Matt Brown, Centennial Bank's Tallahassee market president.
▪ Timothy L. Cook is the new president of TMH Federal Credit Union, where he was formerly the senior vice president. He has more than 15 years of credit union management experience and has worked for financial institutions since he moved to the Tallahassee area in 1994.
▪ Theresa "Cissy" Proctor, formerly of the Bryant Miller Olive law firm, now serves as the deputy director of legislative affairs at the Florida Department of Economic Opportunity. As a member of the agency's senior team, Proctor's new role will be focused on advancing the economic needs of Florida in partnership with the governor's office and legislature.
▪ Felicia Nowels, a shareholder with Akerman Senterfitt's Government Affairs and Public Policy Practice Group and a member of the firm's International and Latin America and the Caribbean practices, is now Board Certified in International Law by The Florida Bar. As a Board Certified international lawyer, Nowels is qualified to handle issues arising from the relations between states, nations and international organizations, including business transactions, multinational taxation, customs and trade.
▪ James Gustafson and William Norton, shareholders with the law firm of Searcy Denney Scarola Barnhart & Shipley have been honored by their peers for inclusion in The Best Lawyers in America 2013. Corporate Counsel magazine has called Best Lawyers "the most respected referral list of attorneys in practice."
BUSINESS NOTES
▪ Capital Regional Medical Center recently celebrated the completion of its two-floor expansion, a $15-million project that added 44 private beds. The expansion brings the total of beds in the hospital to 242 and is expected to bring more healthcare jobs to the area. "This expansion represents our dedication to serving the Big Bend region by offering an even greater capacity to care for its citizens," said Brian Cook, president and CEO. "High-quality, well-paying jobs in health care are an important factor in our area's economic future and for the well-being of our patients."
▪ William Patrick, formerly of the James Madison Institute, was recently promoted to Florida Bureau Chief for the Franklin Center for Government and Public Integrity. As a member of the Franklin Center's national team, Patrick's new role is focused on political reporting for both floridawatchdog.org and watchdog.org, Franklin's investigative and political reporting platforms.
▪ Ron Sachs Communications has changed its brand to help corporate, government and nonprofit clients navigate an ever-changing media landscape. Sachs Media Group will focus on creating compelling multimedia content and using new tools and tactics to most effectively engage its audiences. "The modern communications horizon today continues to widen, evolve and push forward to exciting new vistas and platforms, making it imperative for corporate, governmental and nonprofit sectors to rely on smart and able navigators," said CEO and founder Ron Sachs. "Today, every organization, every company, every campaign needs to operate like a newsroom, giving the audiences what they need to connect with the rich content they want."
▪ Short, concise and to-the-point. That's the trend these days when it comes to the names of law firms. Taking this cue, Pennington, Moore, Wilkinson, Bell & Dunbar recently changed the firm's name to simply Pennington, P.A. "In today's market, people select a law firm more on research and media channels rather than just referrals, so a name that is easy to recall is helpful," said Pennington President and Chairman Breck Brannen. The firm will also unveil a new logo reflecting the change in the company name. Pennington has elected their 2013 firm officers: Brannen, president and chief executive officer; Murray Moore, chief financial officer; Billy Hughes, assistant CFO; Terry Rigsby, secretary; Brandi Dickson, associate and growth committee chair; Brian Newman, human resources/space committee chair; Murray Moor, budget committee chair; Kory Ickler, technology co-chair; Susan Spurgeon, technology co-chair and Steve Roddenberry, current and future space chair. The firm's directors are Brannen, Rigsby and Moor as well as Christian O'Ryan, John Pelham, Billy Hughes, Don Conn, Mike Thomas and Doug Bell.
▪ The Tallahassee-based Florida Association of Insurance Agents recently awarded a $5,000 Good Works Fund grant to Disabled Veterans Insurance Careers, a program dedicated to helping U.S. veterans by opening up new opportunities for jobs and training in the insurance industry. The grant will help DVIC teach disabled vets the skills they need in the areas of sales support and cross-selling personal insurance products. "FAIA Good Works Fund is honored to support DVIC's mission in educating, training and assisting our veterans in the insurance industry," said Jeff Grady, FAIA president and CEO.
▪ Tallahassee-based Florida Sports Foundation Senior Vice President Stephen Rodriguez was welcomed as chairman by the Board of Directors of the National Senior Games Association (NSGA) during its annual association conference held recently in Kissimmee. Rodriguez, who begins a two-year term at the helm of the NSGA board, also received another honor: NSGA's Warren Blaney Lifetime Achievement Award, given every other year for innovation in Senior Olympics programming and promotion of the Senior Games movement. The FSF also took home an award for best games promotional packet for state games with budgets of $50,000 and over.
▪ After a two-year stint working for another company, Carlin Trammel has returned to work for Rowland Publishing as the Social Media/Systems Management Specialist. During his time away, Trammel worked at a local marketing firm as a project manager and also obtained a Master's degree from Florida State University's Library and Information Studies program. He has returned to Rowland Publishing to boost the social media presence for the company's publications, outline strategy for online revenue opportunities, and optimize internal systems and processes.