Maximize Your Holiday Decor All The Way Through New Years
How to make the most of every decoration, twinkle light and prop this season.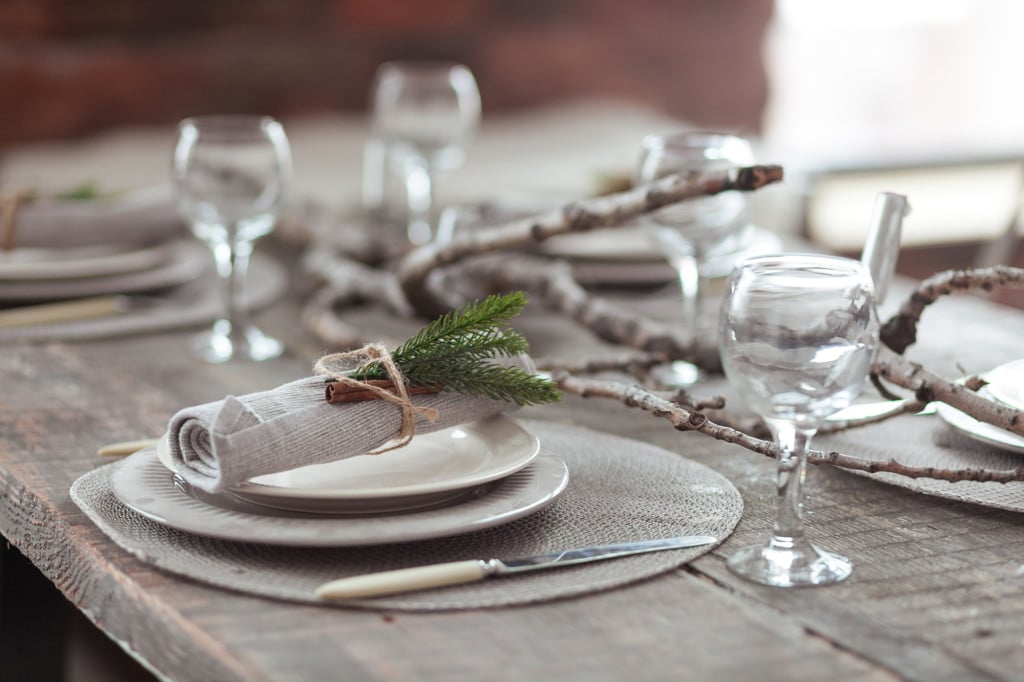 Homeowners who can't decide whether to do nothing to their house or to go full out for the holidays can compromise through holiday décor that defines interior spaces while maximizing twinkle and fun. Decorations can add a sense of tradition and family — and a color punch — to your house or apartment.
Dressed for the Holidays
Look at the interior of your home and determine what is crying out for decoration. Maybe it is that plain oak staircase or fireplace mantle.
For the mantle, remove those baseball trophies for a month and replace them with leaves, pinecones or brass. Use pumpkins for Thanksgiving. After that, go with candles, a Menorah and silver for Hanukkah, or the usual red and green for Christmas, followed by silver and gold for New Year's Eve.
For the staircase, use artificial greenery to wrap around the banister. For a party, consider having florists come in and work their magic.
Put giant poinsettias at the base of the staircase or on the middle of a large coffee table. Don't overlook the color of the plants and wrapping paper. If you have a turquoise, charcoal gray or lavender room, then white and silver work best. For most other color schemes, the traditional shiny gold, evergreen or red wrapping paper stands out.
"Poinsettias come in all colors now, including purple and with blooms that look like roses," said Jessica Martinez of Blossoms, a Tallahassee florist. "I still like greens and reds with white berries, but Christmas is wide open to do what you like — add some feathers. Boxwoods provide perfect fresh greenery that holds up well."
Check Shelves and Cupboards
Experiment. Too often we leave decorative platters, silk flower arrangements and collectibles in the same places throughout the house. Bring out the Vietri from My Favorite Things or the Lenox china tucked high in a cupboard. Dust them off and group them in a new way. Holidays are all about sparkle and magical makeovers.
Get Inspiration from Sites, Scents
Displays at gift stores, florist shops and nurseries can inspire. Walk through. See it, smell it and feel it.
Visit historic Goodwood and the Knott House and notice their polished wood floors that let the tree lights dance and dazzle, setting the stage for large foil-wrapped gifts.
Also check out the Florida Historic Capitol Museum, which starts decorating for the holidays two days after Thanksgiving, said director Tiffany Baker. The museum aims to put visitors in the holiday spirit this year with a music series that for two weeks will feature school choirs on the steps of the museum at lunchtime, she said.
The Historic Capitol decorations each year include some fake and lighted pieces. Trees on the front and back porches "provide the feeling of winter greenery with giant live poinsettias at the bottom of the stairs," Baker said.
For holiday scents, consider diffusers, said Gina Proctor, owner of Bedfellows.
"You don't light them, they last for six months or more, and the only thing you have to do is turn the wooden reeds around now and then," Proctor said. "So, you can come home from a long day at work or after a weekend away and the bathroom smells wonderful."
The popular Fraser fir scent comes in diffusers, candles, room spray, dishwashing soap, all-purpose cleaner and hand wash.
Bedfellows also has Nest Fragrances in three holiday scents available in a variety of candles and other products.
The gingerbread scent from Thymes is popular earlier in the winter, Proctor said, because people associate it with Thanksgiving when they also go for Nest Fragrance Pumpkin Chai candles.
Coordinate the scents with holiday table linens, tabletop options and decorative napkins. Don't forget to dig into your linen closet for those festive Santa towels and boxes of guest soaps.
The Lowly Foyer Becomes Luxurious
Just like the tradition at the Historic Capitol, home decorations can be pulled in and out of boxes and stored each year. If neutral enough, keep them up for permanent display. Consider a large crystal bowl or vase or a piece of milky quartz, perfect as a statement piece for the foyer or a formal dining room table. Quartz often serves as a base material to build countertops or other solid surfaces, but interior designers know how to include large chunks of it in design projects.
A display of high-quality crystal or milky quartz in a foyer or entrance will provide an unexpected but alluring presence. It can sit year-round unembellished on a tabletop or, for the holidays, on a mirrored finish or cloth base of red, green, bright blue, silver or gold.
Milky quartz's intrinsic sculptural and natural qualities add a touch of glamour to every space it occupies. The budding geologist in your family will appreciate it.
For a do-it-yourself foyer, scavenge a branch from your backyard or make a simple arrangement from Christmas tree trimmings, real or artificial.
For decorating, the possibilities are endless. Fill a large clamshell with shiny glass or silk-covered ornaments, or dress up a piece of driftwood with lights or ribbons.
Another trick is to use houseplants and potted trees. Polish the leaves and move them around. There's plenty for the innovative gardener to do during this happy time of year.
Celebrating a New Home, Family, Addition
Maybe you have a new home and your household has gained new members, perhaps a puppy.
Traditional touches lend a sense of permanence. Shoot for a delightful mix between old and new, his and hers, deep hues or light touches, classicist and modernist — and maybe a stocking for Fido.
Emphasize twinkle and fun, and make it yours. Don't ignore the holidays — do something. It will lift your spirits.