Maximize Potential With D1 Training
New Tallahassee training facility offers fitness for all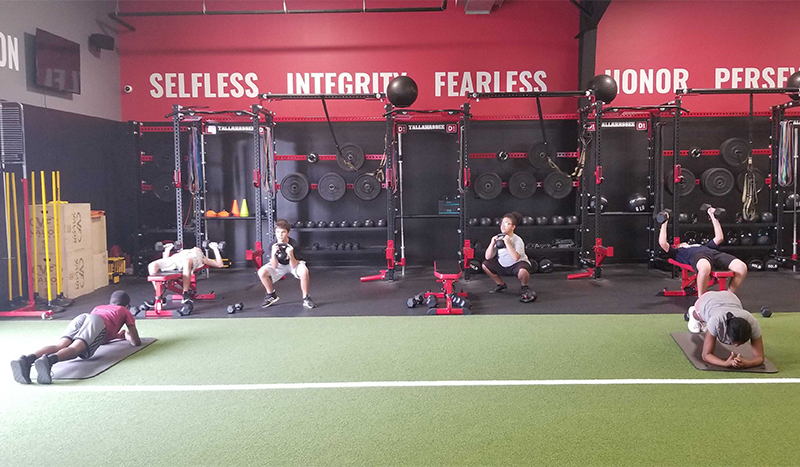 When we watch athletes perform, we often marvel at the power, strength, endurance and agility they possess. D1 Training is designed to provide everyone with tools and training for unleashing their inner athlete.
D1 Training is geared toward your health goals and desired athletic outcomes. Each coach either played college or professional sports or coached at a college or professional level. They are well-versed in the human body and its capabilities.
"Our motto is to take it to the next level," Chris Carver, general manager of D1 Training Tallahassee said. "From the high school student preparing to embark upon a collegiate athlete journey to the father trying to get off blood pressure medication, no matter your background, at D1, we are going to get you to that next level in your fitness goals."
The Rookies program for ages 7-11 lays the foundation for coordination and athleticism. Those ages 12-14 participate in a Developmental program that emphasizes power, speed and age-appropriate weightlifting. Prep is for ages 15-18 and is akin to a Division 1 program with power, speed and strength training. Overtime is suited for student athletes who have specific goals in mind and are furnished with semi-private coaching.
The D1 Adult program, the most popular option, utilizes scientifically based training methods for full body workouts. D1 Overtime is a semi-private training program that targets specific areas to help adult athletes excel in their sport whether you play professionally or for enjoyment. D1-on-1 pairs athletes with a coach who provides customized workouts.
For those on the go, D1toU offers remote coaching and accountability anywhere, anytime, anyplace. The program is easily accessed via a smartphone and provides online workouts and nutrition plans.
For the family who wants to put fitness first, Family Training designs a workout plan unique to your family that encourages a healthy lifestyle, improved physicality and results in quality time spent together.
The Elite Program is specifically for collegiate or professional level athletes seeking to take their training up a notch. The program is backed by sports science and offers the most state-of-the-art equipment available. These programs are tailored to the athlete and have been embraced by more than 100 NFL draft picks, over 1,000 pro-level athletes and over 3,000 collegiate athletes.
The facility contains restrooms fully furnished with showers, lockers and towels. Supplements including pre-workout, protein and hydration options are on hand.
Space can be rented for birthday parties and events. Rentals are for up to three hours, and packages can be customized depending on your needs.
Carver acknowledges that the hardest part of beginning a fitness plan is often just walking through the door, but once you do, you'll be greeted by coaches committed to your improvement.
"Our coaches bring knowledge, experience and expertise to the Tallahassee community," Carver said. "We want you to grow, improve and learn so this not just a short-term change, but a long-term investment in yourself."
---
D1 Training
1706 Capital Circle NE, Suite #8 | (850) 407-2658 | D1Training.com/tallahassee
---