Maternal Instinct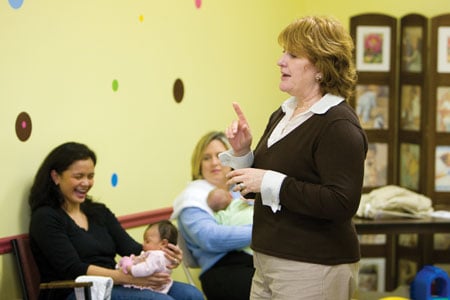 Molly Shakar has helped a generation of new mothers
Photo by Scott Holstein Maternal InstinctLactation Constultant Molly Shakar Has Helped New Moms Overcome the Challenges of Breast-feeding for Almost a Generation 
By Tisha Crews Keller
For thousands of years, it has worked like this: A woman gets pregnant, has a baby, makes milk and nurses her child. But for the modern mother, it doesn't always work the way nature intended.
In fact, many new moms find more than one aspect of motherhood overwhelming. Between around-the-clock feedings, crying jags (on the part of Mom and baby) and doting relatives, many women are tired, confused and desperate for help. Add attempts at nursing into the mix and some women feel as if they're teetering on the edge.
Lisa Belcher describes her experience when Linden, now 18 months old, was born: "As a first-time parent, I read all the books and went to all the classes, but nothing could really prepare me for how hard breast-feeding really was."
Enter Molly Shakar. With more than 20 years of experience helping women begin breast-feeding – and parenting – she has provided comforting, motherly advice for thousands of local women in the stormy midst of new motherhood.
Shakar knows a lot about moms and babies. The mother of three grown children herself, she is a third-generation nurse who got her start in 1984 on the staff in Tallahassee Memorial HealthCare's newborn unit. Today, she is a full-time lactation consultant, providing individual consultations at TMH, Capital Regional Medical Center and at her boutique, Best Beginnings.
Birth of the Passion
Shakar's career in nursing – and support of breast-feeding moms – began with the birth of her first child. She and her husband, Jamie, were dismayed to realize that
they would not be offered the experience they wanted in the hospital's labor and delivery ward.
"Back in 1981, they weren't even going to allow my husband to be in the delivery room at Halifax Hospital in Daytona," she says. "We looked at each other and said, 'Not an option.'"
The alternative was a birthing center with lay midwives providing all of her prenatal care and handling the delivery. The moment of her child's birth also was the birth of a new passion for Shakar.
"The care and the love that I got when I was pregnant with my daughter, I knew that's what I was going to do – I was going to work with moms and babies," she says. "It was such an unbelievable experience when I had her, just the whole way they treated me and helped me. I said, 'Wow, that's what I'm going to do.'"
Like many new moms, Shakar was both thankful for – and discouraged by – the parenting advice she received from her family.
"My mom came to my house with a can of formula," she remembers.
Shakar figured out nursing on her own but knows that many women aren't so lucky. Early in her career at TMH, her heart went out to those struggling with breast-feeding.
One day during her shift at TMH, she went to her boss and said the new moms really needed some help with breast-feeding – especially during those first few nights in the hospital. She began TMH's lactation program and in 1991 trained at the University of California, Los Angeles, to become a lactation consultant.
Putting Mothers at Ease
Shakar is passionate about what she does and has developed an array of support groups, classes and more at her boutique, located at 1415 Timberlane Road in Market Square, to help new mothers learn the skills of mothering.
For her, breast-feeding is the most important first step any new mother can take. When it comes to nursing, though, she says quite often moms are shocked to find that it is a learned skill – both for mother and baby.
And for Belcher, Shakar's advice was just what she needed.
"We got a consultation from Molly and her staff on the second day home, and it was a lifesaver," she remembers. "Molly knew exactly what to do and say to us – it was such a relief."
One of Shakar's most popular services is her breast-feeding support group. The cozy second room of her shop usually is full on Wednesday mornings with nursing moms and babies.
Mother and baby pairs practice breast-feeding in a setting that is open, welcoming and non-judgmental.
When a mom feels overwhelmed or has a question about nursing or mothering in general, Shakar and her staff are there to offer hands-on advice.
Shakar understands the support group's value for these new moms.
"The group is so important because you see these insecure women who are crying, they don't think they can do it … and then within a few short weeks, they have blossomed into these beautiful, confident women," she says. "Then they're turning to that next woman that's coming for the first time, who is crying and overwhelmed, and they're supporting her. So my job is to touch one mother and that mother touches another mother and makes the circle bigger and bigger."
During these groups, Shakar teaches parents (including some dads) the natural benefits of nursing and how it is a relationship that develops between mother and child over time.
But, she says, most new moms don't have the confidence it takes to get started with breast-feeding.
Lynn Steele agrees. The mother of two had a hard time breast-feeding immediately after each birth. She gives Shakar the credit for her success with nursing.
"I would never have been successful in breast-feeding my children if it weren't for Molly's help," Steele says. "I was a wreck (with my first child), worried about her not getting enough to eat. Molly was very patient … her support makes all the difference, especially when you're a new mom and really unsure of yourself."
"If you mother that mother, she will be a better mother," Shakar says. "Not just the breast-feeding, though – it works with the rest of it, too. If a mom has the confidence to nourish her baby, she'll have the confidence to trust herself and her instincts."
Critical Care
Most mothers are convinced of the value of breast-feeding and are willing to try it; the Florida Department of Health reports that up to 80 percent of Leon County moms indicate they intend to nurse their baby. However, the percentage actually drops off sharply after leaving the hospital.
In Shakar's experience, a big reason for the drop is the lack of a support system (relatives, grandparents, spouses and friends) that is so critical to the breast-feeding mother.
From her daily practice, Shakar says that women lack an elemental trust in themselves and their own bodies. She attributes this to the fact that America has lost two to three entire generations of breast-feeding women – and the support and encouraging advice that can come from a mom who nursed a child herself.
Even doctors aren't always the best resource for breast-feeding information, she says, because they aren't taught the basics of it in medical school. On the upside, doctors and hospitals are well aware that breast-feeding is preventive medicine – and more and more, they have become invested in promoting it.
Even when a mom can't – or doesn't choose – to nurse, Shakar still is supportive with an attitude that's more along the lines of "do whatever you can."
"She's an advocate without being pushy or preachy," says April Knill, a veteran of Shakar's breast-feeding support group with her daughter, Savannah. "She teaches the benefits of breast-feeding but doesn't guilt you into it."
Back to Work
Even after moms get comfortable with nursing and gain confidence in their own bodies, more hurdles may arise.
In Shakar's groups, many mothers nurse for up to a year. If a mom is headed back to work, though, it can be a different story.
"Some moms can't nurse when they go back to work," she says. "It's a big challenge when you go back, and you don't have employers who are supportive, and you don't have a place to pump. You shouldn't have to pump in the bathroom."
Shakar helps these moms learn the basics of collecting and storing milk, but she would like to be able to make a difference in the larger sense. One of her dreams is to help alleviate the environmental challenges for moms who breast-feed. Besides wanting to change employer attitudes toward nursing and parenting in general, Shakar is actively involved as co-chair of the Capital Area Breast-feeding Coalition.
The coalition aims to help ensure that medical practices disseminate accurate, research-based information for protecting and promoting breast-feeding. In addition, it seeks to help change the breast-feeding environment for working moms through employer buy-in and policy changes.
To Shakar, all of these things promote confidence in a woman's inherent ability to nurture and provide for her child, whatever her choice.