Mastering Grilling
Ken McCracken of Brown's Kitchen Supply offers smokin' advice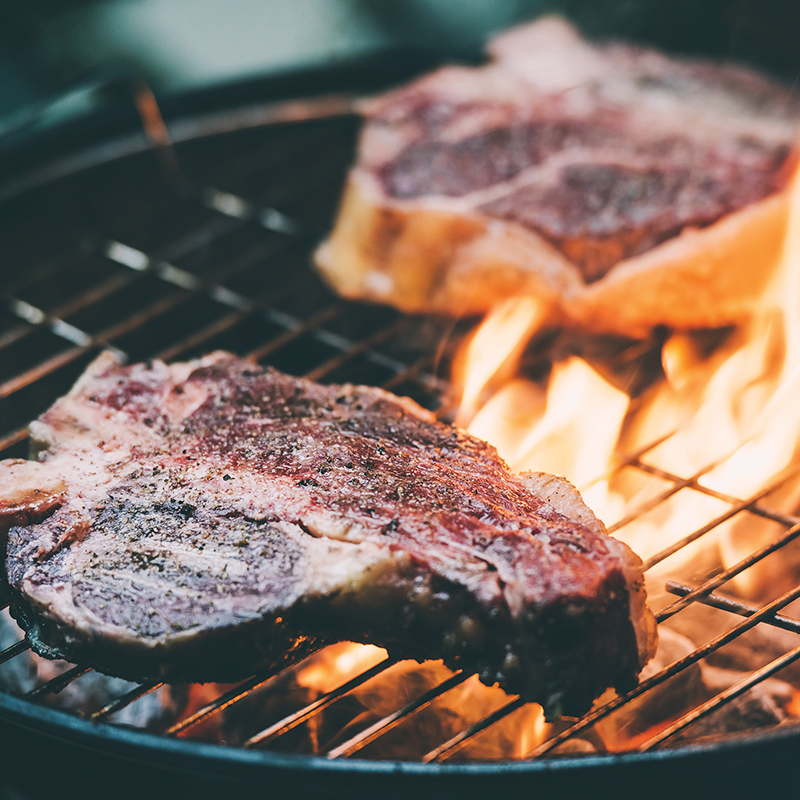 What better way to announce a few weeks of sweet, sweet freedom than to eat slightly charred beef, pork or chicken outside — with your hands? In Leon County, Memorial Day weekend marks the end of the school year and the beginning of summer vacation — and nothing says "American summer" like grilling. 
Maybe you've been grilling for so long that you can light coals just by staring intently at them, or maybe you're picking up a pair of tongs for the first time this year. It doesn't matter. Ken McCracken, a sales associate at Brown's Kitchen Supply, has advice that will serve you all season long.
If you're a novice, start by picking the right grill.
"What I would look for is something that is fairly sturdy, has good temperature ranges and has some sort of
protective barrier against flare-ups," McCracken says. "Grills used to all have ceramic blocks or 'lava rocks' inside them; those prevented flare-ups, but also helped with taste. Ceramic briquettes really do help generate flavor." 
High on grilling enthusiasm but low on outdoor space? McCracken has answers. "I'm fond of the Weber kettle grills for space-challenged individuals. It's easy to control the heat and they don't take up a lot of room. If you're so inclined, there's a company that makes a conversion kit for a Weber that turns it into a pizza oven."
Regardless of what grill you purchase, make sure you clean it properly to prevent dangerous accidents. "I don't care if you have a $100 grill or a $5,000 grill: twice a year the grill needs to be completely taken apart and cleaned. People will go out and buy an expensive grill, but over time the fats and enzymes from the meat will eat the bottom of the grill. There are services in Tallahassee that will take them apart and steam clean them."
Entertainers looking for crowd-pleasing grill fodder should stick to basics but do them right.
"When my grandchildren come to see me, what they want is Poppa's barbecued chicken," McKracken notes. "I cut up whole chickens and brine them for 24 hours, then rinse them off and throw them on the grill at 325 degrees. I watch them very closely until they hit 165 degrees — by the way, anyone who's gonna grill needs a good meat thermometer — and then I brush them with barbecue sauce and let it caramelize."
Start by mastering chicken, burgers and hot dogs, but don't forget that grills can be used creatively, too. Once you've got the basics down, you're free to experiment.
"Everybody oughta try to do fish on the grill," McCracken says. "There's few things better coming off a grill than a good piece of salmon or grouper. And pizza!"
Don't let this American culinary staple intimidate you; with proper tools, common sense and quality ingredients, anyone can grill.