Mary Jane Ryals, the Big Bend's First Poet Laureate, Builds Bridges Between Cultures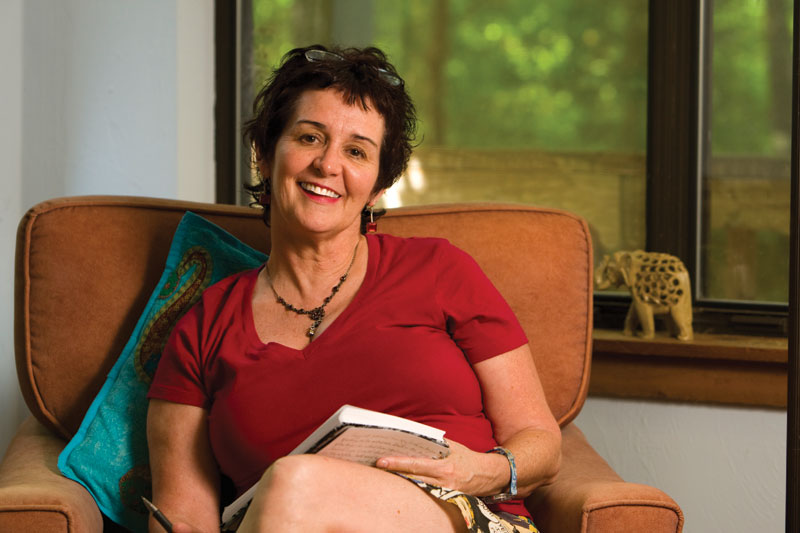 Tallahassee's Mary Jane Ryals is one of those people – like Margaret Atwood and Gloria Steinem – whose words make such an impression, you expect her to be a towering figure. But like those well-known authors, Ryals is a powerhouse tucked into a 5-foot body. Her father always told her dynamite comes in small packages. And he was right.
Anyone who reads her poetry will be impressed by the musical language. In January, Ryals was named the first poet laureate of the Big Bend and, for the next two years, she will serve as an ambassador of poetry for the region.
"Mary Jane Ryals is the perfect poet laureate because she represents the learned skill and innate talent of the art and craft of poetry, as well as the social aspect of the title, better than anyone I can think of," says Mike Carducci, president of Big Bend Poets.
Ryals' appointment as poet laureate was followed by the release her latest book of poems, "The Moving Waters" (Kitsune Press, $14). Her poems speak especially to women's hearts. Subjects in this collection range from an amusing look at women's irrational obsession with shoes to the pain of miscarriage.
Anne Petty, publisher of Kitsune, has nominated "The Moving Waters" for six awards. Ryals is impressed with Petty's dedication to her writers.
"Just to show you how much faith she has in us, here's what she nominated the book for: the 2008 Pushcart Prize, Kate Tufts Discovery Award, Florida Book Awards, Pulitzer Prize for Poetry, National Book Critics Circle, and Lenore Marshall Poetry Prize," Ryals says. "It's likely I won't get awards, but she believes, and that's wonderful."
The lead poem, "Water Women," is Ryals' personal favorite because it shows the continuity of the generations.
"They say we go from dust to dust, but I think we go from water to water," she says.
Exploration of water as a theme unites this collection, from the miracle of 400,000 gallons a minute pumped into the Wakulla River to a river in Vietnam that no longer flows red with blood.
A number of the poems in "The Moving Waters" grew from her travels to Vietnam, but her commitment to the people there didn't end with her writing.
After a trip with friends involved in a fair trade project, she wanted to give her business-communications students at Florida State University a better understanding of the global marketplace. She wrote a textbook, "Getting into the Intercultural Groove," peppered with anecdotes from her travels.
"I wanted students to see there are other ways to be in the world, to see the interconnectedness of everything," Ryals says.
She was able to transfer her commitment to her students. For three years in a row, they held a Fair Trade Fair on campus, selling goods and trying to educate others.
"How and where you buy matters," Ryals says. "Today there are two obstacles to fair trade: lack of awareness on the part of consumers and greed on the part of manufacturers."
During her visit to Vietnam, Ryals learned of children blown up by land mines as they walked along village roads. Her FSU students voted to send profits from the first fair to Vietnam. They employed a person to remove land mines near that country's Demilitarized Zone for a year.
Another story Ryals told students was about a 20-year-old Vietnamese woman who lost her baby. Ryals was dismayed when she heard that bad water might have caused the death. Her students agreed and spent profits from another year's fair on a clean-water project for TaPhin, a mountain village where the Hill Tribe people live. Since March, the village's water has been pumped to a tank and run through a filter. Now it is safe for drinking.
As part of FSU's International Programs, Ryals has spent six weeks during each of the past seven summers in Valencia, Spain, teaching business communication, literature and writing classes. Those experiences enlighten her poems as well. In one piece, Ryals admires Spanish women who refuse to despair over what age is doing to
their bodies. They dare to wear Mickey Mouse shirts so tight their "bra lines and back fat are revealed." She also writes of women who wear spaghetti straps despite "meatball arms."
Ryals graduated from Tallahassee's North Florida Christian School, where she says she was in the top five of her class – at least as far as collecting pink slips for chewing gum and talking goes. She then attended all of Tallahassee's schools of higher education – Tallahassee Community College, FSU and Florida A&M University – as well as the University of Florida.
One of the best things to happen to her was obtaining a University Fellowship at FSU for three years.
"I was a single mom doing a Ph.D., and that award afforded me a way to get a lot of writing done," she says. "I didn't have to overload with teaching."
Ryals is married to fellow poet Michael Trammell, who also just published a poetry collection, "Our Keen Blue House." It just won the 2008 Florida Chapbook Award from Yellowjacket Press. Ryals won the same award in 2006 with "Music in Arabic." She and her husband do critique each other's work.
"We're each other's biggest critic and best protector, if that makes sense," Ryals says. "And since we both write, we understand the hours spent at a computer."
Some of her poems celebrate her love for her children, Dylan, 23, and Ariel, 15. She captures a moment when her daughter cries for Vietnamese girls who have nothing, yet try to give her things. She shares her daughter's sorrow while she comforts her, and yet a mother's pride that her daughter feels such compassion shines through as well. In another poem, Ryals speaks of her dizziness when she realizes her son, then in middle school, no longer wants her to touch him in public. He has outgrown that now.
"I'm very proud of Dylan," Ryals says. "He's studying permaculture (a philosophy that promotes dwelling in harmony with the environment where one lives, including a sustainable farm culture) and wants to devote his life to preserving the environment."
For the past three years, Ryals has performed with a popular poetry troupe, the Java Dogs. Members include Donna Decker, Lynne Knight, Laura Newton and Melanie Rawls. For 15 years, these women have shared their writing.
It was Decker's idea to perform their poems, a concept the community has warmed to.
"The world does appreciate poetry when it is presented in a way people can access – with dramatic reading, with music, with humor," Ryals says. "Donna knew this intuitively before the rest of us did."
Those interested in having Ryals as a speaker can contact her through her Web site, maryjaneryals.com, or e-mail her at mryals@mailer.fsu.edu.
"I want to be the go-to person for poetry and creative writing in the Big Bend," she says. "If someone wants a poem read before a meeting or a ceremony, they can call on me.
Mike Carducci is another go-to person. He has been a force behind the scenes, championing the literary arts."
Currently, in addition to promoting poetry, Ryals has returned to work on a novel, which she began years ago as a graduate student.
Writer, teacher, mother, wife, traveler, social activist – Ryals is like the mosaics she makes as a hobby. A woman whose shiny parts fuse into a compelling whole.
Donna Meredith is vice president of the Tallahassee Writers Association and coordinator of the group's Seven Hills Contest for Writers.