Mary Call Darby Collins – Just Herself
Tallahassee's past, present and future: one family's heritage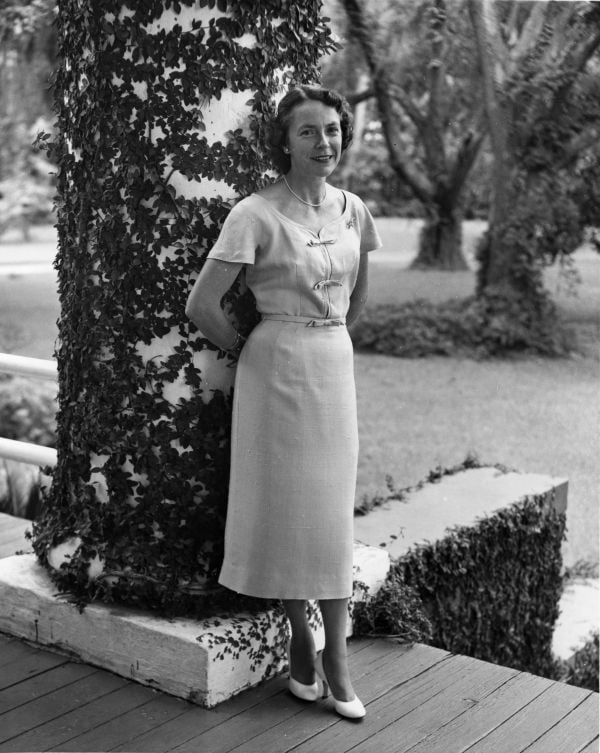 Not many in Tallahassee would respond to hearing her name by asking, "Mary Call who?" She's well known and widely admired by countless friends and by many others who know her only because of her name and her status as a distinguished Floridian.
She was the daughter of Thomas Arthur Darby and Jane Kirkman Brevard, who was the daughter of Theodore Washington Brevard Jr. and Mary Laura Call, who was the daughter of Richard Keith Call and Mary Letitia Kirkman.
Mary Call's great-grandfather, Richard Keith Call, was one of Florida's early territorial governors, born in 1792, and was named for a paternal uncle who had been a high-ranking officer in General Washington's army during the Revolutionary War. He joined the army of Gen. Andrew Jackson during the Indian hostilities. Young Call soon came to the general's attention and a strong personal bond formed, leading to Call's appointment to Jackson's personal staff. Jackson, then serving as President James Monroe's first provisional governor of Florida, appointed Call to the post of Acting Secretary of West Florida. In 1823, Monroe appointed Call to Brigadier General of the West Florida Militia and, at age 30, Call was elected the territory's delegate to the U.S. Congress. In 1828, President Andrew Jackson appointed Call to a three-year term as Florida's territorial governor.
Call also served as receiver of public monies at the Federal Land Office, which placed him in a position to speculate on land purchases. Land just at the edge of Tallahassee was sold at $1.25 per acre shortly after he and Mary arrived in Tallahassee, and they purchased a 640-acre parcel on the shores of Lake Jackson. Call had a small cottage built on the property as a temporary residence while he planned the construction of a permanent home. In September 1825, he wrote to Jackson, "We are now settled on our own place within a half mile of town, and in a short time we shall be very snugly fixed." That home was The Grove, today situated as a next-door neighbor to the Governor's Mansion in Tallahassee's Midtown area.
The Call family history is beautifully told in Jane Menton's book "The Grove," and the life that Mary Call and her family have built there is a chapter that punctuates the rich history of Florida.
There, tightly condensed, is the lineage of Mary Call Darby Collins. The Collins name is important, emphatically so, for Mary Call was the wife of the man who served as Florida's 33rd governor and, by the consent of countless Floridians, was one of the state's great governors. But this is the story of the lady Floridians have come to know as Mary Call – a Tallahassee girl whose marriage to one of the state's native sons made her a major public figure, but who is much loved and admired in her own right.
Mary Call grew up in a close-knit, multi-generational household that characterized many families of that era, especially in the South. She was the only child of Jane Brevard and Thomas Darby, born on Sept. 11, 1911, in New York City. That's where her father had business interests and where she would have grown up but for her parents' concern that the harsh Northern winters might be detrimental to their daughter's health.
Mother and daughter came to Tallahassee, where Mary Call's mother had been born, moving into the Brevard family home of her maternal grandmother on Monroe Street. Grandmother Brevard had been widowed in 1882. Tom Darby visited his wife and daughter often and planned to establish a home for them in Tallahassee when circumstances permitted him to leave New York.
Mary Call adored her grandmother, Mary Call Brevard, and her Aunt Caroline, who also shared the home. Alongside her mother, Mary Call credits both her grandmother and "Auntie" as having a great influence on the development of her character and interest in the world around and beyond her, with articles from National Geographic magazine and The New York Times as everyday topics of conversation.
Her best friend in those growing-up years was her first cousin, Cora Brevard, who lived close by. The two girls, separated in age by only two months, were as close as sisters. When the girls were nine, Cora fell from a tree and broke her arm, which became infected, resulting in her death in a matter of days. Further tragedy befell young Mary Call when both her grandmother and aunt died in the flu epidemic of 1920.
In 1923, her father was expected to join his wife and daughter in Tallahassee in a new home following the success of his business in New York. But tragedy struck again when Tom Darby was found dead in his New York hotel room – he was 66. His business partner then, to the dismay of the Darby family, took the proceeds of their business, including Darby's share, and boarded a ship for Europe. The ship was lost at sea, and neither Darby's partner nor the funds belonging to both men were ever recovered.
Despite the tragedy of her early childhood years, Mary Call's school years at Leon High School were happy ones – and it was there that she met Thomas LeRoy Collins. The Collins family lived not far from the Brevard residence. LeRoy, known universally as Roy, was active at Leon, where he played the trumpet in the dance band and was an excellent student. Instead of participating in scholastic sports after school, he worked at T.B. Byrd's Grocery Store.
After high school, he enrolled at the Eastman College of Business Administration in New York state, after which he returned to Tallahassee and became a teller at the Exchange Bank. He graduated from Cumberland Law School in 1931 and returned to Tallahassee, where he displayed a growing interest in Mary Call Darby and a budding call to public service.
Mary Call, meanwhile, was a student at Florida State College for Women. However, she had temporarily withdrawn from college in order to be at home with her mother, who was ill with cancer. In February 1932, her beloved mother died at the age of 64. Jane Brevard Darby was buried in the Brevard family plot at Tallahassee's Episcopal Cemetery.
Mary Call then was on her own and her uncle and aunt, Ephraim and Bess Brevard, invited her to their home. The courtship of LeRoy Collins continued, and on June 29, 1932, Mary Call and Thomas LeRoy Collins were married at St. John's Episcopal Church in Tallahassee. Mary Call returned to college and graduated, as she had promised her mother she would.
Growing up in her mother's home one block away from The Grove, Mary Call dreamed, but never believed, that she might someday live in that great house built by her great-grandparents. But in 1942, her dream came to life when the house and its history was, it would seem, miraculously passed to the only person who could understand its meaning and would, ironically, come to perpetuate its proud story.
Mary Call's life today gracefully continues the Call family story. She lives at The Grove, which she and Gov. Collins acquired nearly 65 years ago and restored to the splendid condition its architect and builder, Richard Keith Call, must have envisioned when he laid the first brick in 1825.
Her days are rich and full, made so mostly by a large devoted family. How large? Well, her four children (Roy Jr., Jane Aurell, Mary Call Proctor and Darby Collins), all of whom have remained in Florida, produced 12 grandchildren, who in turn have given her 17 great-grandchildren to date. All four generations are seen regularly at The Grove, celebrating weddings, birthday parties and frequent family gatherings where children romp and play under the great live oaks, as Call children have done for six generations.
Mary Call maintains her lifelong interest in and concern for preservation. "To understand the present, we must have some appreciation of the past," she said in a recent interview. That means preserving the records of this remarkable family passed down to her by her forebears, many of whom are buried in the family cemetery at the far corner of the property. She also tends the needs of her home and enjoys her "yard" and its magnificent live oak tree.
Mary Call Darby Collins is a lady of great character. A quote from William Shakespeare, recently shared by her in a letter to her grandchildren, says it well: "This above all: To thine own self be true, and it must follow, as the night the day, thou canst then be false to any man."
Author's Note: One of the granddaughters of Mary Call Darby Collins has authored a book on The Grove. The author describes how the great house was designed and the construction stated by Richard Keith Call, territorial governor of Florida and the great-grandfather of Mary Call. In writing this article, I depended heavily on "The Grove," authored by Jane Aurell Menton. She is the daughter of Jane Collins Aurell, the eldest daughter of Mary Call and Gov. LeRoy Collins. Menton's book is the only authoritative source for the information I employed to tell this rather personal story of Mary Call Darby's life. "The Grove" is a masterful work that recounts the history of a marvelous home. Menton has made a valuable contribution to the history of Florida, and her book deserves a place among the important historical documents of our state. I am indebted to her for permitting me the free and unlimited use of "The Grove" in this article.