Martha Stubbs and Her Educational Foundation
Gifted, Genuine, Gracious and Giving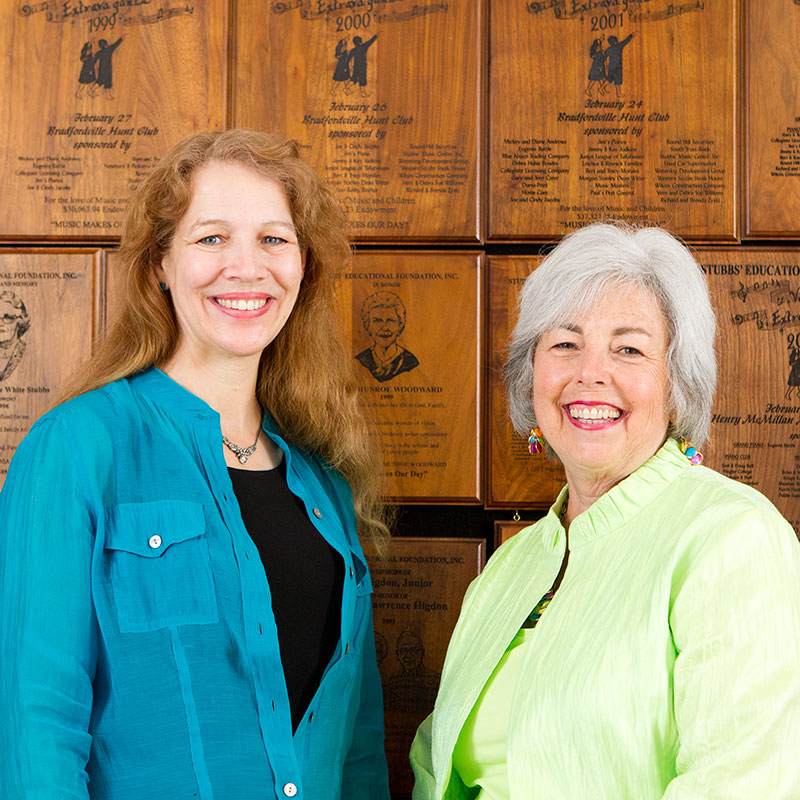 Several thousand students have passed through Stubbs Music Center since it opened in 1970, but founder and director Martha Herring Stubbs' influence extends far beyond her own front door. 
She and husband Ron created the Stubbs Educational Foundation to celebrate the school's 25th anniversary, awarding its first scholarships in 1997. To date, SEF has awarded more than 600 scholarships to music students in the Tallahassee area — many young people who otherwise would not have been able to take music lessons. These scholarships aren't limited to students at Stubbs, either; any certified music teacher may apply for a scholarship for his or her students.
Nor is Stubbs family philanthropy limited to music students. SEF also created an $80,000 endowment at Tallahassee Community College, which funds two need-based academic scholarships a year — music major not required.
"We wanted to do something for the community," she said. "We had been blessed, and we wanted to give back."
And give they have. Over the past 15 years, SEF has raised and given away more than half a million dollars in scholarships in the Tallahassee area. 
And odds are, this is the first you've ever heard of it.
Filling a need
Martha Herring grew up just up the road in Calvary, Ga., attending schools in nearby Cairo. After high school, she moved to Macon to attend Wesleyan College, a historic Methodist-affiliated women's college known for small classes and a strong focus on students. Martha double-majored in piano and organ and in Christian education.
After graduation, she married Ron Stubbs and taught music for two years while the Air Force veteran finished his bachelor's degree at the University of Alabama. In one of those happy quirks of fate, the job for Ron they thought was bringing them to Tallahassee was replaced with a better one, with the State University System. 
When she and Ron decided to create the foundation, they turned to the network of friends they had made along the way to help them bring the gift of music education to as many people as possible. The late educator and administrator Scott Dailey had sent his children to the Stubbs Center for music lessons, and he served on the foundation's first board of directors in the mid to late 1990s. One of his sons, Leon County Commissioner John Dailey, shares his late father's high regard for the Stubbses. 
"I think Martha and Ron do amazing things for this community, in regards to music education and music appreciation," said Dailey, who took piano lessons from Martha Stubbs for six or seven years as a child, as did his sister, Scottie. Asked to describe Martha in one word, at first he wasn't sure there was one word that could capture her adequately. Then, he settled on "gifted."
"She's a gifted musician, a gifted administrator, a gifted teacher, a gifted wife, a gifted mother," he said. "She is simply a gifted individual."
Mike and Judy Pate also lend their support to SEF, both through personal contributions and through a $10,000 Knight Foundation grant Mike secured for SEF while serving as Knight local program director. Both were members of the Marching Chiefs while at FSU, and Judy went on to become the first female band director of a Leon County public school at Raa Middle School. 
"I think the Stubbs Educational Foundation fills a void that public schools aren't filling right now because of budget cuts," Mike Pate, former publisher of the Tallahassee Democrat, said. "What Martha and Ron are doing with that endowment is creating opportunities that are just not there right now."
Seventeen years ago, SEF added the Variety Extravaganza, an annual gala that both aids in fundraising and celebrates the mission and the students it serves. For many years, the first $20,000 raised was set aside as an endowment. When the economy tanked in 2008 and donations and endowment income both fell, the Stubbses made the decision not to use gala proceeds to create new endowments, at least for the time being.
"We felt it was more important to continue funding scholarships," Martha said. 
Several supporters also created endowments at SEF, often to honor the memory of a loved one but also to join the Stubbses in "giving back." They include Tallahassee entrepreneurs DeVoe and Shirley Moore, the late Julia Monroe Woodward of Quincy, Jim and Linda Sims of the Steinway Piano Gallery and the family and friends of Daniel Chapman, a teen student at the school killed in a car crash. Between the annual gala revenues, Martha and Ron's substantial contributions and gifts to the Foundation by supporters, the Community Foundation now oversees 27 SEF endowments, each created with an initial $20,000 investment.
'Music empowers children'
Martha Stubbs' passion for music education infuses her conversations. 
"The most important thing in the development of all people is to get them to have a love of music," she said. "People have to know how much music empowers children to become our great citizens of the future. Look at our great leaders, and you'll likely see a music background, even if it's just two or three years of music lessons."
Music lessons help children develop analytical and multi-tasking skills, as well as the ability process information quickly — aspects of brain development many people don't realize can be enhanced through music education, she said.
"This town, like so many others, is focused on sports and the children's involvement starts very young. And sports are important. It's important to be physically active," she said. "But music is a lifetime enjoyment. When you're 60 years old, you're not going to be going into the backyard to play football, but you can sit down and enjoy your piano."
Martha isn't one to brag. "It's about the children," she says often. "It's not about Ron and me."
Before the Foundation was created, Martha would teach kids who couldn't afford lessons in her garage on Saturday mornings, SEF Development Director Marianne Hernandez said. And she was sure there were others out there who were in the same situation, so "provider partners" are included in music education. For the past 12 years, Michelle Snow and two of her teachers at the Michelle Snow School of Music in Crawfordville worked with the Foundation to get scholarships for students who couldn't afford lessons. Although Snow recently left the area to take care of her parents, Martha said, the other two providers reorganized as the Medart of School of Music and are continuing the relationship with SEF.
Martha has also built a network with other nonprofits to extend the opportunity for music lessons to their clients. A certain number of music scholarships are set aside each year for the Boys and Girls Clubs of the Big Bend, Boys Town of North Florida and Lighthouse Children's Home. If a scholarship recipient needs an instrument, SEF finds a way to provide it.
"Some people give money, others donate musical instruments," Martha said. "Right now, we're trying to get a piano in every house at Boys Town."
The executive director of Boys Town North Florida, Ken Bender, wrote a letter for the 2013 Variety Extravaganza Program that described the relationship between SEF and Boys Town, where 26 youths have received scholarships since 2006. He told the story of one boy who wasn't a particularly strong student or a motivated one, but an SEF scholarship and a trombone helped him find his path — and a reason to stay in school and maintain passing grades.
"We have seen firsthand the difference that music can make in equipping our youth in their preparation for life beyond Boys Town," Bender wrote.
A long-term commitment
Once a K-12 student has a scholarship, he or she will continue to receive financial support as long as the desire and hard work continue. The young man from Boys Town that Bender wrote about continued to receive an SEF scholarship for five years, until he graduated from high school. Now a student at TCC, he made the cut at Marching Chiefs tryouts and plans to study music at FSU once he finishes his associate's degree.
Alexis Zyski-Ciovacco started studying piano with Martha when she was 6 years old and received one of the first merit-based scholarships, allowing her to continue to take lessons for 12 years. Martha and Ron recently traveled to Boston, where she now lives, to attend her wedding.
"Martha Stubbs is perhaps the most genuine instructor and friend I have had the pleasure of knowing," she said. "She has worked hard to create not only an outstanding music studio but also a charitable music organization in the face of funding cuts to the arts in our local schools and across the nation. It has given students who excel in the arts an opportunity to express themselves and grow in an environment not always afforded them in the traditional classroom."
Others who have passed through Stubbs Music Center can attest to Martha's generosity and her commitment to anyone studying music. M. Shawn Hundley needed a part-time job in 1999, when he began his master's in music composition at Florida State, and someone suggested he try Stubbs Music Center. 
"Before I know it I am working in the Music Theory Lab a few hours a week," Hundley said. "I love teaching and I think she [Martha] could tell it because I eventually started teaching more and more. I also drove the van to pick up students at local schools and brought them to their music classes, which was a truly outstanding service this school provided."
Hundley eventually taught piano and composition as he completed both a master's and a doctorate at FSU's College of Music. Now the chair of the Music Department at Bethune-Cookman College, Hundley said that even after he left Tallahassee, Martha continued to provide opportunities for him, one of which led to his being named Distinguished Composer of the Year by the Music Teachers National Association in 2011. Few people, he said, have had as much impact on his life as Martha has.
"She is so dedicated to helping these students, and I know she has given so much of her time over the years to make sure young people have chances that they might not have had otherwise," Hundley said. "It always amazed me how Martha could run a school and spend so much time with activities connected with the Foundation. After all, a successful Foundation must raise lots of money, and I was able to watch that organization expand over the years — quite a phenomenal feat. 
"Occasionally, I volunteered my time at the annual 'Variety Extravaganza' and saw firsthand how Martha interacted with members of the community to raise money for music education," he added. "Her passion always got people to dig deeper into their pockets."
That passion, friends and supporters say, shows she is a "true believer in what she has created," and all the other words people use to describe her — energetic, engaged, resolved, involved, gracious, generous, genuine and committed — explain why she's successful at nurturing it.
As usual, she redirects the focus off of herself.
"I don't know what my legacy is going to be, but I pray it's that I helped build a love of music in this community," Martha said. "It's not about us."
---