Mark McNees Is The Maverick Behind RedEye Coffee
The socially conscious founder knows that change is brewing.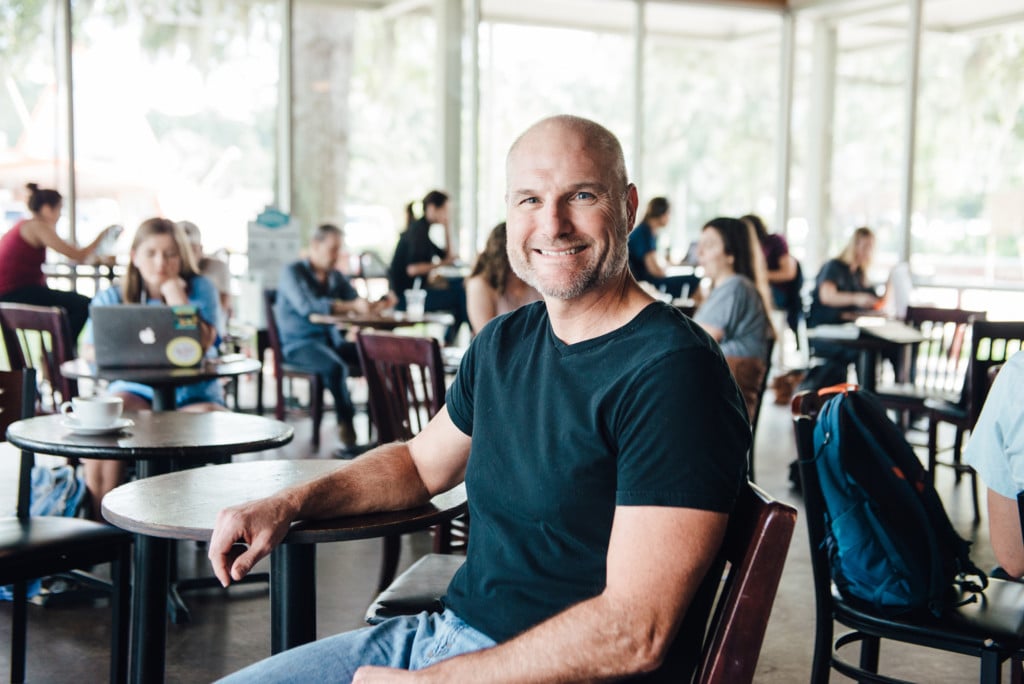 To brew "the best story in coffee," try this: Resolve that you aim for passion about people, not personal wealth.
Sell your California company, move to Tallahassee and start your own church.
You might find yourself the head of a coffee company that boasts it's making the world a better place, one cup at a time.
That's how it went for Mark McNees, founder and CEO of RedEye Coffee, a product of the church that he started. But he said he never set out to sell coffee, much less start a house of worship or another business.
"We opened this business because we wanted, I wanted, to invite the community to participate in what we're trying to create," McNees said. "To me, RedEye is an idea."
It's more than an idea. For McNees, RedEye Coffee is a living, percolating testament to his mission to help others through his work.
It's also an example of what he sees as the start of a revolution in business — a consumer demand that companies become rooted in social causes and environmental responsibility and that they establish significant limits on the pay of top executives.
"Companies that are only in business to make money are going to suffer in the future," McNees said. "I wholeheartedly believe that."
RedEye is hardly suffering. In mid-December, it boasted four Tallahassee locations as it actively sought to expand through "strategic partnerships to increase social impact," as McNees put it.
And it's defending the territory that it shares with another popular local company, Lucky Goat Coffee, against a global behemoth.
When Tallahassee folks need to meet up, they don't default to Starbucks. They often opt for RedEye's bright, spacious and laptop-friendly Midtown location.
"That RedEye is literally my second office," said Ed Murray, president of NAI Talcor, which leases the space to RedEye. "I'm in there quite a bit. It's always busy. It's always fresh and clean."
McNees thinks he's setting an example with RedEye, which follows companies such as Newman's Own in giving away all of its profits — in RedEye's case, all profit after rent, salaries and money needed to keep the business running and maintained.
McNees says he takes no salary as CEO and that he adheres to a limit on how much money he allows himself to keep through any other work, including his position as an entrepreneur-in-residence at Florida State University's Jim Moran School of Entrepreneurship.
He says he now knows when enough is enough. "It was the best advice I ever got," he said. "And I tell my students this, too."
McNees, 49, is a maverick, all right. A husband and father of two, he's also a pastor who started Tallahassee's Element3 Church, an author who is working on his third book, an Ironman triathlete who once swam from Alcatraz Island to San Francisco and an outspoken speaker who travels with a microphone.
You'll find him on YouTube touting "the next economic revolution," his efforts to make "the world a better place" and "the best story in coffee."
Here's how it started:
Around 2001, McNees said, he was in charge of his father's business, a company in Long Beach, California, that rented construction equipment. It was doing well, and so was he — making the money he wanted, driving the car he wanted and living in the place he wanted, pricey Redondo Beach.
He'd had enough of it.
Tired of a life without significance, he said, he told his father and brother he wanted to try something different. "The farthest thing different was starting a church in the South," he said. But he wanted to change lives locally and globally, he said.
He spoke with friends in Illinois who wanted to start a church in Tallahassee and joined them here. He said he liked Tallahassee because he saw it as young, educated and transient, at least among its students. He figured that his influence on them and "investment in them" would go global, as he put it.
A person of faith who believed that spirituality improves lives, he started the Christianity-based Element3 as founding pastor in 2004. He later would earn a D.Min. in organizational leadership.
McNees would base the church on three values — faith, authenticity and emerging cultures — and would inspire it to help relieve local and global poverty and suffering.
Element3 established partnerships in food, nursing and wellness programs in Tallahassee's poorest neighborhoods, and it built homes in Guatemala.
After the church's founding, McNees said, he met a roaster who didn't know how to sell coffee. He said that gave him the idea to buy, bag and sell coffee and give away the profits to Tallahassee charities.
That also became the inspiration for RedEye Coffee, which the church created as its financial engine to do good in Tallahassee and around the world.
"He is crystal clear on his mission, and he really stays loyal to it," said Eric Case, now the lead pastor at Element3, which he says averages about 400 people at its Sunday services.
RedEye opened its first location in 2009, and it continues to tout itself as a champion of the environment and of poor independent coffee farmers in developing countries.
RedEye says it has purchased more than $1 million worth of what it calls ethically traded coffee for its stores. The company says it buys only organically grown coffee and sells it only in cups that it considers "earth friendly."
Through partnerships and its profits-to-charity model, RedEye says it has given away more than $100,000 to local and global empowerment organizations, most of it over the last four years. Projects include a special-needs school in Uganda and a nursing school in Haiti.
The company's slogan thereby boasts: "Drink Coffee Locally. Change Lives Globally."
McNees said he holds no special appreciation for coffee. "It's not about the coffee," he said. "I believe we serve the best coffee in Tallahassee, and we're trying to create the best story in coffee, anyplace. But it's about the people."
That includes employees, he said. McNees says he sees to it that RedEye employees make at least $12 an hour, including tips.
Savana Osterbye, a barista who left the company in September to move to Atlanta, said it wasn't only about the money. It was about the perks — the "impact we're making," she said, and working for a leader who nurtured when others might have admonished.
Osterbye said she took on additional responsibilities at RedEye and sometimes felt that she fell short. "He would build me up," she said of McNees. "He would encourage me and say, 'I appreciate you for all you're doing and for your attitude,' which is so affirming."
McNees says he structured the company so that the highest-paid employee could never make more than seven times the salary of the lowest-paid employee.
That goes to his belief that companies must rein in executive salaries and take steps to slash income disparity. He also believes that the super rich such as Microsoft founder Bill Gates and legendary investor Warren Buffett owe it to themselves and to society to cap their wealth well before they retire.
"Warren Buffett and Bill Gates are a great example of what I think is a fake promise that a lot of us buy into: I'm going to go to work, I'm going to make a lot of money, and when I make a ton of money, when I'm old and have only a few years left, I'm going to give it away," McNees said. "And what I say is, become a philanthropist now. I love the Gates Foundation, so I don't want to take away, but I think that's a very old paradigm. Why not be a philanthropist day one? Why not now?"
The first time he hit his limit on earnings that he would keep for himself, McNees says he remembers thinking: "Am I actually going to just give all this away? And I was like, I love this.
"I was on this track. I just wanted more and more and more, and the more I got, the more miserable I was. And fortunately, I had somebody who intervened in my life and said, 'Hey time out. Let's rethink your definition of success.' It changed everything because it got to a certain level where it didn't matter if I made any more money, because I was going to give it away, anyway."
As an FSU professor and a CEO who takes no money from his business, McNees says he's no longer close to reaching his keep-for-himself limit.
He left his position as Element3 pastor two years ago to take the teaching job.
In June, he'll complete a three-year transition commitment as president of Element3. He said that will allow him to concentrate on his teaching and philanthropic roles. He also has been working on a deal to buy RedEye Coffee from the church, he said.
McNees said he started the church because he believes spirituality improves lives. He said he started RedEye because he wanted to help farmers and local and global charities. He said he teaches at FSU because he wants "to invest in the next generation of leaders."
"Even though these things seem very different and very unrelated, they're all really driven by the same core value," McNees said. "I find significance, I find meaning, in helping other people find meaning. If it's just about me and what I can accumulate … it's very empty."