Marina Brown Releases New Novel The Orphan of Pitigliano
Drawn on her experience working as a psychiatric nurse, Marina Brown's latest novel explores evil and its antidotes.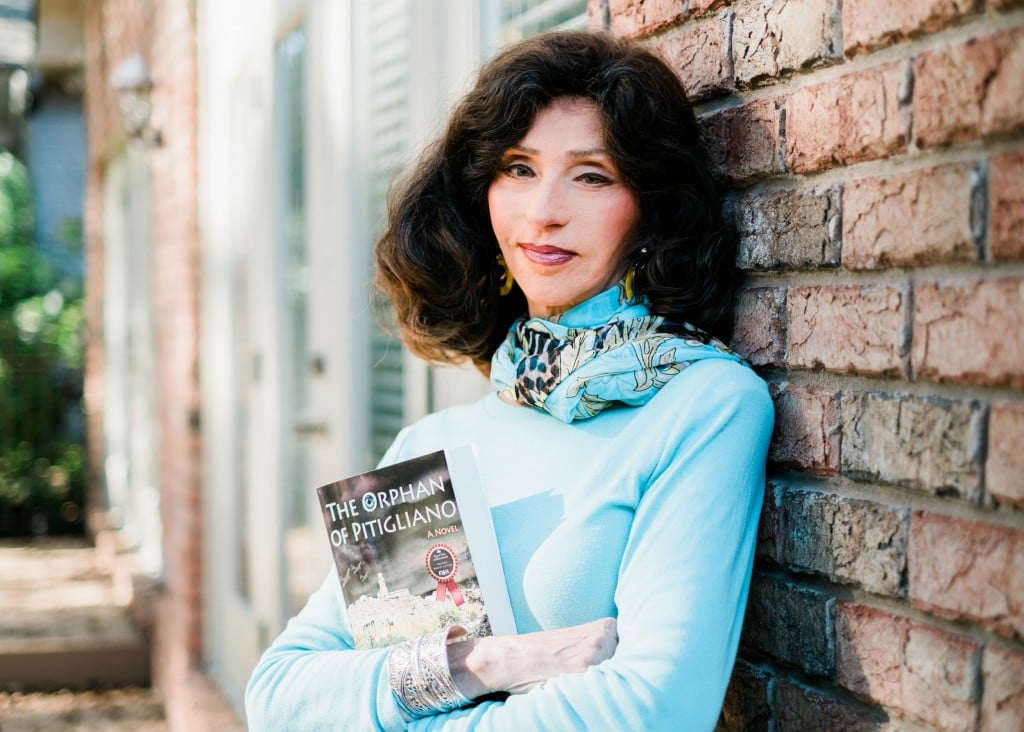 You learn about Marina Brown that she is a sailor, a painter, a cellist, a traveler, a former professional ballet dancer and a one-time nurse. You learn further that she is a writer of poems, short stories, novels and newspaper stories. And, then, as you get to know the woman beyond the sketch on her book jackets, you discover that she has a passion for pingpong, and you are not all that surprised. Brown, of Tallahassee, is not the sort of woman for whom anything goes, but she is someone for whom many things go.
Knowing that, I should have studied the busy cover of her latest novel, The Orphan of Pitigliano, a little more closely than I did before reading the work. There was sure to be something there beyond the depiction of a Tuscan hilltop town and ochre figures and objects suggestive of cave paintings. And there was. The "O" in Orphan as it appears in the title on the cover is not merely an "O." It is an easily overlooked eyeball with a bright blue iris, unblinking of course, and a wee disturbing — a representation of
il malocchio.
Brown, in Orphan, will not be confined to a single genre. It is not her nature or style. Instead, she artfully pingpongs between historical fiction and romantic fantasy. Complicating the latter is a jealous sort, Rebekah, with a bum leg and a superpower: She is possessed of an evil eye whose withering effects may be reversed only by people wielding artifacts infused with the magic of the past.
Brown, at intervals, recounts the progress of World War II and in so doing, demonstrates convincingly her familiarity with Italy and a command of history. She reminds us of mankind's capacity for the most craven inhumanity and depicts wrenchingly the lengths to which Jews went to avoid death at the hands of the Germans and their allies, lengths that included abandoning one's identity, assimilating to the outlook of the enemy and carrying out its wishes.
Genocide provides the novel's backdrop, and in the foreground, bitchiness advances the plot. There is much badness about, so much so that protagonist Giuliana, seen by her malevolent cousin Rebekah as a rival, concludes that "in the end, it is evil that triumphs and the powers of good that fall impotent."
The novel opens in 1975 in Boston where we meet Giuliana, a long-shot war survivor about whom Brown's book quite literally revolves. She has been rendered all but lifeless by Rebekah who, compelled by her nature to undo any success or joy that Giuliana experiences, has subjected her to an il malocchio spell. Sylvie and Carlo, who mistakenly believe that they are brother and sister — war and the separations it imposes can blur family lines — take care of their bedridden "aunt" Giuliana and make plans to travel to Italy to consult the mysteriously gifted Rosetta.
The novel then flashes back to war-torn Italy where it spends most of its time.
Pivotal is an encounter between a band of Jewish refugees seeking shelter from the Nazi storm and young-buck members of the Armed Vigilance Corps of the Fascist Youth. The displaced include Giuliana, her parents and her cousins, Rebekah and Simon, and their parents. Rosetta, serving as their guide, has agreed to lead them through a tunnel that runs through the mountain of Pitigliano to safety within the walls of the city's ghetto.
The encounter turns deadly. Giuliana's mother is clubbed to death after her Jewishness is detected, and her father is shot and killed after he retaliates by killing his mother's attacker with a rock. Giuliana flees the scene with Rosetta, and the others survive by pretending to be Nazi sympathizers.
The novel, at turns, is above and below ground as the reader becomes immersed in the lives of characters with assumed identities and of Giuliana who becomes effectively the adoptive daughter of Rosetta. She falls in love with her son Sergio and joins him in retrieving Etruscan trinkets from caves — some would call it grave robbing — and helping him lead Italian partisans versus Axis forces. Too, Giuliana becomes something of an understudy to Rosetta, who makes a part-time living in the war's barter economy by undoing spells.
Brown said she is not a believer, really, in il malocchio and such, but owns (just in case) totems, added to a keychain or serving as a light pull, that may neutralize an evil eye.
The novel derives from Brown's own experiences. Working as a psychiatric nurse in an Italian neighborhood in Boston, she visited a bed-bound woman with a psychosomatic illness.
"She had been visited by a priest who recommended that a swatch of her clothing be sent back to the old country," Brown said. And, after the bit of nightgown reached Italy, the woman sat up and took nourishment. She once spent a night exploring an Etruscan cave and was influenced by a "magician" she met in Italy.
Orphan earned Brown 2020 "Book of the Year" honors and a gold medal in historical fiction from the Florida Writers Association.
In the novel, Rebekah surfaces repeatedly, a bad witch, a trip wire, a cold heart repelled by the warmth and moral consistency of Giuliana. Because Giuliana has won the heart of Sergio, she must steal him.
Even Rebekah, however, recognizes Giuliana's superiority as one "who survived with not guile, but grace." Finally, when Giuliana succeeds in turning Rebekah's evil against her, the bad seed succumbs.
Still, there is a preponderance of evil in Orphan, evil of a sort that sadly cannot be repelled with goodness, necessitating resorts to magic. There is the intimation of Nazi atrocities, and the book has much to do with the preparedness of hard-hearted people to rationalize cold acts as "doing what one must."
But Giuliana survives, like a flower that germinates in a battlefield.
Abou

t

th

e

Author
Marina Brown is a former ballet dancer and nurse whose passions include art — she is a watercolorist — music and travel. Plus, she is a fair pingpong player.
She has written for newspapers and magazines for 20 years and has collected writing awards, including first place in the Porter Fleming Short Story Contest and second place in the Loren Hemingway Contest for Short Stories.
Her novel, The Orphan of Pitigliano, won 2020 Book of the Year honors from the Florida Writers Association.