Marie Mattox Isn't Your Average Attorney
Forget the Paneled Office and Sensible Heels, Marie Mattox Advocates 'Her Way'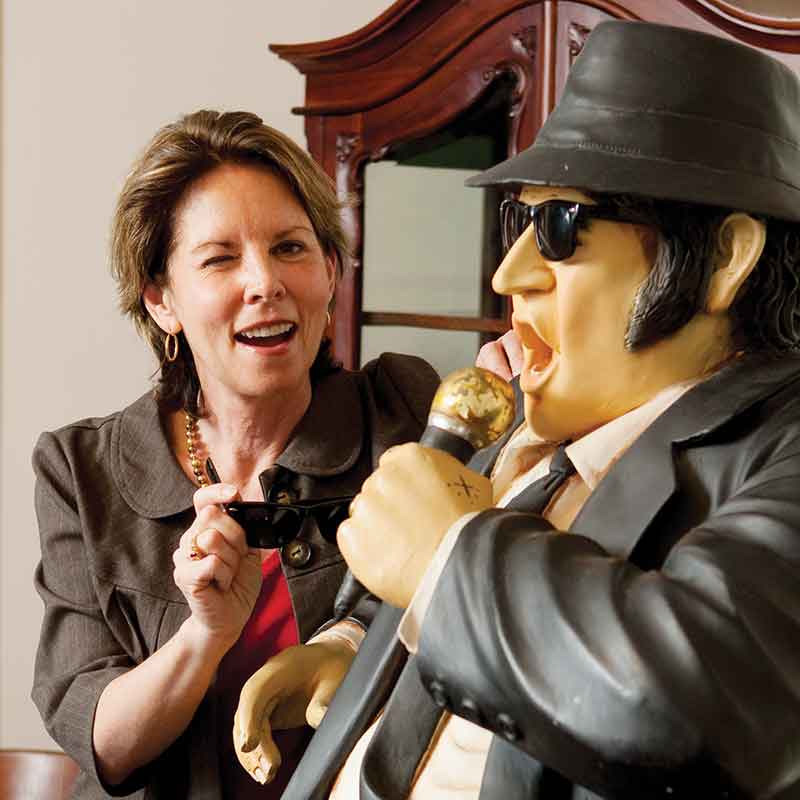 It's a sleepy Tallahassee Sunday, and the summery drone of lawnmowers sets the mood for barbecues, gardening and the backyard pool.
Scott Holstein
But in the law offices of a converted 1920s-era red brick estate on a leafy lot off John Knox Road, the staccato click of 4-inch heels announces that the firm's principal and founding attorney, Marie Mattox, is in and open for business. For her, a drowsy Sunday is just one more exciting day of work.
Seven days a week, law assistants and interns bustle back and forth across the firm's well-worn oriental carpets, shuffle papers at antique cabriole-legged desks, and dodge the giant sculpture of John Belushi in full Blues Brothers mode that presides at the head of the English oak conference table.
But if Belushi and the dozens of other unlikely objects d'art (think a tuna fish can sculpture, a haunting photo of a Tureg nomad, and a massive coiled pot squatting in a fireplace) are unorthodox, it's Mattox herself who has set the tone.
At 53, Mattox is a tiny dynamo who manages to combine a passionate and sometimes testy advocacy for the underdog with the style and energy of a 20-something co-ed. Dressed in tights, heels and a layered tee with a trendy pashmina wrapped around her neck, Mattox pops mints to counter her almost-conquered yen for a cigarette and talks about her rise as a Tallahassee employment law attorney representing plaintiffs who've felt wronged in the workplace.
From 1992 (when she opened her own office with $1,000, an old typewriter and a huge, used computer) to the present (when the firm's yearly intake of "thousands" of potential cases necessitates Mattox working 80- and 90-hour weeks) she only seems to have warmed to the causes she represents. "My biggest joy is to help people who've been hurt," she says. "In 1989, I think John Cooper, who is now a Circuit Court judge, saw something of that in me. He's the one who advised me to go into employment law. Yep, I'm the one who always took in stray dogs and injured birds, and I really think this is the direction God has led me in."
But Mattox can't really describe her career path, she says, unless she begins with her father, Ray Mattox, a Polk County legislator and politico, and the free-spirited life of a girl raised on an island who seemed born to be wild.
Ray Mattox was all Old Florida. Best buddies with Lawton Chiles and Ben Hill Griffin Jr., he served 22 years in the Florida Legislature and during the last 10 was Dean of the House. "Dad wasn't rich, but we lived in an affluent political environment," says Mattox. With pride she recounts that Ray Mattox was state Commander of the American Legion, and her grandfather, Grady Mattox, was a constable — and bootlegger as well. "But my dad was part of a dying breed; his word was his bond and in the Legislature he always voted his convictions."
While her father commuted to Tallahassee, Mattox says the rest of the family enjoyed an idyllic home life growing up. "We lived on Gasparilla Island on weekends and summers and that wonderful lifestyle of fishing and boating, crabbing and clamming, just gets in your blood." It did for Mattox's sister, who earned her captain's license and worked as a test boat driver for Mercury Marine. For Mattox, things weren't that easy.
"I had no idea what I wanted to do," she says. Possibilities ranged from "sheep herder in Montana" to physical therapist or even fashion designer. But she did like to party, she admits. "I'm a true Aries — 'impetuous child.' " Mattox was smart, but dropped out of high school at 16 after having her first child. Soon, taking stock of where she was heading, she earned her diploma at night school, got divorced and entered Polk Community College. It was during this time her father had offered to send her to typing school just so she would have a skill. By then, however, Mattox was beginning to see a future of her own.
"I loved FSU," says Mattox, who had transferred north after two years of community college. "While I managed to party most of the time, I majored in criminology, and in it, I earned a master's degree. And then some amazing things began to happen."
Through Carl Adams, a friend of her father, she was offered the job of staff director for the House of Representative's Select Committee on Juvenile Justice, a committee composed of all committee chairmen. "It was the perfect growth experience," she says. "I realized how much I didn't know — that I needed to know in order to do a good job. That's when I decided to go to law school."
While Mattox admits to studying like she'd never studied in her life, she also managed to be president of the law school's Moot Court Team, a national member of the Order of Barristers, a member of the Young Lawyer Division of the Florida Bar and graduate with honors. Soon after passing the bar exam, she also got married and became a mother for the second time. "For better or worse, though, I always had an incredible social life," laughs Mattox. Now her career was becoming just as exciting.
Mattox joined the law firm run by Dexter Douglas, a man she calls the "greatest lawyer ever," and within two years she was trying cases before juries, but always, she says pointedly, "on the plaintiff's side." Mattox joined with Bill Friedlander for several years, and then struck out on her own in 1992.
But Mattox, who admits to "not being business-minded," found that focusing exclusively on her cases and leaving the "business" to others was a huge mistake. She had taken another attorney into the fledgling practice, a woman who handled the bookkeeping as well. Three years later, Mattox reported to the state bar that she'd discovered her partner had misappropriated thousands of dollars and Mattox sued for the return of that money. A judgment was entered in Mattox's favor for an undisclosed sum. The fallout left the former partner disbarred. It left Mattox wiser but no less enthused about pursuing justice — no matter where it led.
Cases and involvement in Tallahassee affairs burgeoned. "I worked as general counsel for various lobbying groups and took on several suits with nationwide significance," she says. And Mattox gave up alcohol. With renewed focus, her practice developed, she took on attorneys Erika Goodman and James Garrity, and today is hoping to add a fourth. Her firm, Mattox Law, tries about seven cases a year and settles 90 percent of all others, she says. One precedent-setting case in particular, Diedre Azonobi O'Neal vs. FAMU, established a whistleblower's right to jury trial in a First District Court of Appeals reversal that put Mattox on the national employment law scene.
But such things only take up only twice a normal work week. And though she's not the social butterfly she once was, there are lots of other things that push Mattox's workday to 2 or 3 in the morning — finding time for husband Paul Brand, a musician, and working in fun times with her daughters, one of whom, Megan, is currently the firm's bookkeeper. But Mattox manages to squeeze extra hours out of each day. Cassie, Mattox's third daughter, "Was trying out for cheerleading and I was in trial in Panama City. I drove back into Tallahassee, cheered on the cheerers, then drove back that same night for trial the next day — it was worth every mile," she laughs.
Mattox is famous for her shopaholic ways —"I love clothes and whatever art strikes me at the moment"— and for combining these two loves in her own handcrafted fabric purses and patchwork skirts. But is it hard being the female principal of a fast-paced law firm, a wife, a mother and remaining feminine to boot? Is it tough playing hardball with opposing attorneys while keeping her girlishness intact?
"How I'm regarded is really not important," says Mattox. "As a woman I probably internalize criticism more than a man; but I do it in order to be better the next time." She says that in the Tallahassee courts, she's tried never to "play the feminine card — even when I was having trouble with my pregnancy." But she also reflects that most attorneys try to rise above gender — and that doing a good job is the currency of trade.
And what will Marie Mattox be doing in five years? In 10? Slipping another mint in her mouth and tossing her breezy bob, she says, "No question — the law." At that moment, a client rushes into her office, apologizing for the intrusion, but saying she needs to know the outcome of a ruling involving her former employer whom she believes has treated her in a wrongful and illegal way. Mattox rummages through one of perhaps a dozen thick stacks of files on her floor and, reading quickly, tells her that, yes, the ruling has gone in the client's favor. With that, the woman grabs Mattox around the neck and, weeping, tells her how grateful she is. Mattox smiles and pulling away, grasps the client's shoulders. "You're why I'm in this. I'm happy we could help — but it's all about the law, you know. You've got to be right and then do the right thing."
And sometimes it helps to have an attorney who'll give you a hug and show you just how to do it.