Margaret Richard Was All About Health and Fitness Before The Fad
For More Than Three Decades, Margaret Richard Has Led Her Generation to Health and Fitness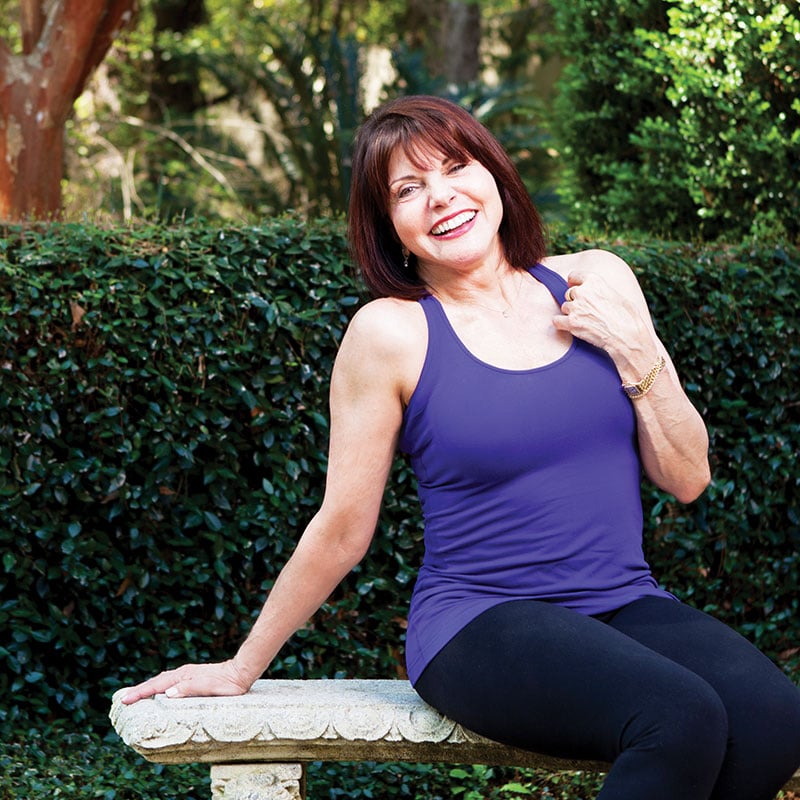 Cast your mind back, if you will, to exercise in the early 1980s. That time after Jack LaLanne's black-and-white television calisthenics, but well before high-intensity workouts such as P90X and CrossFit.
You know, when Jane Fonda looked slamming hot in her "Workout" book and video — even though she was pushing 50. When Olivia Newton-John rocked a headband and importuned us with "Let's Get Physical." When, à la "Flashdance," we revved up to "Maniac," were schooled by Jennifer Beals on the art of taking off a bra without removing a one-shouldered, oversized sweatshirt and wondered: "Is there really such a thing as a club where drunk guys pay good money to watch a woman dance without taking her clothes off?"
What many of us might not know is that Tallahassee made its own contribution to the shiny-spandex-and-leg-warmers era of fitness, courtesy of an energetic and forward-thinking Miami transplant named Margaret Richard and the brand she created — Body Electric.
Margaret Richard, Berneice Cox and Jane Marks in an episode of Body Electric
Courtesy of Majortenn/Youtube
It was the name of her locally popular exercise studio in the Miracle Plaza shopping center (where Whole Foods now stands), which became a cable-television exercise show, which then exploded into a nationally syndicated Public Broadcasting System show once seen on 130-plus stations — nearly half the nation's PBS network.
Although she hasn't taped new programming in five years, reruns of the 500-odd workouts she's done throughout the past 30 years are still being shown on television stations in 25 states and the District of Columbia. And Richard is at the helm of her own Web-based fitness mini-empire, still promoting and selling DVDs of series past, as well as continuing to teach and take fitness classes in her new hometown of Boston.
A very vibrant 68 years old, Richard isn't ready to unlace her sneakers quite yet. In fact, she's seeking to create a new series of shows aimed at a huge group she declares is hugely underserved by the fitness industry — the baby boom generation.
Boomers are now hitting retirement age, but that's a life stage that can cover 30 years or more and a large range of physical ability. Traditional exercise classes can put stress on an older person's worn-out joints, she said, but alternatives such as seated exercise and mall walking often aren't enough of a challenge.
"There's a group of women like myself; we're youthful, we're strong, we're energetic and we're not senior citizens, per se," she asserted. "Your skin may sag, but your muscles will always respond to the challenge, always. If you are working out in your mid-years, it has an effect on your later years. They've proven that.
"It's so critical that people maintain their strength as they get older, and … I would like to set myself up as a proponent, as a voice for baby boomers in fitness," she said. "I have the background for it, I have the passion for it and no one else is doing it."
But let's start her story … at the start.
Story continues on next page…
Check out a behind-the-scenes video from the photo shoot:
Back: Jules Kariher, Beth Mueller, Jill Harper, Berneice Cox, BeNisa Forté
Front: Jane Marks, Margaret Richard, Mary Barley
The Very Beginnings
Richard was an only child born in New York City whose mother took her for ballet lessons ("I was like, 5") at Carnegie Hall and then crossed 57th Street to Steinway Hall for drama classes. She would audition for Rodgers and Hammerstein and get a part in the Broadway show "South Pacific," playing the half-Polynesian daughter of French plantation owner Emile, love interest of nurse Nellie Forbush.
"I had long wavy hair, and before every performance my mom had to put liquid makeup on me to make my skin dark," she said. "I wore a sarong, and I sang 'Dites Moi.'"
She might have also appeared in the stage version of "The King and I," but her parents moved to Miami Beach. She kept up with her ballet training into her 20s and beyond, taking classes at Florida State University after moving to Tallahassee.
"My mother would say, "Why do you keep doing it? You're not going to perform,' but I loved it."
But her mother, who lived to be 94, did serve as a good role model.
"My mother was always into being fit; that's where I got it from," Richard said. "She walked. People used to think she was crazy because we lived on an island in Miami Beach. When I grew up; she'd be walking around the island very fast."
Performing and dancing prepared Richard for the life's work she would discover in her 30s.
"It's funny — if you do what you love, sometimes it leads to good things," she said. "And, in this case, when the exercise came along, I was prepared for it in my own way."
The Beginnings
Richard came to Tallahassee in the early 1970s, when her then-husband, Barry Richard, was the state's deputy attorney general, and later traveled between the capital and South Florida when he was elected as a state representative.
She had had a penchant for exercise throughout her life, but in the early '80s was captivated by a woman instructor in Miami — "she was very androgynous and had tattoos" — who taught a class that included working out with weights to music.
"I was just so excited, I came back here and I told my ballet teachers I wanted them to teach this," Richard recalled. "They weren't interested at all, and they said, 'You teach it.'"
At a local dance studio, Richard taught a unique workout that combined several different aspects — jumping, kicking dance routines for aerobic benefits, light weights for "body sculpting," and exercises, usually on the floor.
"It just took off," she said.
Ultimately, she decided to open her own exercise studio — and Body Electric was created in all its neon pink glory. Her classes were extremely popular, attracting as many as 40 people at a time. Many of the studio's habitués are now some of Tallahassee's most prominent professionals — attorney Cynthia Tunnicliff, The Florida Channel Executive Director Beth Switzer, community volunteer and television personality Berneice Cox, Assistant Property Appraiser Kathy Doolin, wellness executive Mary Barley, and clinical social workers Patty McAlpine and Beth Miller, to name just a few.
Jane Marks and Margaret Richard
Matt Burke
One of her earliest acolytes was Jane Marks, a local family therapist and former first lady of Tallahassee. After ballet classes were a disappointment for Marks, Richard encouraged her to join "this dancing thing" she had discovered.
"I was hooked from the very first day," Marks said. Marks was a regular at $3 Body Electric classes ("I took 'em all!"), appeared in hundreds of episodes, and helped recruit dancers and plan music and routines for shows when Richard was living elsewhere.
"There are so many of us. Hundreds of women; that's how I met them," Marks said. "I think for all of us, it changed our lives because it was that sense of community that most women just didn't have. She taught classes at 7, 8 o'clock at night, so all of us who went to work, we could all (work out). The women I met there are still friends today."
U.S. Rep. Gwen Graham, who started at the Body Electric studio in the early '80s, fondly recalls the choreographed workouts.
"I have always had a passion for dance and would have loved to be on Broadway in a chorus line," she said. "Body Electric allowed me to live out that dream." Then she added with a laugh, "And it gave me an opportunity to wear leg warmers!
"Every time I hear 'It's Raining Men,' I remember the routine," Graham said. "I could do the dance for you now. It was a whole lot of fun. It provided exercise, and there was great camaraderie. I wish we had it back in Tallahassee."
The workouts were televised on a local cable station for a short time, but Richard and "Body Electric" hit the big time when her show was produced at WFSU and aired on PBS stations nationwide. It was a relationship that would last 13 years, even after she made a move to Los Angeles and then to Buffalo, New York, after she remarried.
When Richard parted ways with WFSU, she owned rights to all the programming and continued to tape programs — not in a studio, but in her Buffalo backyard, surrounded by rock formations with a stream babbling in the background.
Richard produced her own shows and allows PBS stations to broadcast them for free as long as she is able to promote her website, as well as DVDs, digital downloads and other products she offers for sale.
The Present
BeNisa Forté, Margaret Richard and Berneice Cox
Matt Burke
Richard was in Tallahassee earlier this year for foot surgery to straighten out toes that had once again become misshapen — probably by going en pointe too early during her ballet years. Foot in a plastic boot, she ensconced herself at a table in Food Glorious Food, owned by longtime friend Susan Turner, and spoke about the state of fitness — and her quest to turn the fitness industry's attention to helping an "invisible" generation get a proper workout.
"Now I live in Boston, I've taught at some of the big health clubs there and I belong to them — Equinox, LA Sports … you know, the best — and they have nothing," she observed. She teaches a group of women "mostly in their 60s and 70s," each with different health issues. "It's funny, because we say that if you put us all together, we have one perfect body. This one's got a shoulder, this one's got a knee … ." she joked.
"Say you're 60 and you say, 'I want to take a muscle-toning class,'" Richard said. "The classes you'll be put in have jumping, lunging … things that a woman 60 years old can't do. You can't help it, your knees are worn out. It's just a shame. In one popular exercise franchise, the instructors are taught to say the same instructions, including things such as 'You're stronger than this exercise' and 'You can do anything for 30 seconds.'
"You can do it for 30 seconds, but should you?" she asks. "My body has benefited from taking those classes … I wish it was more available to people over 50 years old.
"So they'll put you in yoga or Pilates, which isn't the same. Virtually, you become invisible. You have nothing to do but get on the treadmill. I tried to change that within those clubs, but I realize it's a much bigger job."
And it's a bigger job she'd like to tackle with a new 26-episode season of shows geared specifically toward a baby boomer audience. Right now, she is looking for an entity to underwrite the production costs, which she estimated to be around $70,000.
She did try the crowdfunding site Indiegogo, and 300 contributors pledged $22,000, but Richard chose to decline the money when it didn't reach her $30,000 goal.
"If I can't do the whole thing, I'm not going to take any money," she said. "I'm going to raise this money or I'm going to die trying."