March/April 2016 Agenda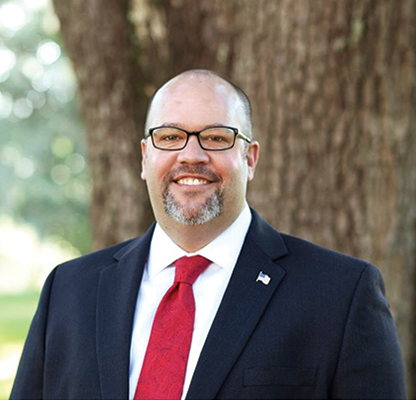 Additions & Promotions
▪ Rick Fernandez's appointment to City Manager became effective Nov. 21, 2015. Fernandez has been a city leader for nearly 30 years. He served as city auditor from 1988 until 1998 when Anita Favors Thompson made him assistant city manager for utilities.
▪ Kimberly Galbán-Countryman was recently hired as the fourth executive director of the Lighthouse of the Big Bend. Galbán-Countryman is a veteran of nonprofits and social service agencies in Tallahassee and the Big Bend area. Most recently, she served as assistant director of the Big Bend Homeless Coalition. In the past, she has served as director of development for the Southern Scholarship Foundation; executive director of United Partners for Human Services; chief operations officer of The Family C.A.F.E.; and program administrator and marketing coordinator for the Florida Association of Rehabilitation Facilities.
▪ Casey McLaughlin, Josh Hogan, Taylor Harmon and Christie Battles were all recently promoted to senior in Assurance Services, and Alyssa Roti and Paola Blackburn were promoted to senior in the Tax Services Department of Thomas Howell Ferguson, P.A. The firm also recently welcomed Becky Roberts, CPA, as the new Assurance Services department manager, and Chandler Russell as an Assurance Services staff member.
▪ Alva Striplin is the new Chief Executive Officer of Big Brothers Big Sisters of the Big Bend. Striplin became interim CEO in July when Louis Garcia departed and the appointment was made permanent in December. Striplin is an active children's advocate and former educator. She was elected to the Leon County School Board in 2014. She previously served as marketing and donor development director for the Big Bend agency. She is the co-chair for Mayor's Family Friendly Workplaces Task Force and serves on the board of directors of the Council on Culture & Arts. She also serves on the Panel of Afterschool Champions for the Florida Afterschool Network, the United Way Capital Campaign Committee and is a member of the Leon County Value Adjustment Board.
▪ SunTrust Bank announced recently the addition of seven new members to the local Panhandle advisory board of directors: Gayle McLemore, SunTrust, Panama City; Jim Rasmussen, SunTrust, Tallahassee; W. Crit Smith, Smith, Thompson, Shaw, Minacci & Colón, P.A., Tallahassee; Dr. Jeff Snyder, North Florida Regional Medical Center, Gainesville; Joe K. Tannehill, Jr., MERRICK Industries, Inc., ENGEN, LLC, Lynn Haven; Jim Walker, CEREX Advanced Fabrics, Inc., Pensacola; and J.R. Moody, Moody Land and Timber Company, Panama City.
▪ Ben Pingree was recently appointed director of Planning, Land Management and Community Enhancement, a joint Tallahassee/Leon County department that coordinates the work of Blue-print 2000 and the city/county planning department. Pingree has 20 years experience with man-agement, public policy, capital projects and economic development. Blueprint 2000 is a municipal planning program designed to preserve and enhance quality of life through coordinated planning, transportation, water quality, environmental and green space projects. The planning department's job is to present creative and effective recommendations for long-term land use, environmental and transportation planning and community design.
M. Darrh Bryant, DMD, recently joined the Tallahassee Board of Directors of Centennial Bank. Bryant graduated from Leon High School, Florida State University and the University of Louisville School of Dentistry. He returned to Tallahassee in 2004 and established his dental practice in 2009. He serves as the Florida State University athletics department dentist and is the Leon District Schools resource dentist. He is a member of the Tallahassee Community College Dental Hygiene Advisory Committee, the Dental We Care board, the American Dental Association, Florida Dental Association and the Leon County Dental Association.
Awards & Accolades
▪ The Artist Series of Tallahassee was recently awarded a $10,000 National Endowment for the Arts Challenge America Fast-Track grant to support its 2016 Artist-in-Residence music outreach program led by the Carpe Diem String Quartet.
▪ Capital Regional Medical Center has again been recognized as a Top Performer on Key Quality Measures by The Joint Commission, the leading accreditor of health care organizations in the United States. As part of The Joint Commission's 2015 annual report, "America's Hospitals: Improving Quality and Safety," Capital Regional was recognized for attaining and sustaining excellence in accountability measure performance for heart attack, heart failure, pneumonia, surgical care, stroke and perinatal care.
▪ Jason McIntosh and Mitch Nelson, two student business owners in the FSU College of Business, recently received the Governor's Young Entrepreneurship Award in recognition of their social entrepreneurship business, DivvyUp. The entrepreneurs created the company as a requirement of the college's Sophomore Experience program. The company sells fun designer socks and gives a pair of socks to the Tallahassee homeless shelter for every pair they sell. The partners have given more than 3,500 pairs of socks to homeless shelters in Tallahassee, Fort Lauderdale and Tampa.
▪ Amanda Lewis, a teacher a Lively Technical Center, was recently presented with the Governor's Shine Award during a recent meeting of the Florida Cabinet. Lewis teaches in the Transition Program of Exceptional Student Education and at an afterschool program. She helps prepare students for the workforce by letting them visit and experience an office environment, developing resumes, and holding a Mock Interview Day. Kenny Small, owner of Tallahassee Welding and Machine Shop, Inc., was also recognized by the Cabinet with the Governor's Business Ambassador Award. Tallahassee Welding has been in business since 1942.
▪ Jeff Barbacci of Thomas Howell Ferguson, P.A., was recently selected as one of the 2015 "Top 10 Public Accounting Professionals" in Florida. The firm also notes that Justin Edenfield was selected as one of the 2015 "Top 10 Public Accounting Professional Rising Stars" in Florida, an award designed to recognize outstanding public accounting professionals who have been practicing for less than 15 years.
▪ Jennifer Benners, owner of the local fab'rik franchise in Tallahassee (one of 36 stores nationally) was named owner of the year for 2015 by their corporate office in Atlanta.
▪ Marcia Mayer, an alumna of North Florida Community College in Madison, was honored with the 2015 LeRoy Collins Distinguished Alumni Lifetime Achievement Award by the Association of Florida Colleges at the AFC 2015 Annual Meeting and Conference in Orlando on Nov. 12. As a nurse, Mayer has crossed borders and helped thousands of people across the world including malnourished and starving children, expecting mothers with HIV/AIDS, war zone victims and victims of hurricanes, tsunamis, tornadoes, floods and other disasters. She has served on seven emergency medical missions with Doctors Without Borders, an organization awarded the 1999 Nobel Peace Prize and well known for delivering emergency medical aid.
▪ The National Panhellenic Conference Foundation, which promotes values and ethics in women's sororities, presented the Women in Higher Education Achievement Award to Laura Osteen, Ph.D, director of the Florida State University Center for Leadership and Social Change. This award recognizes an outstanding woman who is making a significant difference in higher education through leadership and positive support of the fraternity and sorority experience.
▪ Florida State University students Chris Malinowski and Brendan Talwar are among the winners of the 2015 Guy Harvey Scholarship Award, sponsored by the Guy Harvey Ocean Foundation. The award recognizes outstanding achievement in marine science research. Malinowski, from Sherwood, Wisconsin, is a doctoral student studying biological science. Talwar, from Louisville, Kentucky, is a master's student studying ecology and evolution.
▪ Berger Singerman, a business law firm, recently donated $38,674 to Tallahassee charities and singled out the Children's Home Society to receive a donation of more than $25,000. Berger Singerman is marking its 30th year contributing to 30 local charities in South Florida and Tallahassee. The firm donated $300,000 to 30 charities in Florida.
Moving On Up
▪ Noreen Fenner is the new owner and operator of the full-service financial administration and reporting firm, PAC Financial Management. Fenner has more than 25 years of experience working with the Florida Election Code and campaign finance reporting. She now leads the company during an aggressive upcoming election cycle, with new rules and regulations implemented last election cycle.
▪ James Moore, Certified Public Accountants and Consultants, recently admitted Trey Long, CPA, to the partnership. Long has 13 years of accounting experience and joined the firm in 2002 after working as a controller in private industry. Moore also recently welcomed Heather Clarich, Tracy Curry, Tamara Howard, Joshua Kimmell, Angela Taff and Caleb Thompson to the firm.
Center of Attention
▪ Tallahassee International Airport will host the 2016 Sixel Airports Conference scheduled for April 5–7. City officials and representatives from all over the nation are expected to attend the event, which is sponsored by Sixel Consulting Group, an airport consulting group based in Eugene, Oregon.
— Compiled by Jason Dehart