Making The Most Out of Birthdays That Fall on Holidays
While Having a Holiday Birthday Isn't Ideal, It Can Still Be All About You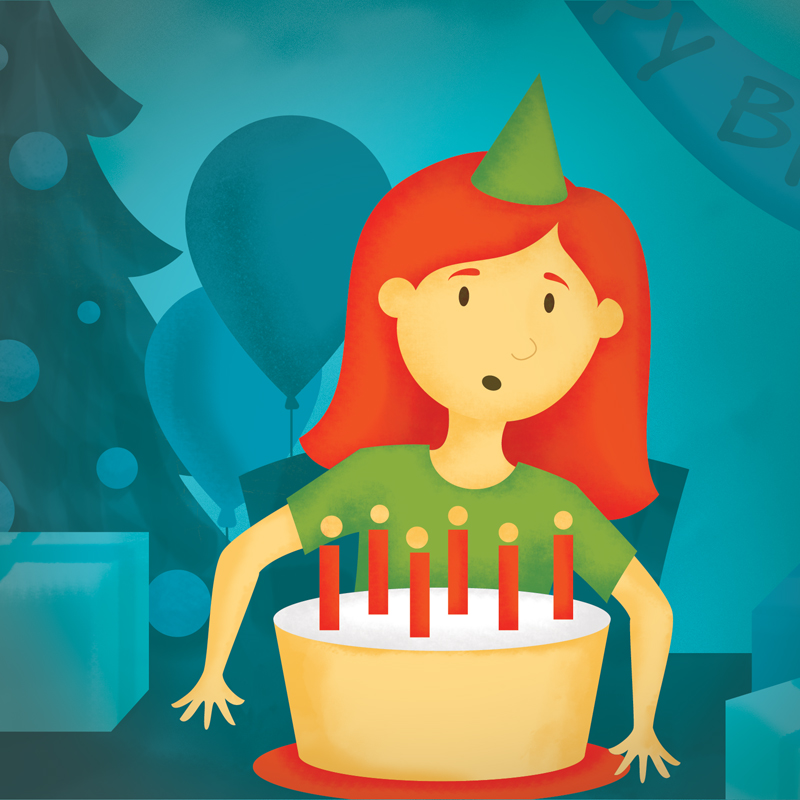 Birthday party planning is one of the very special perks of being a parent. But when a birthday falls on or near a major holiday like Christmas, things can get complicated for everyone involved.
Small kids don't usually mind that their birthday intersects with another traditional celebration. In fact, many are excited (at first) about the prospect of double gifts. Parents, on the other hand, can quickly get overwhelmed trying to carve out a unique event for their holiday child. Fortunately, there are a few ways to make sure the birthday girl or boy is still the center of attention.
Tallahassee mom Eileen Johnson is no stranger to the holiday/birthday intersection. Her own birthday falls near Valentine's Day; her husband Kevin has a sometime-Father's Day birthday; oldest daughter Abby was born amidst Fourth of July fireworks; and Eileen was hardly out of her Halloween costume when youngest child Audrey was born on Nov. 1.
Having birthdays near holidays is hard on everyone in her family, Johnson admits. They often end up having to share the celebration with others because of longstanding traditions.
From her own experience growing up, Johnson knows that it can be tough sharing a birthday with thousands of others focused on their valentines.
"My birthday is three days after Valentine's, so I often have to choose whether to celebrate Valentine's or my birthday," Johnson says. "I used to make sure I got presents for both, but as I grow older, I find it better to just celebrate my birthday and avoid the restaurant crowds.
"Planning a party is the hardest thing about when my daughters' birthdays fall," she says.
It's hard to celebrate with classmates during the summer and, unless she wants an endlessly Halloween-themed party, Johnson has trouble carving out special time for her youngest, too.
To compensate, Johnson always has a big family dinner for everyone's birthday. She says it really makes everyone feel special — and they get to pick the meal and the cake.
Kara Corbitt's 2-year-old son, Easton, was born Nov. 28, which often falls on or very near Thanksgiving.
"I don't think he's going to love having his birthday so close to the holiday," she admits. "Everybody is usually out of town with family, so it will probably be hard to celebrate with his friends."
However, Corbitt has already begun planning ways to make her son's annual event a big deal. The Gator-Seminole household is understandably hooked on college football, so they anticipate using the Florida-Florida State Thanksgiving weekend game as a tradition and present for Easton as he grows. Other gifts will likely be downplayed a little bit, she says, because Christmas is right around the corner.
It seems that most of the credit for a successful holiday birthday might just be in the birthday boy's attitude.
"For me, having a birthday on New Year's Eve was great," says Ronnie Crews. "Sure, I had to wait all year for presents to come along, but it made it that much more special to me."
Crews might be in the minority in terms of selflessness, but he always made the best out of his birthday. He likes having everyone around for his celebration and recognized that it was easier for people to travel — or not have to make a special trip — if they were already in town for the traditional holidays.
"Everyone celebrates my birthday," he jokes. "So, no matter where I go, I can find a party!"
And while he usually got smaller gifts for his post-Christmas birthday, Crews appreciated the gesture anyway. For him, being with family and friends was always the best reason to party.
"There have been so many great memories, and every year there is another epic story," he says. "My birthday falls on my favorite time of the year, just because of the weather, the food and the friendship."
So, what's his advice for parents and kids dealing with the holiday-birthday intersection? Pick out the great things, and don't dwell on the downside. Presents aren't important in the long run, and memories are what counts.
Whether it's annual blueberry pancakes for birthday breakfast or a special tradition that means something only for your family, Johnson knows that making the most out of your child's birthday is the best way to go.
"My advice is to make sure the birthday person still feels special," she says. "Even if you have to eat two cakes in the same day!"