Making it as an Artist
Designer makes peace with commercial pursuits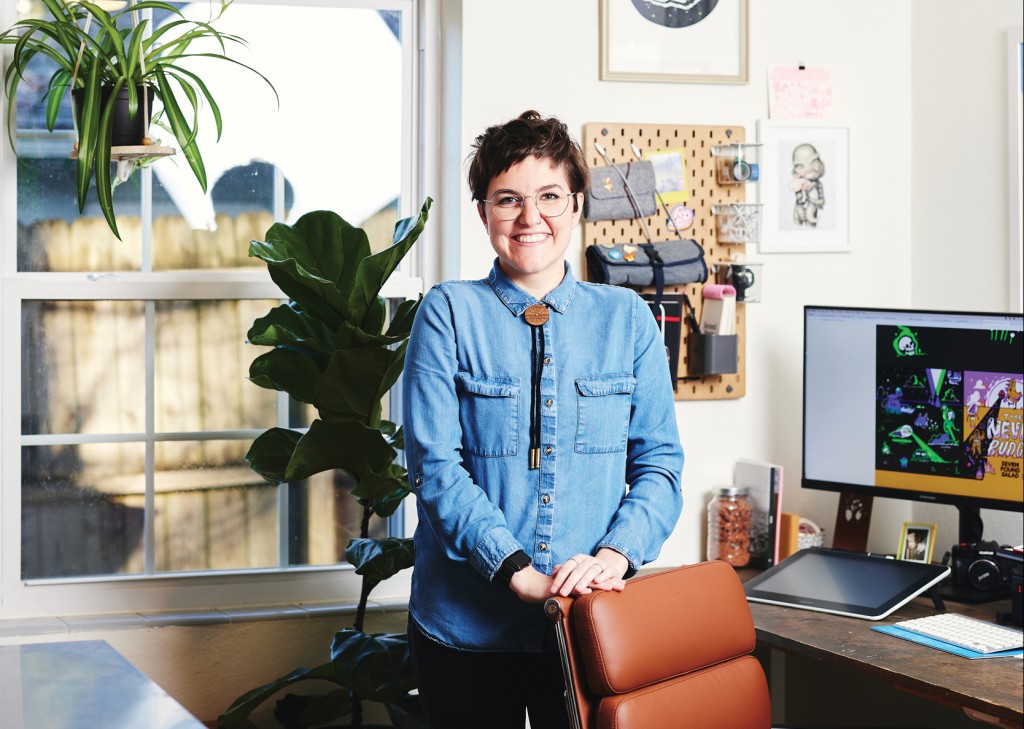 Carly Berry, by her own admission, is a bit weird — or at least her art is.
Berry, a 2016 graduate of the FSU studio art program, is an independent graphic designer and illustrator based in Tallahassee. She specializes in illustration and brand identity. In her five years working freelance, she has designed everything from beer cans to greeting cards.
She serves as vice president of the Tallahassee Chapter of the American Institute of Graphic Arts and has been featured in a number of exhibitions in the region. She's also a cat mom, plant freak, vegan and millennial who is finding her way in the commercial art world.
"My alias and Instagram handle are 'It's not that weird,'" Berry said with a laugh. "That embodies my work. It's a little strange, but not too strange for the everyday person. Doing markets and shows, I see people who come across as very normal and professional, but they totally get the odd stuff in my work. We are all odd; we just don't all wear it on our sleeves."
Playful and cartoonish, Berry's work reflects a psychedelic pop art flare. She pulls people into a world of her own creation, juxtaposing a bright palette with Tim Burton-esque characters and dripping lettering. The designs are eye-catching and beautifully strange, so it's no surprise that brands want to get in on the action.
Reliability, reputation and style have allowed Berry to become choosy with her clients over the years.
"If a business is making products, it's really important to me that items are sustainable and ethically produced. Is the business diverse in their hiring and leadership?" Berry said. "I talk pretty openly with my clients about what they value and see for their business. Even if they aren't completely there yet, it's still a privilege to get to the point of sustainability, especially for small businesses."
As a professional artist, Berry has had to grapple with the same question all artists must eventually ask themselves: How do I make money? Devoting oneself completely to the creation of art for art's sake often goes unrewarded financially, but creating art for others can feel like a betrayal of personal expression and artistic freedom.
"I'll be honest, I first got into commercial art as a way to make a living," Berry said. "But, I have grown to really love it and see its importance. It's really the only way I can collaborate since I work by myself. Being able to bring someone's vision to life and getting into their brain is a fun challenge."
Berry was always known as the artsy kid, even in a family filled with creatives. Birthdays and Christmases brought new sets of paints or a sketchpad. Though her early education lacked a strong arts program, her life at home provided inspiration. Berry's older brothers sculpted and drew in their free time, and her photographer father was always working toward his next project. It pushed her to hone her skills and establish her own identity as an artist.
As a teen, Berry began carrying an old cigarette pack holder emblazoned with Andy Warhol's 1967 portrait of Marilyn Monroe as her wallet. She lists Warhol, Edward Ruscha and Keith Haring as major influences on her work. Each was prominent during the pop art movement of the 1950s and '60s and pushed the envelope, blurring lines between classical and commercial art forms. Their creations simultaneously celebrated and panned the post-war consumerism that made highbrow art accessible to the masses through the use of realism and popular imagery.
"They pushed the dialogue that commercial art is art," Berry said.
Berry's work is the continuation of that dialogue. She and others like her bring new and beautiful art into everyday life. They care about their art and their communities, and Berry has seen the world take notice.
"I think there has been a definite change in the value of creatives," Berry said excitedly. "It's our time. It's kind of insane to me. You can make a real living doing art."