Making Her Looks Easy
Nancy Stepina-Robison doesn't belabor anything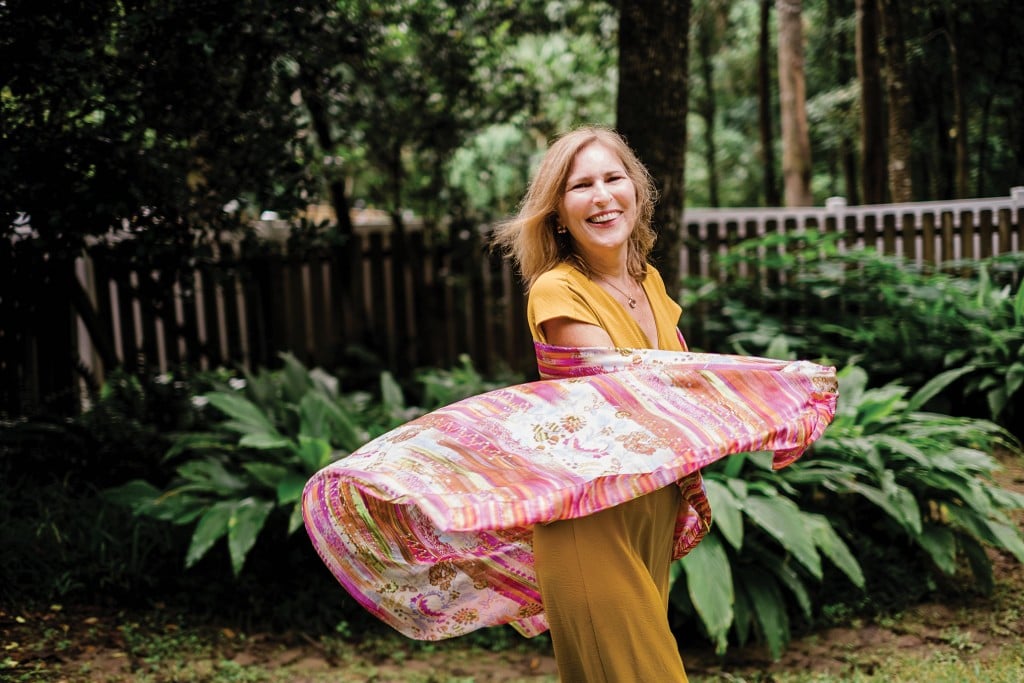 If, as the old saying goes, "clothes make the man," then Nancy Stepina-Robison's twist on that adage could be "clothes make the woman feel good."
"Clothes are a window to your personality, and they send a lot of messages," she said. "I always focus on looking happy, and I have a sense of what makes me feel good and makes me happy."
Stepina-Robison is one of those people who commands attention. Tall and confident, she strides into a room impeccably groomed, stylishly accessorized, a force of nature yet friendly and approachable, diverting our attention from whatever else we were doing to hear what she has to say.
"Nancy makes it look easy to be stylish," said her longtime friend Susan Fiorito, dean of Florida State University's College of Entrepreneurship. "Even though she's retired, she always looks great and always looks appropriate, no matter what she's doing."
Giving back in chic comfort
The former vice chancellor for government relations for the Florida University System and later a partner at MGT Consulting, Stepina-Robison now focuses primarily on community and civic leadership. She brings her skills as a powerhouse lobbyist and management consultant to all her endeavors, including serving as the current president of the Rotary Club of Tallahassee and on several Rotary boards and committees, on FSU's Library Advancement Board and the FSU Undergraduate Development Council. She and her late husband, Jeff Robison, established the Jeff and Nancy Robison Scholarship fund in FSU's College of Health and Human Sciences.
While her work history makes her a natural fit for upper echelon positions on various charitable boards, her warm heart and genuine desire to help others leads her to volunteer in more hands-on ways as well. She is a HOPE House meal server, a Salvation Army bell ringer, helps collect backpacks for the Second Harvest of the Big Bend's backpack program and has been a "reading pal" at John G. Riley Elementary School.
Giving back obviously is important to her. Being comfortable while doing it is also important. It doesn't hurt to be chic, too.
"Over the years, you start to select things to wear that go with your skin tone, your eyes, your hair," she said. "It doesn't preclude the fact they might also be trendy."
Dresses are her wardrobe's backbone.
"It's basically a one-stop shop. With pants and skirts, you have all these other questions to answer: Should the blouse be tucked in or out? Do I need a belt? I love belts, and I hate belts," Stepina-Robison said. "I traveled a lot in my jobs, and I could roll up five dresses and tuck them in my suitcase."
Fiorito agreed that Stepina-Robison "travels light."
"Nancy and I go way back; she was my maid of honor when I got married 39 years ago," Fiorito said. "She throws on a dress and accessorizes with earrings and a necklace, and she's gorgeous. She doesn't belabor anything."
Stepina-Robison is also fond of scarves and shawls.
"In summer especially, when you're going from heat to air-conditioning and back constantly, wearing a dress and shawl lets you adapt easily," she said.
A uniform childhood
Growing up in Schenectady, New York, Stepina-Robison didn't have much opportunity to develop her fashion style. She went to Catholic school until she transferred to a public magnet program at the beginning of ninth grade. At both schools, uniforms were required.
"In grade school, it was a white blouse with a Peter Pan collar and a blue jumper over it, a blue clip-on tie and a beanie," she recalled, laughing. "It was a huge, delightful experience to discover color and fun clothes."
She earned her undergraduate degree in business at Binghamton University in upstate New York and a master's degree at the University of Illinois in labor and management relations. It was a joint program with the law school, but a job in Chicago with Standard Oil of Indiana, now Amoco/BP, was too lucrative to pass up, so she skipped the law degree part.
"And I was back in a uniform," she said. "Dark suits, the ties women wore back then. A lot of my colleagues were lawyers, and we all dressed the part."
Even then, her sense of style came through.
"Her friendly personality shines through in everything she does. It's not only what she wears, but it's her smile, her confidence, her elegance," Fiorito said. "Being tall and slender, she is the epitome of grace and style.