Make This Asian-Inspired King Salmon Dinner for Two
This delicious recipe is surprising easy and is sure to impress any and every guest.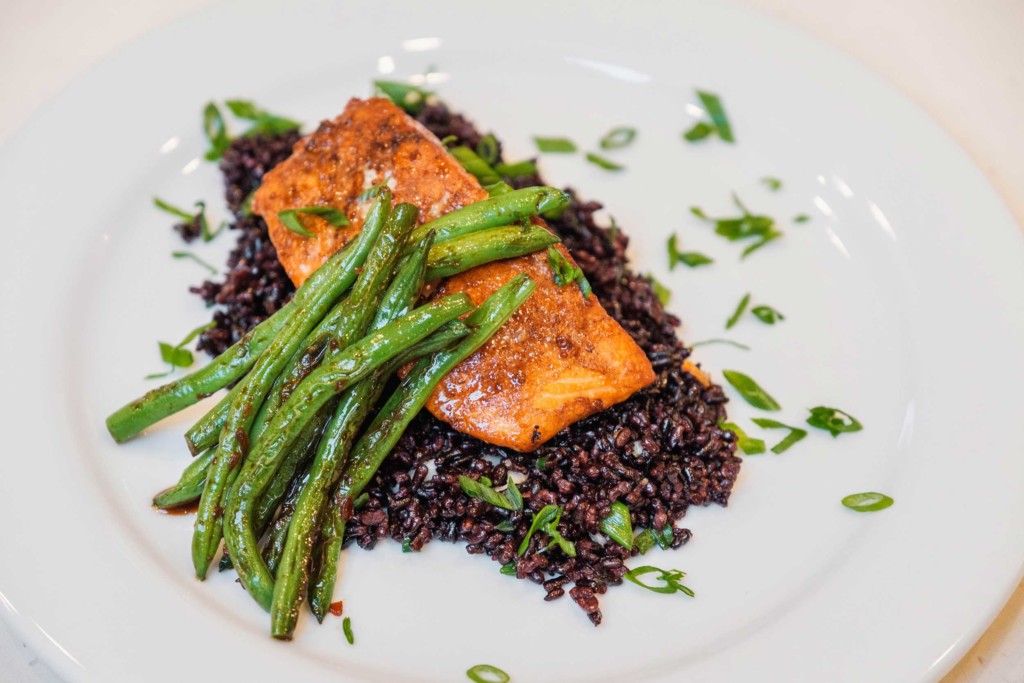 Salmon
2 6-ounce king salmon filets
2 tablespoons canola or vegetable oil
1 tablespoon Chinese five spice
Glaze
½ cup light brown sugar
¼ cup low-sodium soy sauce
2 tablespoons Dijon mustard
¼ cup canola or vegetable oil
In a medium-size mixing bowl, whisk together brown sugar, soy sauce and Dijon mustard. Once a smooth consistency is achieved, drizzle oil slowly into the mixture while stirring. Set aside.
Preheat the oven to 400 degrees. Heat a large skillet until it begins to slightly smoke. Pat salmon dry with paper towels to remove excess moisture. The salmon should be tacky to the touch. Season salmon with Chinese five spice. Add oil to the pan and sear salmon flesh side down in the hot pan. Flip the salmon over when a brown crust is achieved.
Black rice pilaf
1 cup black rice
1 ¾ cup water or stock
1 tsp salt
2 tablespoons canola or vegetable oil
¼ cup (plus 2 tablespoons for garnish) scallions
2 cloves minced garlic
1 teaspoon minced ginger
1 teaspoon low-sodium soy sauce
In a medium saucepan, heat oil over medium heat. Sweat scallions, garlic and ginger. Add stock or water, soy sauce, salt and rice. Cover and bring to a boil. Reduce to simmer and cook for 25 minutes or until rice is bursting open and the liquid is absorbed.
Spicy haricots vert
12-ounce package of haricots vert or French skinny green beans, washed and trimmed
2 tablespoons canola or vegetable oil
2 tablespoons or more sambal oelek (a fiery Indonesian ground chile paste you can find in supermarkets)
Heat a large sauté pan on medium/medium-high heat. Add oil and green beans. The outside of the bean should blister from the heat. Cook for about two minutes and add the sambal. Season with salt, if desired.