Make the Most of Your Next Camping Excursion With Portable Feasts
Flavorful Family Fun in the Great Outdoors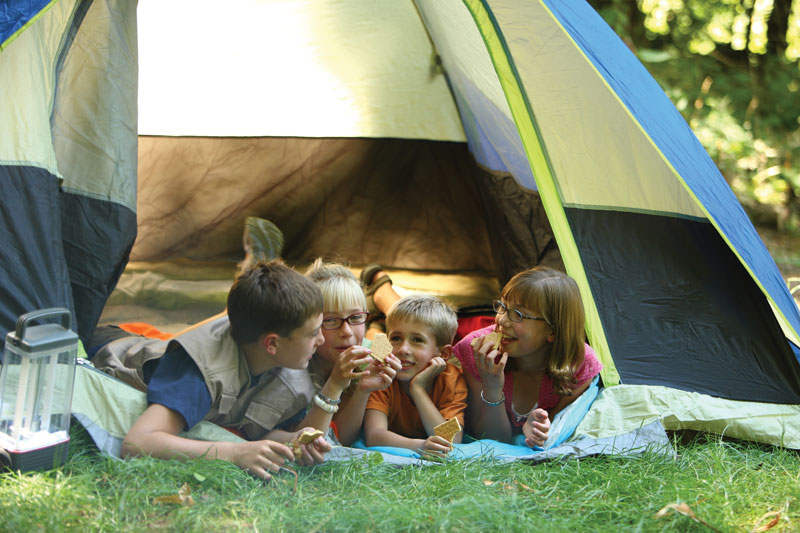 Nothing brings a family together like camping. It's one of those rare activities that begs Mom and Dad to turn off the smart phones and for the kids to leave the video games at home, to disconnect from all things electronic and instead connect with nature.
Whether you're the type to go all-out primitive and walk for miles to pitch a tent in a secluded area, rough it modern style on a campsite that offers water, toilets, picnic tables and grills or prefer to be somewhat of a luxury camper and bring an RV, family time in the wilderness is an unforgettable experience. And while the old camp food standbys — hot dogs, beans and s'mores — will get you through the day, there's no need to settle when it comes to your outdoor meals.
Keith Walker, 88, who has been camping since age 11, proves that five-star meals can be made from fire and coals. Walker says he has made everything from seafood to homemade apple pie over a campfire. One of his all-time specialties was English Sparrow pie — although it's not one you might want to try.
"My brother and I would shoot sparrows near a barn on Lake Bradford Road, clean them, get a pot and a fire going, and make English Sparrow pies," he says.
First-time campers may wonder how to plan and prepare a weekend's worth of meals that will satisfy many appetites and still be easy to carry to the campsite. Seasoned campers suggest planning menus in advance by making a detailed list of items and ingredients you'll need. That means everything from paper plates to salt and pepper, since you'll likely be out of luck if you forget something. The list should include cooking equipment — pans, pots, bowls and cooking utensils — and cleanup items such as biodegradable dish soap, paper towels, disposable wipes and garbage bags.
Keep food safe from spoilage by packing perishable items in ice and storing them in sturdy coolers, which will also keep critters from smelling the food. Use hand sanitizer frequently to avoid spreading germs onto your food. And light-colored blankets can cover the coolers to extend the life of the ice, keeping your food cool for nearly an additional day. Bring plenty of bottled water for drinking and cooking. If camping in remote areas, bring water purification tablets.
For breakfast, consider breakfast burritos — eggs, sausage, veggies and cheese wrapped in a tortilla — along with bacon and pancakes.
Vicki Adams, a regional director for the Girl Scout Council of the Florida Panhandle, says Girl Scouts love this special treat: muffins in an orange.
Cut oranges in half and remove the meat. Fill each orange half about a third to halfway with muffin batter and place on a piece of foil large enough to twist at the top. Place in hot coals and bake 15-20 minutes.
For large groups, one-pot meals are easy to prepare and clean up. Low Country Boil, a traditional Southern dish, requires only a large pot and a gas burner. The main ingredients — shrimp, sausage, corn on the cob and red potatoes — can be tossed into the pot to make a hearty and satisfying meal.
When making your own campfire, make sure you're using designated areas and something to contain the fire. Steve Cutshaw, park manager at Torreya State Park, says to ensure safety, fires should be contained by a circular ring formed of rocks or sticks and should never be left unattended.
Even with containment, during high winds and low humidity he says it's wise not to start a campfire. And fires used to burn trash should not be used to cook with, because toxins released could contaminate food.
"For fires, oak, hickory or hardwood adds great flavor to food," Cutshaw says.
After a long day of hiking, eating, fishing, eating swimming and eating again, end the day with the tried and true tradition — s'mores. Some say camping just isn't camping without the graham cracker sandwiches filled with chocolate and marshmallows. A few rounds of B-I-N-G-O with a good ghost story around the fire make a perfect ending to a memorable family experience.
Recipes
Porcupine Burgers
By Vicki Adams
Makes 24
Equipment
A large mixing bowl, two cupcake tins, cupcake papers and "bulldog" clips.
Ingredients
1 pound ground beef
1 package hamburger/meatloaf mix
1 cup precooked instant rice
½ cup water
Mix all ingredients in a bowl and form meatballs the size of large golf balls. Place cup cake liners in cupcake tins and place one meatball in each space. Place another cupcake tin upside down on the filled tin and fasten with bulldog clips, place on a bed of coals with coals on top for 15–20 minutes.
Snake Biscuits
By Karen Roland
Serves 4
Ingredients
2 cups Original Bisquick mix
½ cup milk
Butter to taste
Stir Bisquick mix and milk to form a dough. You have to play around with the consistency, making it a bit dryer than drop biscuits. I usually don't use exact measurements, but just add milk until it feels right. Make a snake-like shape with the dough and wrap it around a clean 1-inch diameter stick (green sticks are better because they're less likely to burn). Hold the stick above the fire coals until nicely brown, about 10-12 minutes. Slather with butter and eat it off the stick.
Ziploc Omelet //// Warning: Do NOT try this recipe
A popular camping recipe is the Ziploc (or any other brand name of a plastic bag) omelet. While it sounds ingenious, cooking eggs and other ingredients mashed together in a plastic bag submersed in boiling water may be hazardous to your health. When a plastic bag is heated to temperatures higher than 195 degrees, it begins to melt, causing the release of carcinogens. The Ziploc company says Ziploc brand bags are not designed to withstand the extreme heat of boiling. Instead, bring a pan to make omelets over the fire.
Cajun Shrimp Boil
By Chris Metcalf
Serves 20
Equipment
An 80–120 quart pot filled halfway with water will work, depending on the amount of shrimp or crawfish you plan on cooking.
Ingredients
15 pounds of head-on shrimp (or 1/2 pound of headless shrimp per person or 3 1/2 pounds of crawfish per person)
20 ears of corn, halved
2 dozen lemons, halved
8–10 pounds small red
potatoes, whole
6–8 large onions, quartered
10 pounds smoked sausage
6–7 garlic bulbs, whole
2–3 pounds of salt (to taste)
3 packages of Zatarain's Crab Boil (1 package per 5 pounds of shrimp, or use 16 ounces of cayenne pepper as substitute)
3 sticks of butter (optional)
2–3 bags ice
Bring potatoes, onions, lemons, salt, crab boil, garlic, sausage and butter to a boil for about 15 minutes, or until potatoes are cooked. (Take in all the smells of the mixture, because it is a wonderful thing.) Add corn and shrimp, and let them boil for three minutes only. Turn the cooker off and add ice immediately into the pot and let the shrimp soak — the longer soak time, the spicier they get. For crawfish, cook for about 10-15 minutes, then add ice and soak for an additional 20 minutes. Once finished, place newspaper on a table and dump the contents. Squeeze the boiled garlic onto French bread or on the boiled potatoes. Also, if you want, serve with squeezable butter for added flavor on your potatoes.