Make an iPhone Fashion Statement
Young Entrepreneurs Create Fashionable Fixes for Your Phone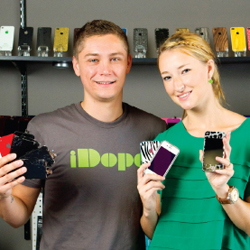 Scott Holstein
Justin Black holds some of the broken iPhones his shop has repaired. Co-owner Madisen Rard show off some of the decorative possibilities for Apple products at iDope, their customizing and repair shop on Pensacola Street.
Serendipity was how his business came to be, 27-year old Justin Black says.
The Philadelphia native was studying psychology and finishing up his associate's degree at Tallahassee Community College, looking for a way out of the food service industry he'd been part of for 11 years. That's when he dropped his phone.
"I kept breaking my iPhone — we have stone tile in our house — and I'm just a firm believer that anyone can do anything anyone else can do, so I started doing research, found these green iPhone backs … and started changing out the parts," he says.
It took Black about six hours to change his first screen. Two more broken parts and $500 later, he learned how to fix an iPhone.
"Once I saw the colors … I just thought, 'This is so dope' — related to fashion — and thought of iDope," Black says. "Within about six hours, I went and bought the license for the name."
And so iDope was born. Since opening in January 2012, the store has made its mark as a business for the customization and repair of iPhones and iPads. iDope replaces broken or boring back glass, screen colors, frames and home buttons with genuine OEM Apple Hardware (Original Equipment Manufacturer means the companies creating the parts for Apple, also create these) in just about every color. Black estimates more than 20 million color combinations are available, more than any other phone repair store in the U.S. What they replace is not a protective case or a cover, it's the glass that's on the phone already, just in a different color.
"It's funny how a customer will get their finished iPhone and say, 'This is so dope,' and we're like, 'Exactly. That's what we mean,'" says 23-year-old Madisen Rard, iDope's co-owner.
The Pensacola Street store gives off the impression of a clothing boutique, but the outerwear isn't for you, it's for your phone. Rows of colorful rectangular glass line the royal purple walls, offset in the center by a mural of fractured screens, a compendium of frustrating broken phones past.
"It gives people a chance when they break their screen not just to have to put white or black back on there," Black says of the only two color options Apple sells. In addition to myriad colors, iDope offers glass with motifs such as Hello Kitty, camouflage, Disney, three leopard prints and more.
The store offers cheaper prices than the Apple store, too. If you break your phone and send it to Apple, for example, the average repair costs about $200, while iDope averages $89. Even better, instead of waiting seven days to get your phone back, it takes an hour.
Black says besides repairs his primary goal is to merge technology with fashion, joining the ubiquitious smart phone — Apple says thus far, 217 million have been sold worldwide — with a touch of personality.
"If you have an iPhone, you probably have the same exact white or black replica as the rest of the … (millions of) people who own one too. You may have a case on your iPhone, a little something to differentiate it from the rest of the world, but when it comes down to it, it's just a mask of the same black or white replica as the … other people who own one.
"For people with iPhones and tablets, it becomes an extension of their being," says Black, who changes his own phone's colors weekly. "You always see it in their hand. In this manner you can personalize it, customize it to your liking … and it's easier to find in your purse."
And they don't want to be limited to repairs.
"We even make jewelry, like the home button earrings, artwork and I want to start getting into fashion-related technology, so not only color customizing your iPhones and iPads but also clothing that works with technology. So we're working on some other designs," Black says.
Despite the location close to campus, the business isn't just frequented by college-aged students. Black estimates that 80 percent of his clientele is older than the Millennial generation.
"It's really cool to see the trend starting to catch on and see the niche in the market start to get bigger and bigger," he says.
Business is booming. Black and Rard spend almost 10 hours a day, six days a week in the shop because of the business they've unexpectedly gotten in their first year. And they get calls from repair companies around the U.S. asking for advice.
"We just had a guy from Texas call for our midframes (a piece that includes the metal bevel around the sides of the phone), because he couldn't find them anywhere," Black says. "I just think it's really cool that we've only had the business for the last six months and we already have all these different companies from all over the U.S. asking what we do and how we do it."
Despite his insistence that the name's terminology relates to fashion more than anything else, customers do get addicted to iDope.
"It's like tattoos. Once you start it's hard to stop. We have a lot of repeat customers," Rard says. "One of our customers comes in here for full customizations every three weeks maybe."
To make it easier on wallets of frequent shoppers, the owners instituted a buyback program and discounts. "It's an expensive habit to have," Black says. "The average a person will spend is about $110 for a new colored screen, then if it's in good condition we buy it back for around 60 (dollars) and sell it as used."
Rard says she believes the phone repair and customization industry as a whole is growing quickly.
"Before, you used to have the little Nokia phones and when they broke, you threw them away," Rard says. "But with the smart phones, they're so expensive and you can get them so personalized, if anything happens to them you don't want to get a new phone. The parts are replaceable now."
The shop can do any sort of iPhone repair, not just screen replacements. Their specialty is repairing water damage.
With plans to open a new Tallahassee storefront by January 2013 to accommodate their rapidly expanding business, the future looks bright for the young company.
"We want iDope to develop into its own brand, we want it to be a culture," says Black.
"It changes who you are in a way, it makes life easier or more colorful. The fact that it's been smooth since we started and just keeps rolling, I feel like it's meant to be."