Make a Bold Statement and Spotlight Your Landscape
Incorporate a few simple but brilliant light ideas to help your yard really shine.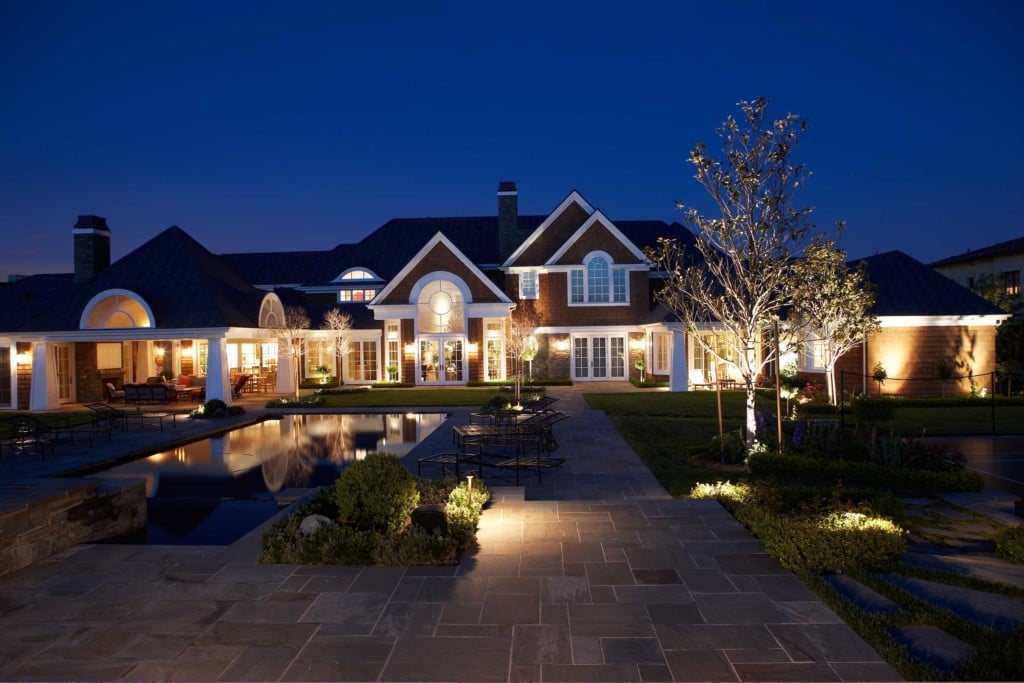 For John Penn, the lawn maintenance supervisor at Esposito's, outdoor accent lighting falls into three categories …
Lights trained on oak trees, showing off their branches.
Lights along sidewalks and pathways.
Downlighting or moonlighting, an effect achieved when a light mounted on a tree shines down onto trees such as Japanese maples.
Penn recommends LED lights for energy efficiency and warm lights to create the moonlight effect. He says Vista Pro is the Cadillac of outside lights; Esposito's uses their products and other brands. Tallahassee Lighting Fan & Blind on Capital Circle is another source for exterior floodlights and expert advice.
Spotlight landscaping can be year-round or seasonal. "Evergreens are striking with blue lights that embolden the green," said Jeff Dross, corporate director of education and industry trends at Kichler Lighting. He has 44 years of experience in the lighting business. His neighbors call him "the guy with the lights" because of the beams he trains on his historic house.
Dross advises homeowners to consult a landscape lighting professional designer who fits into one of these buckets:
A designer who does lighting installation exclusively.
A landscape company that installs lights.
An irrigation expert who also does light installation.
Whoever you hire should have a look at your property at night and get a sense of views from the house and from the street or sidewalk.
Color is important, Dross said. If a house is brick or stucco, warm lights will look best; white is too clinical. The house color, setting, and type of landscaping all play a part in the best design. You want to highlight desirable features of your property, not your neighbor's garage.
If you sit in your living room at the back of your house and it overlooks three acres of woods, you may have the ideal setting for spotlights, Dross said.
Shorter, fuller palms or large oak trees will need a wide beam. Tall palms are usually illuminated from underneath the canopy with a narrow beam that grazes the trunk. Cross-lighting from the sides provides dimensionality and depth. Multiple lights on one fixture can provide illumination from several directions.
Safety is a consideration, too. You don't want to trip over the light fixtures or place them where the lawn mower may damage them. Make sure paths and deck stairs are well-lit. Most path or spread lights are 18 to 24 inches tall and best located at intersections of pathways and at the top and base of stairs.
Lowe's has low-voltage LED lights of varying sizes to illuminate small narrow trees. Colors run from warm white to bright light to daylight for not only trees and paths but also for gardens and patio spaces. Power packs and cables are sold separately. Some installations are best handled by the pros, given the ladders, equipment, electrical wires, parts, cables and know-how required.
Affordable, solar-powered lights without wires or electrical outlets work for small, on-the-ground projects. For whimsy, see the hand-blown glass mushrooms available at home supply stores.
Spotlight projects involve imagination, fun and love of nature. Create a fairy garden with lights on the ground and lights twinkling in the trees, or go for a bolder look.