Maestro Darko Butorac Hopes to Bring a Youthful Perspective to the Tallahassee Symphony Orchestra
The New Conductor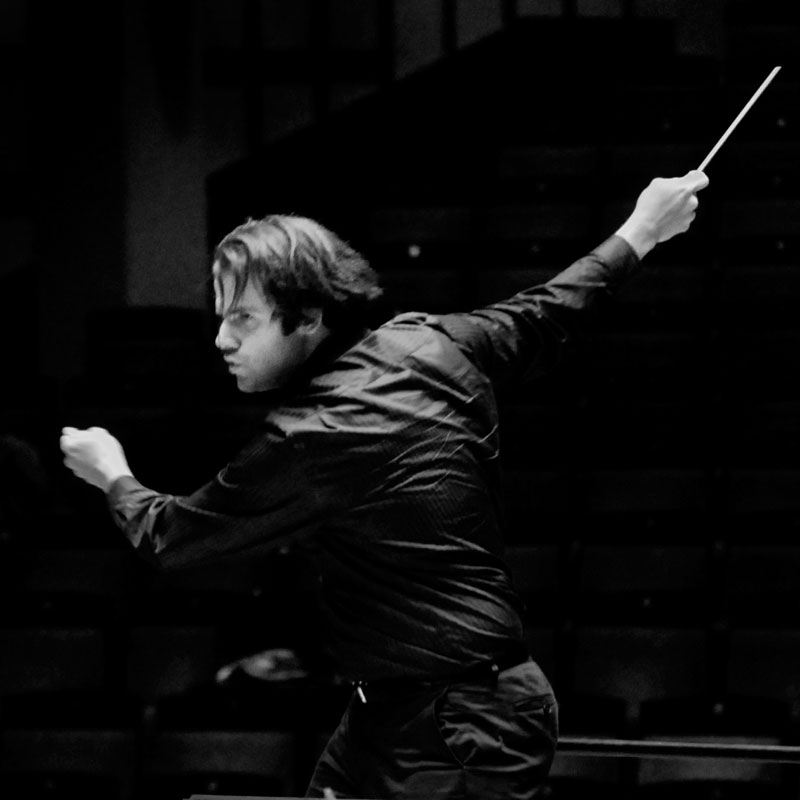 After a competitive two-year search, it was Maestro Darko Butorac who won the hearts of both musicians and a search committee — and the job as music director of the Tallahassee Symphony Orchestra.
The towering conductor — he's 6-feet, 5-inches tall — exudes a commanding confidence that cannot be ignored. His captivating presence and strong connection with members of the symphony orchestra were on evident during his May audition concert. It was these qualities that made him an instant favorite of the search committee and the musicians he will now direct.
Amanda Sauer, executive director of the TSO, said Butorac was unanimously chosen from a pool of hopefuls that included hundreds of qualified applicants from across the globe. With his impressive audition, the Serbian native stood out from the crowd and was selected to fill the coveted position.
"We had over 250 applicants for the position, so it was really competitive. But from a search committee standpoint, he was the total package," Sauer said. "We just feel really lucky to have him. He's the perfect fit."
Butorac, too, said he felt the TSO was a great match for him. He agreed that his connection with the musicians was electrifying and described his audition experience as powerful and emotional. He added that the positive energy created during his audition concert was something special, and he believes it is something that future audiences will also feel.
At 36, the music director said his age doesn't play a role in his conducting style. Though relatively young in his profession, Butorac's history as a musician, prior conducting experience and charismatic personality are expected to endear him to members of the symphony orchestra and concert patrons.
"He's a very gregarious conductor," Sauer explained. "Because he's young, we think he will help draw in the younger generation." With Butorac and special guest performances from musicians such as the "classically trained garage band" Time for Three, the TSO hopes to attract a more diverse age group during its 2013–14 concert season.
Butorac said he views his age as a tool that will help him connect with a wide array of audiences. As a conductor, he said it is important to relate to audiences as well as musicians and believes his youthful point of view and light-hearted sense of humor will aid him in doing so. When developing a relationship with musicians and audiences he thinks it is important to be easygoing. His motto: A little humor goes a long way.
Butorac explained that his connection with the musicians he directs is the result of his years of training as a cellist. He began playing the cello as a young boy after he and his mother relocated from their home in Belgrade, Serbia, to Seattle. Being a musician — first and foremost — has made him a better conductor, because it allowed him to gain a deeper understanding of the musical needs of the artists he directs.
"Being an instrumentalist in an orchestra teaches conductors an invaluable lesson — that they are not that important," Butorac said. He added that being a musician has taught him what works and what doesn't work managerially as well as musically. From decisions about pacing and energy to micro-management, Butorac is prepared to call the shots. He described conducting as similar to any other leadership position. Namely, starting from the level of the team that you lead will give you useful insight into the members' needs and desires.
Butorac envisions the Ruby Diamond Concert Hall filled to capacity during the 2013–14 season. He said he hopes the TSO's "tremendously exciting and powerful repertoire" and his enthusiasm for conducting paired with his focus on the audience will attract many new patrons. He believes the "fantastic musicians and exceptional hall" will excite the community and not only encourage more people to come hear the great music the TSO plans to produce, but also attract a more diverse crowd.
"I think when one goes to a great performance of live music, one leaves inspired, motivated, ready to face the next day's challenges with a lighter step," he said. "This is what the arts are all about, their cumulative effect making a community a truly great, inspired place to live."
As the music director of both Tallahassee's and Missoula's symphony orchestras, Butorac has plans to commute between Florida and Montana. The warm, sunny climate and canopied roads are two qualities of Tallahassee that make him look forward to the time he will spend here.
An outdoor and sports enthusiast, he said he is ready to catch a Florida State University football game and bask in the camaraderie of Seminole fans and Tallahassee community members alike.
"In the little free time I have, I really look forward to checking out all the great opportunities in and around town," Butorac said. "Especially a football game at the Doak Campbell Stadium."
He said he is ready to spend more of his time in Florida and is hoping to enhance Tallahassee's cultural scene with his artistic perspective.
"I am honored to be a part of the Tallahassee scene," Butorac said. "I look forward to meeting the community and creating programs that excite everyone in town."
Time for the 2013 Symphony Society Tour of Homes
Four inviting and elegant homes decked in seasonal finery will be featured in "The Most Wonderful Time of the Year," the Tallahassee Symphony Society's 2013 edition of its Tour of Homes fundraiser, to be held Dec. 6 and 7.
One is a Louisiana Plantation-style home with the privacy of a country estate and the convenience of a city house. It boasts many fireplaces, wood floors and original artwork and sculptures by renowned artists. The home will be decorated with garlands for its many holiday parties.
Another traditional Southern beauty is located down a winding canopy road. Among its beautiful seasonal decorations, the home has many treasures gathered during a 2008 around-the-world trip. There is a guesthouse, pool and fountain that are also seasonally decorated.
You'll find 21 creative holiday trees in the Federal Colonial home, which features historical touches in every room. Animal lovers will be fascinated by special enhancements outside.
The fourth home near Lake Jackson is almost like a gallery of world art. Features include lighted art niches, spotlit paintings, glassware and wall hangings collected over the years. This home also will be enhanced with holiday touches, both inside and outside.
Each home will host a variety of music presentations to set the tone for a fabulous tour.
Beside these main attractions, in the beautiful setting of the Swan House, one may purchase a lunch to enjoy while being serenaded with keyboard melodies. Ed Tillman, keyboard artist, and other local musicians will play requests. Tickets for the Tour will be available at Swan House the two days of the tour.
The Tour of Homes is the Tallahassee Symphony Society's primary annual fundraiser. The goal of the Society is to promote and raise funds for the Tallahassee Symphony Orchestra, one of the greatest assets of Florida's Capital City.
Advance tickets may be purchased at Beethoven & Company, Esposito Garden Center, Killearn Antiques, Native Nurseries, Shamrock Cleaners, Tallahassee Nurseries and the TSO office. Advance ticket purchasers are invited to attend the Tour of Homes Gala on Dec. 5. Tickets also may be purchased at each home during the tour and from TSS members. To join the Tallahassee Symphony Society, visit tallahasseesymphony.org/symphony-society.