Love.Read.Learn! Journal
Florida's First Lady Introduces A Colorful Keepsake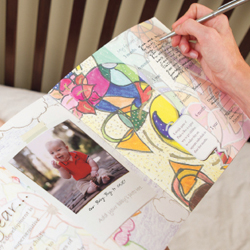 Scott Holstein; Terri Smith (Photo in Journal)
Florida's First Lady Introduces A Colorful Keepsake.
Florida First Lady Ann Scott teamed up with the Volunteer USA Foundation in May to unveil the scrapbook-style Love.Read.Learn! Baby Journal to parents and newborns at the Tallahassee Memorial Hospital's Women's Pavilion.
About 200,000 of the colorful keepsakes will be provided to Florida hospitals to give to new parents free of charge with the hope of inspiring an early dedication to literacy and health. Filled with sunny artwork from children around Florida, the journal includes space for baby photos, healthy recipes and immunization records.
"I felt being a mom was one of my most important and rewarding jobs, and I wanted this to be a way to give other new families in Florida a positive start in being their child's first teacher, sharing the joy of reading with them and instilling healthy habits that will serve them well throughout their lives," Scott said during the unveiling.
Pura Kiki
Fashion Meets Function, By Laura Patrick
CHOOSING A BOTTLE doesn't have to be rocket science. BPA, wha? PVC, who? Toxic plastics; oh my!? One product on the market keeps it safe and simple. Super hip, colorful Pura Kiki bottles are a safe, reusable option backed by a lifetime warranty. Made from food-grade stainless steel and medical-grade silicon, Kiki bottles are 100 percent plastic-free, spill-free and transition with your child's growth from infant to toddler with the quick switch from nipple to spout.
I let my busy, plastic-bottle-drinking 14-month toddler put it to the test. Initially Kiki's stainless steel body was tricky for him to hold onto. With cold liquid inside the bottle, or with messy hands, it slipped and fell onto the floor. So I added a colorful silicone koozie-like sleeve (in the provided purple; although blue, pink, green and orange are options as well) and … voila! He was able to grip the bottle and the lightweight, sleek design allowed him to lift, drink and roam around, carrying it with ease. As with glass or plastic bottles, the stainless steel body does not insulate its contents, so the liquid inside slowly warms to room temperature. All of the bottle's parts are dishwasher safe and can easily be sterilized in boiling water.
As a mama on a budget the $16 price point is high, but given its durability, I plan to invest in a few brightly colored Pura Kiki bottles (with blue sleeves).
Tips to Help Kids Connect with People from Different Cultures
By Lizeth George
1. Get out of your comfort zone.
Your kids aren't going to be able to experience and accept different cultures if you're scared to do it yourself, so take a step in the right direction by engaging yourself in multicultural activities.
2. Don't tiptoe around controversial topics.
Your children are going to find out about the controversial topics, and it is better if you explain to them what is going on so they won't hear the wrong information from another source.
3. Stand up to racially insensitive people.
People will say whatever they need to in order to feel superior to others, but rising above and putting a stop the ignorance of others will help your children realize that there are all types of people.
Can You Spare Half a Penny?
November Ballot Includes Initiative to Extend Sales Tax for School Improvements, By Rosanne Dunkelberger
While the presidential election is on the top of people's minds — and at the top of the ballot — this year, the Leon Alliance for Better County Schools (ABCs) is calling for voters to look a little further down on Nov. 6 and approve extending the decade-old half-penny sales tax for another 15 years.
If approved, backers say it would raise a projected $265 million over the 15-year period. According to the website leonabcs.com, the money would "finance construction of new schools, several classroom wings, multi-use centers, gymnasiums, cutting-edge technology, energy efficient equipment to reduce electrical costs and transportation needs, including vehicles that run on cleaner, less expensive compressed natural gas."
Leon County voters initially approved the half-penny tax, which passed overwhelmingly, in 2002. If no action is taken, it will expire at the end of this year. The current tax raised $184 million for capital improvements, including construction of the new Bond Elementary School and portions of Montford Middle and Conley Elementary schools. The money was also used for upgrades to and refurbishing of existing buildings and to add "smart" board technology to schools, among other projects.
The Greater Tallahassee Chamber of Commerce heard a report from the volunteer Capital Improvements Review Team (CIRT), which examined the school district's needs and its recommendations for how the money raised by the tax would be spent. In June, the Chamber, usually not inclined to support taxes, voted to endorse the extension. "The Chamber took a detailed and independent look at plans for the half-penny tax revenues so Leon County residents can be certain the funds would be used to meet the most important needs," said Chamber President Sue Dick. "Without this revenue, our schools' ability to produce the leaders of the future will be seriously at risk."