Loranne Ausley: Mom in the House
Loranne Ausley Prepares to Leave the Florida Legislature – But Not Her Work for Children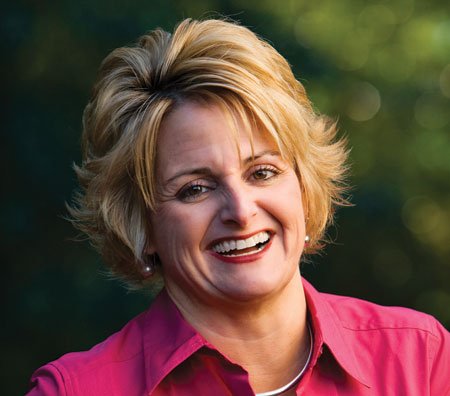 Once she finishes her final session as a member of the Florida House of Representatives, Loranne Ausley will focus the particular brand of tenacious practicality that helped her find success as a legislator – and as an attorney, an athlete and the mother of a child with disabilities – on the service of the region's children.
Leaving the Legislature due to term limits, Ausley has one more session to plug away at her child-friendly agenda. With Gov. Charlie Crist and other top policymakers putting children's issues among their priorities, Ausley's swan song could be sweet music for the state's youngest residents.
Ausley's first three terms, during the administrations of Gov. Jeb Bush, weren't notable for Democratic legislative successes, the minority party to which she belongs.
Ausley began her first term somewhat persona non grata with the majority. In her first year, not one of her bills even made it out of committee. But she now counts such powerful Republicans as Reps. Bill Galvano and Rene Garcia among her co-sponsors on children's issues.
"You know, I started out, and I was the No. 1 enemy of Jeb Bush because I had done a commercial they didn't like, and all my Republican colleagues were scared to talk to me," she recalled. "But in the end, you know, you make relationships, you find out who you have things in common with. Everybody has kids. Everybody cares about children. Everybody has the same issues in their communities."
Ausley's agenda for children is early intervention, education and health care. This session's goal: to coordinate the efforts of state agencies dealing with early childhood education – "It isn't very sexy," she admits.
"Right now it's in three different agencies, and I think that's part of the problem," Ausley said. "We have not been getting enough focus on education in the early years. So I'm hoping that by getting that under one agency or one budget, we can start really focusing our energies on that … I think it will go a long way."
Ausley tends to work incrementally and strategically, rather than going for the big splash. But her modus operandi is quietly effective and has earned praise from the state's chief executive:
"She has committed her legislative career to being a true champion for the children of our state," said Gov. Crist. "Her leadership as the sponsor of legislation creating the Children and Youth Cabinet has helped drive attention and action on critical children's issues."
The children's cabinet was last session's triumph. In October 2006, more than 1,000 advocates and policymakers convened the first Florida Children's Summit, out of which came an ambitious agenda, including the bill creating the Children and Youth Cabinet. Ausley was the House sponsor; Sen. Nan Rich, Democrat of Sunrise, was the Senate sponsor. The youth cabinet now is chaired by Lt. Gov. Jeff Kottkamp and includes the heads of every state agency working with children.
"She is there for all the right reasons, and she's so effective, even being in the minority in the Florida House," said Rich, who also was elected to the House in 2000 and served two terms with Ausley before moving to the Senate. "She's such an effective legislator because people trust her, she has such great integrity. And you know, the things that she wants, they're for children, for the most part."
Now Ausley and Rich represent their chambers on the youth cabinet, which has been preparing for this session since Crist signed the bill last July. While there is not much new money for children and family services, the group has been examining ways for state agencies, via collaboration, to stretch their dollars and cover more kids. It's policy-wonk heaven.
All this, and Will is flourishing.
Iron Will
The story of William DuBose Ausley Hollimon lies at the heart of his mother's legislative identity. It touched everyone. Ausley, now 44, married Tallahassee attorney Bill Hollimon during her first House race in 2000 and bore their son on Jan. 28, 2003 – at 22 weeks, just past the halfway point of a typical pregnancy. Will weighed 1 pound, 3.7 ounces and endured heart surgery, multiple transfusions and complications with his eyes and lungs. It was a month before his parents could hold Will, two before they heard him cry.
"It's somewhat – I don't know if 'prophetic' is the right word," said Ausley. "I was working on these early childhood and disability issues well before he was born."
Will lived in Tallahassee Memorial's Neonatal Intensive Care Unit for the first four months of his life, which included the 2003 session. Ausley shuttled between the Capitol and the hospital. In an odd coincidence, Dr. Todd Patterson, the head of the Neonatal Intensive Care Unit, had been among her opponents in 2000. A field of five for the Democratic nomination came down to a runoff between the two.
"Todd was actually the first person who came to my election party that night and gave me a check to help run against a Republican, and he was the first one on my team," Ausley said. "And he said, 'I hope you'll come visit me in the NICU,' and I did. After I got elected, I went and saw and walked through and thought to myself, 'It's amazing what he does with these little tiny babies,' never dreaming that, three years later, my child would be one of those.
"And Todd is probably the reason why Will is … I say he was my opponent who ultimately saved my child's life."
As a tribute to their son's fortitude, Ausley and Hollimon refer to him as "Iron Will." They also credit prayer with helping him beat the odds. An e-mail tree began at the Capitol after Will's birth, and soon chains of people were reading Ausley's reports on his progress and praying for him. The baby's story reached across the aisle to Jeb and Columba Bush and then-House Speaker Johnnie Byrd and his wife, Melane, also the parents of a premature child.
"People we don't even know were actively praying for Will while he was in the hospital," Hollimon said. "And from my perspective, prayer works. It all helped in Will coming home."
Ausley and Hollimon say that Will's fight for life deepened their faith. It also gave Ausley, an attorney and lawmaker from a family with deep roots among Florida's elite, a rare perspective.
"I still struggled to maneuver through the system, first as the mom of a preemie and not knowing where to turn for answers, and secondly as the mom of a child with disabilities," Ausley said. "It was difficult for me. So it made me really realize how difficult it must be for a family or a single mom that has other kids and two jobs – how hard it is to provide what you want to provide for your family."
Today Will is 5, attends preschool and will start kindergarten in the fall. He has a new prosthetic left eye, of which he's proud. (Among the other physical challenges due to his prematurity, Will had serious retinal problems that left him blind in that eye.) He loves music, especially percussion, and got a drum set for Christmas.
Ausley says she now has a completely different point of view on issues of early childhood.
"I all of a sudden see how critical the first years of life are, because we were blessed to be able to provide everything that Will needed in those first hours and days and months," she said. "And I know that is partly the reason why he is thriving today. I hope that we're able to make sure that every family and every child has that support system so that they have the opportunity to thrive."
Throughout the ordeal, legislator Rich watched Ausley with deep admiration. "An amazing person, an amazing legislator, an amazing mom," is her verdict.
"She has turned what was certainly a challenge in her life to try and help others who might be in that same position, finding out what were the barriers, what were the challenges, what were the problems and trying to effect change in her own community and in the whole state of Florida," Rich said.
Will remains in many prayers. Mary Tolbert of Dunnellon, whom Ausley had never met, made him a quilt composed of "Walk with Will" T-shirts from a fundraising event for the March of Dimes. "Stitched with love by a member of your prayer team," it reads.
"He's survived a lot of obstacles to get to the point where he is," Hollimon said. "He's still got a lot to survive as he goes forward. But just getting him home was a miracle."
Family Values
Loranne Ausley might as well have been genetically designed for public service.
She comes from lawmakers on both sides of her family. Alexander McSwain, her maternal great-great-grandfather, was a Democrat representing Walton County in the House for a term beginning in 1891. Charles S. Ausley, her paternal grandfather, was a Democratic state senator for a term that began in 1945; he founded one of Tallahassee's most distinguished law firms and was Democrat LeRoy Collins' law partner before Collins became governor.
Her father, DuBose Ausley, heads the law firm of Ausley & McMullen. While he has never served in elective office, "Duby" is well known for his public service, which includes chairing judicial nominating commissions, the Florida Commission on Ethics, the Board of Regents, the Tallahassee Chamber of Commerce and the United Way of the Big Bend.
Her mother, Sallie Ausley, is a philanthropist known for cofounding and codirecting the Red Hills Horse Trials. The annual event now draws upward of 40,000 spectators, 200 riders and 600 volunteers and benefits Phipps Park, Tall Timbers Research Station, the Friends of Our Parks Foundation and the Red Hills Horse Camp for children.
Both the lawmaker and her father say she was more influenced by growing up with Florida's leaders than by being descended from them, however.
"Loranne was friends with the crowd I ran with, which all were in the Legislature," DuBose Ausley said. "Sandy D'Alemberte … Buddy McKay, who she later worked for … Bob Graham, who she worked for … as a kid, she grew up knowing their children and seeing their service in the Legislature. It's probably that as much as my father, because I barely remember when my father was in the Legislature."
What she learned was their values, says Ausley, "the concept of serving your community, serving those who may not have voices to speak for themselves."
"I think more than anything, it gave me the foundation, those foundations of knowing what's right and wrong, and knowing it's my responsibility to do the right thing," Loranne Ausley said. "Gov. Collins, my grandfather, my father, Bob Graham, Lawton Chiles, Sandy D'Alemberte – those are the people who I learned from, and that's, to me, what defines them. I don't think you can look at one piece of legislation or one overarching policy thing that any of those did – I mean, you could find something that all of them did, but the one common denominator is being in a position of power not because it's a position of power, but because it's a position of service."
Ausley always was goal-oriented, say her parents. She was the oldest of three, with formidable organization skills – from her mother, all agree.
"(Loranne was) very, very involved with horses and consumed with that every day," Sallie Ausley said. "She went to the stables on Christmas. It certainly taught her discipline."
Loranne Ausley graduated from Randolph-Macon Woman's College in Ashland, Va., in 1985 and from Washington and Lee University School of Law in Lexington, Va., in 1990. She has been in private practice, held high-level jobs at the U.S. Department of Housing and Urban Development, and put in stints as a staff member to U.S. Sen. Bob Graham and chief of staff to Lt. Gov. Buddy McKay. Even her first run for the House, she says, began as a quest for a good candidate.
"I'm still not sure I have made the switch," Ausley laughed. "I still consider myself staff. I always thought I'd be the person pushing the principal, not the person in the position herself."
But suddenly there was an opening. In 2000, Marjorie Turnbull had represented Florida District 9, which includes parts of Leon and Jefferson counties, for three terms and was considered a shoo-in for her fourth. Turnbull's decision not to run set off a scramble.
"I was desperately searching for someone to run," recalled Ausley. "People kept saying: 'Why don't you run?' 'No, no, no, no – we've got to find somebody.' And then I started thinking, Maybe I could do this. And what's the worst that could happen? I could lose and keep staying on the other side of the fence."
Now her constituents – and her mentors – praise Ausley's performance as an elected official.
"She's had a major impact," McKay said. "My personal dream is that she'll run for the Florida Senate."
"She's been very, very diligent in making sure the constituents were heard and had access to her," said Turnbull, noting the many community events that Ausley attends.
"She was part of the largest class of new legislators in the history of Florida," said Bill Law, president of Tallahassee Community College. "To her credit, she quickly figured out that the relationship among newcomers could help her overcome the fact that her party was in the minority."
In her years in the House, "she left a big footprint," Graham said. "I'd like her to do whatever is best for Loranne and her family and the community that admires her so much – but yes, I'd like to see her continue in public service."
Her success in the House, said Graham, "has followed some of the best principles of an effective legislator." He ticks them off: She's worked across party lines. She's a good human being, someone easy to like. And while she has lots of ideas, she prioritizes them. "You can only accomplish a relatively small agenda," Graham said. "Loranne focused on children and has been extremely effective."
DuBose Ausley doesn't have much use for partisanship, either.
"I never thought about being a Democrat or Republican when I went to church or in what public service I've been involved in," he said. "The values we hold important – honor, integrity – are values I learned at church, and from my parents – and hopefully, Loranne did from her parents – and from college. I went to undergraduate and Loranne law school at Washington and Lee University, where the honor system is a very cherished part of the tradition. The values of honor and integrity in public service are just … part of the American values."
According to Jeb Bush, Ausley "was always civil, intelligent and committed to her positions. A very fine representative."
'The Great Equalizer'
"There's an axiom," said Tom Perkins. "What's said on the trail stays on the trail."
Perkins is one of Ausley's running mates – not in the political sense, but the literal one. They are part of a group called the Early Girlz (which includes guys, too) that runs at 5:30 on Tuesday and Thursday mornings, a bit later on weekends. "Sometimes Loranne would be running an hour before she met us," Perkins said. "Then she'd run an hour, hour and a half with us."
Ausley is devoted to athletics and has been running for a decade.
"Other than family, it is what sustains me," she said.
It's her time to reflect. It's her social life.
"The people who I train with are the people our family does things with," Ausley said. And it gives her a way to push herself in something she has more control over than, say, the Florida Legislature.
She is proud that in November she competed in the Ironman Florida triathlon in Panama City. She swam 2.4 miles, cycled 112 miles and ran 26.2 miles in 12 hours, 29 minutes and 58 seconds. Ausley has been competing in triathlons for eight years, but this was the first at the ironman distance.
"That's really quite respectable, especially for her first," said Bonnie Wright, leader of the Early Girlz. "It's a long day … This is what makes her a tough competitor – she just digs in."
"She attacks running," Perkins said. "She's made herself into a very, very good runner."
Ausley often speaks to groups of beginning runners, encouraging their efforts, and in January was named female Runner of the Year by the Gulf Winds Track Club.
"This has been the place for me to set goals … set them and try to achieve them," she said. "Maybe that's … enabled me to be not so concerned about reaching for the stars in other places."
Fellow runners say Ausley is a born companion, someone with whom they can discuss anything.
"She's a ton of fun when you're out there," Wright said. "It makes the miles go by."
And the triathlon is "perfectly fitted for the Type A person," according to Ausley, "because it's all about logistics, it's all about the whole transition. You've got to have all the stuff, and you've got to know where to put it."
But above all, the group members agree, running represents "the great equalizer."
"The person that's next to me who is an incredible runner could be an office worker, the president of the United States, a doctor or a janitor. You don't know. It doesn't matter," Ausley said. "We're all in this for the love of the sport and for challenging ourselves and our bodies … I guess it's a good bring-you-back-down-to-earth from this Legislature stuff, too."
Some days she runs 10 miles.
"When she doesn't exercise, she's mean as a hornet," Sallie Ausley said.
Whole Child Leon
In January 2004, the Lawton and Rhea Chiles Foundation designated Leon County a Whole Child Community, with Ausley serving as chairwoman. The concept focuses on the needs of children from birth to age 5 in six areas: physical and mental health, safe and nurturing environment, economic stability, quality education, social interaction and competence, and spiritual foundation and strength. Whole Child Leon works to connect families to the resources they need for their children to thrive.
Four years later, the initiative includes parents, volunteers, schools, health care providers, the media and the business community, as well as partners such as the United Way and the 2nd Judicial Circuit. Ausley's energy and leadership are contagious; everyone, it seems, wants to work with her.
"It really helps when you have a legislator who is respected both as a lawmaker and a community leader," said Ed Feaver, Whole Child statewide director. "It's completely community-driven."
Whole Child Leon has identified its targets via research: the dearth of local dental care, especially for low-income children; the slight elevation in child abuse and neglect; and the continuing rates of low-birth-weight infants, which remain higher than the state average. Also, fewer than one-third of Leon child care centers are rated "gold seal."
Ausley anticipates pouring herself into Whole Child Leon after she leaves the House.
"Yeah, that's definitely closest to my heart," she said. "We're really starting to see some great things happen in Leon County with Whole Child Leon, and I'm hoping we can spread that same philosophy and initiative to our surrounding counties and communities. You know, I'll have a lot more time to do that kind of stuff."
In addition to her work with Whole Child, Ausley says, there is a chance she will run for office again at some point in the future.
"Don't have a master plan. Never did have a master plan. I think women … our master plan's kind of unknown, because you don't know if you're going to have a family. This break happens at a good time, because Will starts kindergarten in the fall. So we'll get him situated in school and see what's on the horizon in the next couple of years. But I am certainly not walking away from public service or from politics."
"We're really fortunate to have people like Loranne in public service," said DuBose Ausley, "because she really cares about people and cares about doing her job and really has no ulterior motive in her service."