Longtime Newspaper Editor Reflects on Our Town
Malcolm Declared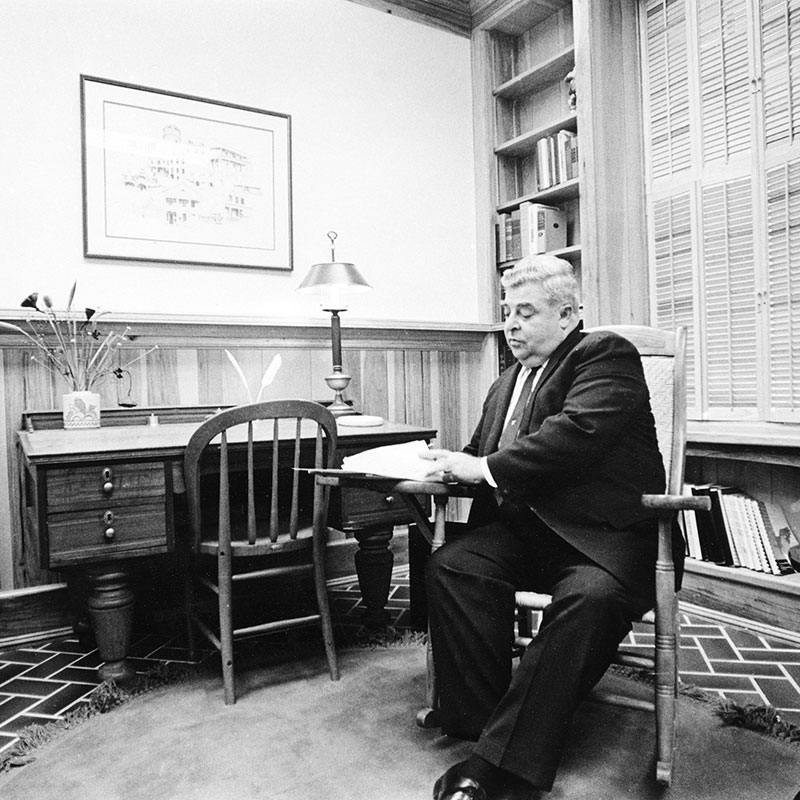 Author's Note: Malcolm B. Johnson, editor of the Tallahassee Democrat from 1954 to 1978, has been a significant influence on Tallahassee. Ten years after his retirement, he looked at his town — the capital city he loves — and reflected on its past, present and future.
"I like nearly everything I see that has happened to Tallahassee in the last ten years," Malcolm Johnson declared.
As everyone knows who read his daily front page column, "I Declare," in the Tallahassee Democrat, Johnson would not have said that if he had not meant it. He isn't given to empty, pretty speeches. But he thinks Tallahassee is better now than it has ever been and closer to what Johnson believes is its "destiny as every Floridian's other hometown."
This has been Johnson's hometown for more than 50 years. He moved here in 1937 to work for the Democrat, and three years later he joined Henry Wrenn in the Tallahassee bureau of the Associated Press. State government was of a size then that either Wrenn or Johnson visited every state office every day.
He tends to scoff a bit at old-timers waxing nostalgic about the Tallahassee of bygone days, pointing to the downtown area as an example of the way the town has improved. When he and his wife, Dorothy, moved to Tallahassee from Jacksonville, "this was just a rundown little city of some 12,000 residents," Johnson said. "Downtown is sparkling now and the suburbs are superb."
Since the '50s, merchants have been leaving the midtowns of America for the suburbs and, in many cities, empty buildings soon were occupied by tawdry businesses, Johnson said.
"That didn't happen in Tallahassee," he says. "The lobbyists moved into vacant buildings and dressed them up or they erected new buildings. This has been the key to downtown Tallahassee's redevelopment as a real capital center."
Stages of Growth
Johnson has a theory that Tallahassee has progressed in epochs: 1947-1948 saw the change in higher education right after World War II, when Florida Agricultural and Mechanical College became Florida A&M University and Florida State College for Women became Florida State University; about 10 years later, the new airport opened, and that literally opened up the city. But 1968 was the real turning point, when the new state constitution confirmed the designation of Tallahassee as the permanent state capital and also set up annual sessions of the Legislature. A new Capitol and impressive new Capital Center buildings followed.
"I didn't really think we needed an annual legislature, "Johnson recalls, "but it has been a boon for the city because of the influx of full-time lobbyists. According to the last figure I saw, we now have 164 full-time trade and professional associations located here."
Johnson would like all 164 of those associations to hold their state conventions here every three or four years, and he thinks the downtown city-backed hotel is a "dandy idea" that will help that come about.
"And the most encouraging thing lately is the passage of the 'bed tax' to finance convention promotion," he says. "Visitor dollars are the best ones spent here: The dollars stay here and the visitors go home to finance their problems."
All this is part of Johnson's dream of Tallahassee as every Floridian's other hometown.
"I'd like to see it and I expect to see it fulfilled," he says.
Visitors, Not Industry
Johnson believes attracting visitors should be the primary goal of the Chamber of Commerce, rather than attracting industry — "or they ought to change their name to the Chamber of Industry!" To Johnson's mind, the Tallahassee Chamber equates economic development with factories and industries, "whereas conventions and visitors can be just as productive," he claims.
Johnson doesn't think much of the General Dynamics deal, saying he "never cared for new residents who couldn't or wouldn't pay their rent and taxes." He would have preferred to see "the shakers and movers of Tallahassee" putting their energies into attracting visitors.
"Each city needs to build on its own foundations, and ours are government and education," he says.
"I'm not talking about tourists," Johnson is careful to explain. "I don't want us to try to compete with Disney World. I just want all those people who work at Disney World to come visit their capital city."
Among Tallahassee's readily apparent attractions are its trees, and Johnson is thankful for the "missionaries" who wage an ever-vigilant battle for their protection.
"We have more trees now than we ever had; aerial photographs of the city prove that," he says. "No tree ever went down without a fight, and this is nothing new. The first tree ordinance was passed in 1825, a year after Tallahassee was incorporated."
Innovation Park is undeniably "Malcolm's baby." The establishment of a research park in Tallahassee, fashioned after North Carolina's successful Triangle Park, was an idea that had to be sold to the universities, city, county and state. Johnson served on the Innovation Park board of directors from 1978 to 1984. When he resigned, the other directors honored him with the naming of the Malcolm B. Johnson Recreation Area overlooking the lake in Innovation Park.
Since then, he's been a self-appointed watchdog of the research park, and early almost any Sunday morning, Johnson's venerable Jeep, Jeremy, can be seen nosing along the park roads. Sometimes Jeremy's driver stops and gets out to inspect a new building more closely or examine a drainage system.
"And I haven't found a thing I disapproved of," he says. "I think the Southern Technology and Development Corporation is doing a fine job. I'm anxious to see private concerns going in there, but they were right to put state buildings in, rather than let the land lie fallow. Even though, to my mind, the best locations still remain, the present occupants have enhanced the beauty of the park. Furthermore, they are interfacing with the universities and providing jobs for new graduates."
The flap over the legality of locating the new Business and Professional Regulation Building in the park is probably political, and mostly witch hunting, Johnson says. There are certain legally stated uses of a building that justify its being in the park, and one of these is "testing." Since the Business and Professional Regulation Building will be used for licensing examinations of hundreds of people weekly from throughout the state and nation, it qualifies, according to Johnson.
He thinks the state mandate that every county has to have a long-range development plan is necessary, although he says he is traditionally apprehensive of too much planning. With Florida now fourth in population, exceeded only by New York, California and Texas, Johnson believes growth and the environment will be the major concerns of the next decade.
Because of the proposed St. Joe Paper Company development, he foresees the kind of growth on the southeast side of town that northern and eastern Tallahassee have experienced. Woodville will cease to be a clearly defined, separate community, he forecasts.
That subject brings Johnson to one of his biggest disappointments: the failure of the city and county governments to consolidate. He fought hard for consolidation and still believes that it someday will come about. He also fought for a civic center and a library and is proud that we have one and soon will have the other.
The Next Big Fight
Along with the growth concerns of drainage, sewage, pollution and traffic will come what Johnson predicts will be "the next big civil rights issue in the United States: property rights.
"When you try to tell people what they can and cannot do with their privately owned property, you're in trouble," he says. "When you try to tell them what they must do with their property, you're in double trouble."
Even so, as he looks to 1998, when he estimates the population of Leon County will be 200,000 to 250,000, he sees only good.
Returning to the subject of Tallahassee epochs, Johnson says not much happened in 1978. But, in fact, that was an eventful year for our city, for that was the year Malcolm Johnson retired as editor of our newspaper, surely marking the end of an era in our hometown.