Lofty Pursuits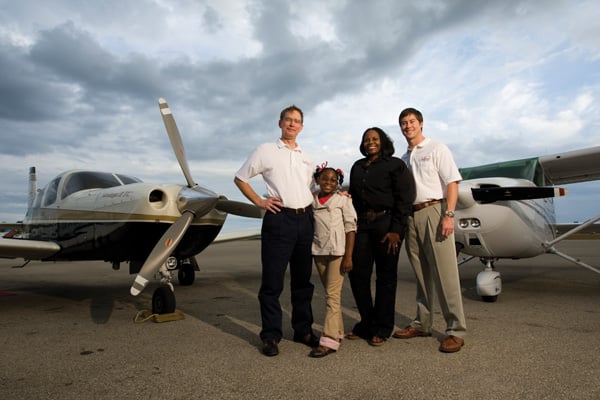 Angel Flight pilots give the gift of flight to the medically needyLofty PursuitsHope Gets Its Wings as Local Pilots Share the Skies with Those in Need
By Tisha Crews Keller
Robinee can tell you everything about her mother's multiple sclerosis. Indeed, she knows more about this debilitating disease than any 8-year-old should. Robinee deals with the impact of her mom's disease every day – hard for a young child busy with just being a kid.
Thanks to a unique Tallahassee organization, Robinee gets a break at least once a year. For two summers now, Robinee has attended a respite camp for children of parents with MS in Keystone Heights, just outside of Gainesville. Camp Immokalee gives kids like Robinee a chance to "just be a kid" for the weekend. Robinee wouldn't normally be able to attend this camp, though, because the six-hour trip is just too expensive and too hard for her mom, Joya, to endure.
Click to enlarge.
That's where Angel Flight Southeast comes in. Angel Flight gives Robinee and other kids like her a very special "air chauffeur" to the camp. This completely volunteer organization provides free air transport for children and adults with medical or compelling humanitarian needs. This was great news to Joya when she first heard about Camp Immokalee.
"Without Angel Flight, Robinee wouldn't be able to attend the camp," Joya says.
Angel Flight Southeast, known as "Mercy Flight Southeast" in other states, is made up of volunteer pilots, co-pilots, ground crews and administrative staff in various locations throughout the state. Essentially a pilot's organization, Angel Flight pairs one person's love of flying with another's need for transportation. Over the past 25 years, the nonprofit group's more than 700 pilots and 100 "Earth Angels" have provided transportation for 3,100 unique passengers (and counting) and have networked with more than 1,200 medical and social agencies.
"Pilots rarely need an excuse to fly, and I think we all want to have a mission to fly," says Steven Bryant, a local oral surgeon and Angel Flight pilot. The veteran volunteer began flying more than 35 years ago and really hit his stride with his first mission in 2004. "Airplanes need to fly and pilots need to fly … To be able to do something charitable while you're doing something that's your passion just makes it more enjoyable," he says.
Angel Flight provides transportation for most anyone with a medical or humanitarian need.
"Angel Flight is used when the trip is too long, there's a financial need, an isolated location, or repetitive – and cost-prohibitive – trips are needed," Bryant says.
While Angel Flight doesn't serve the acutely ill – it is not a medical ambulance – the organization has provided transport for a variety of worthy situations. Medical appointments, transplants (recipients and donors), compassion missions (for the terminally ill, their caregivers or relatives), camps for special-needs kids, shelter to safety and disaster relief have all fit the bill.
For Bryant, camaraderie is just as much a part of the experience as flying or helping those in need.
"Personally, I've met three or four pilots that I didn't know before through Angel Flight," he says. "They've become my friends and flying companions. I almost always have another pilot fly with me because one of the legs, you're not going to have the passenger with you, and I very much enjoy just sharing the experience with another pilot – sometimes non-pilot – and it gives me the opportunity to expose someone to general aviation that previously had no exposure."
It was co-piloting a disaster relief mission that made an Angel Flight believer out of local pilot R.J. Reed. He recalls the mission with Bryant to New Orleans just after Hurricane Katrina. They were called into action to return a recent brain surgery patient who was evacuated from his flood-zone hospital in the heart of Katrina's ground zero. Reed and Bryant transported the patient from Shands-Gainesville, where he had received further treatment. That was when Reed realized he had found his niche.
"When we got there, it was my first chance to see the devastation," he remembers. "To see (this guy) come out of brain surgery after all this hurricane and everything, and I'm sure his family's house was destroyed – I'm sure it was a hard time for everyone – and when we landed it was like a big reunion. They hadn't seen their dad for months. At that point, it kind of hit me what we'd done and I was like, 'This is really important,' and it stuck with me. So that's when I got bit with the Mercy Flight bug."
Reed, a local Realtor, began flying with his father when he was 18 months old. He trains with Bryant and is currently organizing the Angel Flight wing in Tallahassee.
According to Bryant, the biggest obstacle for Angel Flight is finding people who need the service and want to use it. Right now, there are far more flights in other parts of the state than those coming through Tallahassee. That doesn't make it easy for Tallahassee pilots to participate, since every Angel Flight pilot donates not only his or her time and aircraft, but also the fuel and airport fees associated with the flight. So flying to a remote location to pick up someone, then flying to another destination and home again usually is cost-prohibitive.
Most of the missions are to and from appointments in other states, such as Louisiana, North Carolina, Texas and Tennessee.
"At any given time, there's usually about four Internet pages of flights (that people have requested)," Bryant says. But only a few of those flights are routed through Tallahassee. Even if they are, the many moving parts of a mission make it a tenuous situation.
"What will happen quite commonly is a flight may have three legs before you get a person from point A to point B," Bryant says. "Well, they might secure two pilots (instead of all three). So here's something that you've had on your schedule for weeks, but you don't really know that it's going to happen until maybe 12 hours before."
Bryant and Reed point out that even though there aren't many flights that actually pass through Tallahassee Regional Airport, they could.
"I would say weekly, at least a dozen or so would – or could – pass through this area, if not originate or stop here," Bryant says.
And when an Angel Flight mission doesn't work out, the organization sometimes will pay for a commercial flight if the participant needs the help.
All of the volunteer pilots – and their co-pilots – are fully licensed pilots with good safety records. Besides the usual training and licensing, Angel Flight pilots must be certified by the organization and update yearly.
Remember Robinee? Her partner on the flight to Camp Immokalee was Trey, an 11-year-old whose mom, Amarantha, was diagnosed with MS when Trey was 8. Like Robinee, Trey is a two-year veteran of both Angel Flight and the respite camp.
Amarantha says without Angel Flight, Trey would not be able to attend the camp that has come to mean so much to him.
"The camp allows kids to be loose, away from the stresses of MS," she says. "At home, Trey has to be more responsible and independent than other kids his age."
When Amarantha has an MS flare-up, Trey watches his younger brother, cooks his own food and misses out on many of the things he would normally do if he didn't have a parent with MS.
Amarantha learned about Angel Flight through the North Florida Multiple Sclerosis Society. She says the long drive made it impossible for Trey to attend the camp before she learned about the volunteer pilots. She has absolutely no reservations about putting her child on the airplanes, either.
"It's like a friend taking your child to camp," she says. "They make it very comfortable for the family."
Amarantha says that the pilots' habit of calling as soon as the plane touches down, explaining the process and their level of experience, and making the kids feel comfortable really reassures her.
Joya echoes her confidence.
"Robinee thinks the plane is almost as fun as the camp," she says. "I think Angel Flight is worthwhile because (the kids) get to experience something they may not otherwise. They really are angels."
Test Your Wings
For more information on using Angel Flight, visit angelflightse.org or call (800) 352-4256.
Interested in lending your wings to someone in need? Call R.J. Reed at (850) 907-1776 for information on Tallahassee's Angel Flight wing.