Lofty Pursuits Brings Out The Inner Kid in Us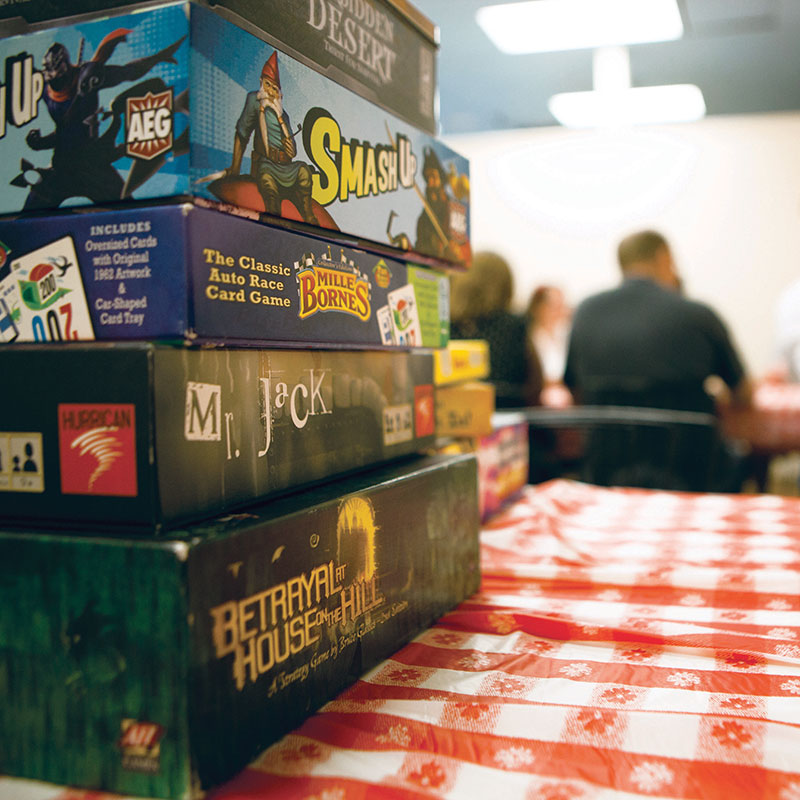 Step into Lofty Pursuits and you know you're in a place where fun is a priority. Between the plush puppets on hangers, the colorful game boxes on the walls, and the cardboard sign on the counter boasting that Nick the soda jerk will solve a Rubik's cube in less than three minutes if you ask him, the ice cream shop doesn't so much scream playfulness as cheer it on.
Every Monday night, Lofty Pursuits opens its doors to anyone who wants to spend a few hours playing games. Participants can bring their own games or play one of the demo games in a drawer at thigh-level for adults, eye-level for children.
Game nights at Lofty Pursuits may not draw many actual kids, but they attract lots of kids-at-heart.
"It's mostly adults," says Gregory Cohen, owner of the combination soda fountain-toy store in Market Square. "We've even got a group of four that comes in to play mahjong every week. They're in their 60s."
Many Lofty Pursuits events are organized, including International Tabletop Gaming Day on April 11 and National Egg Cream Day on March 15 (which Cohen had a hand in inventing himself). Monday game nights, however, are a little more laid-back. Anybody can come, anybody can play — there's no itinerary. While no purchase is necessary to join in the fun, the 32 ice cream flavors behind the glass might be too tempting to resist.
You don't even have to show up to the game nights accompanied by a game-ready group. Just as many folks come alone, very few leave that way.
"People make friends here," Cohen says. "One of my employees, he and his wife used to come here before they were married. We actually helped him propose. Now they've got a 6-year-old," he shares, grinning, "so it's a little harder for them to show up."
For more information about Monday night gaming at Lofty Pursuits, call (850) 521-0091, visit loftypursuits.com or just show up and take part in the fun.