Bring Your Personality to Wall Decor
In decorating walls, your own instincts may be best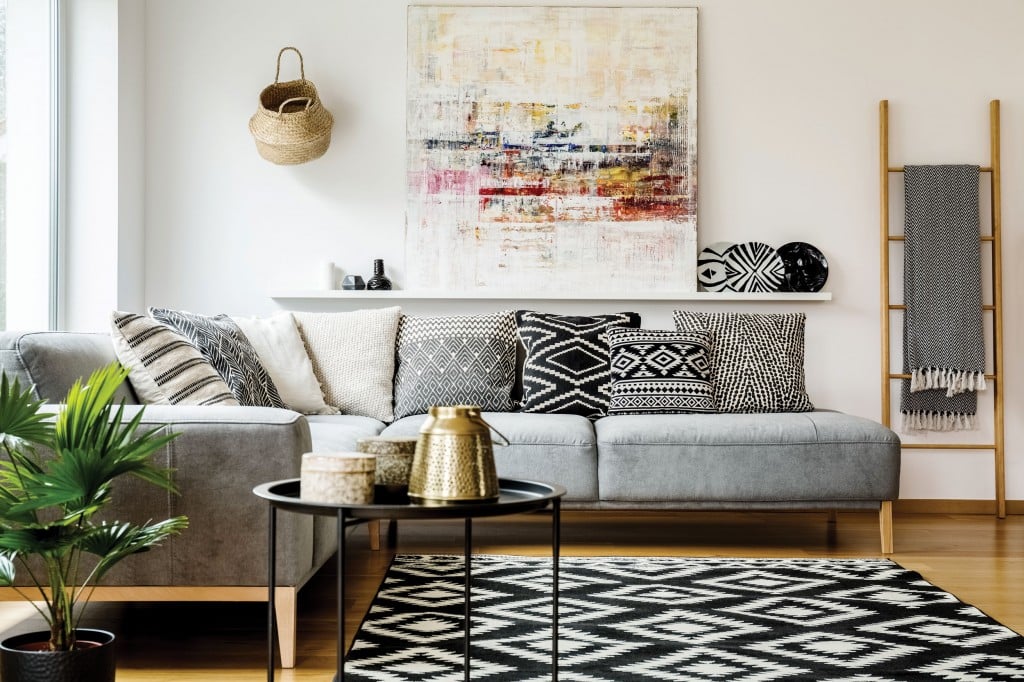 When Aunt Minnie passed on, Sara, a homeowner, was faced with what to do with the dozen family photographs Minnie had bequeathed her along with a note saying she hoped they would all go on Sara's wall.
Next door to Sara, Betty, another homeowner, stood staring at an empty wall, while a stack of framed awards, a billboard-sized abstract painting and a swatch of tattered weaving she'd found in Tibet sat brooding at her feet. Indecision prevailed, and at this point, Betty felt like dumping the whole lot in the closet with her 20 never-worn straw hats.
Both of these women — we may have made them up, but their circumstances are real enough — needed to know how to "hang" a wall? Designers know about furnishings and rugs. But they also know about color, volume, balance and focus — all the things needed for the task. So, we asked a few.
Jackie McHaffie of Designs Unlimited said, "Wall hangings are like accessories. Get everything else in place first, including your color scheme and furniture arrangement."
McHaffie said that while grouping according to a theme like "flowers" or "horse paintings" may work well, it's also energizing to have an "eclectic" wall with no theme at all. "Because rooms in contemporary homes are often open to other nearby spaces, it's also important to consider how your wall hangings will sync with other rooms that feed into them."
Rachel Bowden of Rachel Bowden Design, agrees and says that while there's no hard rule, every wall doesn't actually need something on it.
"The eye needs someplace to rest, to have a wall without a visual stimulus," she said.
However, on the walls you do decorate, you can make mixed sizes work well together as in a "gallery" arrangement with a variety of shapes and sizes mounted together.
"Or use only two or three larger pieces, like a triptych or diptych, or perhaps above a sofa, one large work that can stand alone."
Tracy Williams, owner of Decorating Den Interiors, is careful to lay out any art before putting a hole in a wall.
"I use craft paper cut to a picture's size and stick it up with painter's tape to see the display on the wall, or I lay the whole design out on the floor first." She emphasizes balance, especially in groupings. "The strips of wall you see between the art should be equal to give cohesion, even if what is displayed is varied."
Other art experts suggest it's fun to be bold. To be adventurous. Hang on your walls the unexpected:
Mirrors expand a room and draw in light. A wall covered in a variety of mirror sizes and shapes can be sheer art.
Murals can cover a wall and be mounted with removable adhesive, turning a tiny alcove into a flowered bower or a boys' playroom into a brilliant beach.
Plates, especially beautifully painted or antique platters, become conversation pieces and may even capture memories of family, ancestors
or even a favorite novel.
Basket groupings provide an organic, casual feel when wall-mounted. And just for fun, they can be moved around from nail to nail or have some fresh flowers placed inside.

And don't forget shelves. If your prized possessions are glass or metal, perhaps their linear display is just the dramatic focus your wall needs.
So, what about Sara and Betty? With the advice of a couple of good designers, Sara culled some of Aunt Minnie's faded photos, arranging them in a book instead, and created a sophisticated black-and-white picture grouping on her verdigris wall.
And Betty? Betty had a revelation as she tossed her possibilities into the closet and gathered up the hats from the floor instead. Now, scattered across her wall are the memories of dozens of summers, straw circles that seem to dance in the sun and shade.